Vickie Carter – Richfield, Utah
1-time WNFR qualifier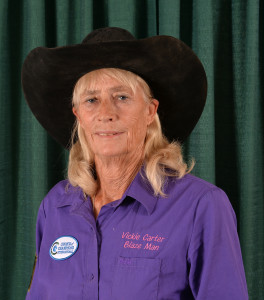 Vickie Carter is 60-year-old barrel racing veteran that is in second place in the Rookie of the Year standings, a race that won't be decided until the last round of the Wrangler National Finals Rodeo (WNFR).
A lot of people have asked her how that is possible, but it's really pretty simple. A successful trainer of barrel racing horses, she would get a good one that could potentially help her fill her WPRA permit and then she would sell it.
Things changed for her in 2015, and it wasn't by her choice, but everyone involved believes there is some divine intervention involved. Vickie was the barrel racing director at the Wrangler Junior Rodeo Association in Pahrump, Nev., when she met a smiling Rachel Hendrix who was competing.
A friendship began between the two families. Tragedy hit them all hard on Jan. 26, 2014 when Rachel died of carbon monoxide poisoning at the age of 18.
Rachel had always considered Vickie along with Danyelle Campbell her rodeo moms and her family agreed. She had a great horse and dreams of riding him at the WNFR. After much prayer, Rachel's parents asked Vickie to take Blazin Ta Fame and make a run at a WNFR qualification.
The horse known to those that love him as Blaze Man and Carter have made the adjustment together, Vickie swears they have an angel riding with them and they will be "Ridin for Rach" in Las Vegas. Carter has those words embroidered on every shirt she competes in.
The 10-year-old gelding also finished third in the AQHA Horse of the Year barrel racing category. While Rachel's parents are very excited about Carter and Blaze Man's success, every run is still bittersweet for them. They will be watching all 10 runs in Las Vegas wishing it was Rachel making those turns, but still grateful for the opportunity that Vickie has with a special horse and an awesome way to pay tribute to their daughter.
WPRA Rookie Vickie CarterWPRA Rookie Vickie Carter talks about "Blaze Man", the special horse that has gotten her to the # 14 spot in the world standings. Horse Hydrator, Riding 4 Rachel, Western Sports Round Up

Posted by Women's Pro Rodeo Today on Thursday, September 10, 2015
Video courtesy Women's Pro Rodeo Today – wprt.tv