10 Reasons to Host a Reunion at a Dude Ranch
By Wrangler Network contributor, the Dude Ranchers' Association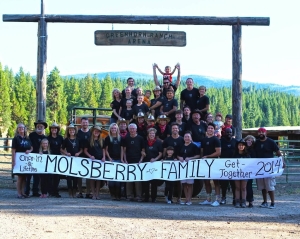 'Tis the season when families rest fresh on your mind and most people are feeling one of two ways. Hopefully, your family's holiday is a reminder of why it is just so good to get together. Or perhaps, you were unable to make it happen this holiday season and realize that you have to make the time to get together in the coming year. Either way, an all-inclusive vacation at an accredited Dude Ranchers' Association (DRA) member ranch is the perfect answer for planning the all-time best family reunion in 2015.
When it comes to planning a reunion, there's a lot to consider. A gathering at a dude ranch guarantees the experience will be remembered fondly for years to come. Located in some of the most scenic, pristine areas of the Western U.S. and Canada, dude and guest ranches have been treating guests to their special brand of Western hospitality for decades.
Read on for a list of reasons to host your next reunion at a dude ranch and make planning a breeze.
Personalized Attention – Dedicated and knowledgeable staff at dude ranches are there to make sure every facet of your stay goes off without a hitch, starting from before you even arrive. According to a recent guest that visited Geronimo Trail Guest Ranch in New Mexico for a family reunion, the owners themselves were very involved in the entire ranch experience, joining in on campfire sing-alongs and after-dinner games.
Get Back to Nature – Most dude ranches are off the beaten path, which makes unplugging from daily life and reconnecting with loved ones easy. Echo Valley Ranch & Spa is located more than 20 miles down a gravel road in the pristine wilderness of the Cariboo Mountains in beautiful British Columbia.
Just the Right Size – Most dude ranches are perfect for reunions: not so big that you get lost in a sea of people, but not so small you feel cramped. Thanks to morning kids' programs at Sylvan Dale Guest Ranch in Colorado, parents don't have to worry about their children's whereabouts. The closeness of the cabins, dining room and other facilities makes it easy for parents to keep an eye on kids, and means the property is more convenient to navigate for older guests.
Something for All Ages – You'd be hard-pressed to find a better destination than a dude ranch for multi-generational groups. Goosewing Ranch recently hosted a reunion for 20, ranging in age from seven to 86. Everyone found plenty of activities to keep them occupied, including horseback riding, target shooting, hiking, mountain biking, UTV riding and just enjoying the scenic beauty of the Wyoming wilderness.
Proximity to National Parks – Many dude ranches are located near some of the country's most popular national parks. Elkhorn Ranch in Montana is located less than two miles from Yellowstone National Park. White Stallion Ranch borders Arizona's Saguaro National Park, while Tanque Verde Ranch is less than 10 miles away. Medicine Bow Lodge & Guest Ranch is located in the Medicine Bow National Forest in Wyoming; while a day trip to Glacier National Park from Bar W Guest Ranch in Montana is highly recommended.
Versatility – Dude ranches offer a variety of things to do for people of all activity levels, abilities and interests. At Elkhorn Ranch, guests can choose from riding, hiking, walking, fly-fishing, sketching, painting and more. At Echo Valley, babysitting services and entertainment for the little ones are available!
Opportunities for Learning – Dude ranches have a rich and fascinating history. A favorite place at Geronimo Trail Guest Ranch is known as the "Dwelling Canyon." Its history goes back to AD 750 and 1150 when the Mibres people inhabited the area. Today, visitors can see picotographs and ruins of cliff dwellings from this period.
State of the Art Amenities – From accommodations and facilities, to food and other services, visitors to dude ranches can be sure their stay will be top notch. Guests at Tanque Verde Ranch enjoy culinary adventures ranging from Southwestern, local and gourmet flavors, to breakfast horseback rides, BBQ cookouts and private dinners. Lodging is specifically designed for large groups or multiple families, and on-site activities include a swimming pool, hiking and biking trails, tennis and basketball courts, and a nature center.
All-Inclusive – All-inclusive vacations often include hidden fees that can run up the final cost of your vacation, such as excursions or traveling outside of your resort. At a dude ranch, everything is included in the rate, so you know exactly what you're going to pay up front. At Greenhorn Guest Ranch in California, group packages are tailored to fit your group's individual needs, size, and any additional requested amenities or activities. Rates are also available with rider or non-rider price options.
Memories to Last a Lifetime – C Lazy U Ranch in Colorado is gearing up to host a large family reunion for the third consecutive year in 2015. The family of 26 all live in the same town in Ohio, where they run a family business. Each year, they get together and enjoy some well-deserved family bonding time at C Lazy U. One recent visitor to Bar W Ranch simply said of her family reunion, "The week ended up being the best family vacation every single one of us had ever taken."
For more information on planning a reunion at a dude or guest ranch, visit the Dude Ranchers' Association at DudeRanch.org or call (866) 399-2339.