5 Family Bonding Activities to Help You Unplug
By Wrangler Network contributor, the Dude Ranchers' Association
There is much to be said about children getting too much screen time in today's tech-saturated world. But, look around most playgrounds and you will see that parents are guilty, too. Too often, we're reaching for our phones rather than focusing on what's truly important – strengthening family bonds and making memories that will carry us well into the future. In fact, making time for family bonding does more than provide a fleeting moment of happiness: it can make you healthier. Studies have indicated frequent family dinners lead to higher levels of emotional well-being and satisfaction. The only requirement? Keep your phones turned off!
As the original all-inclusive destination for families, a dude ranch vacation guarantees plenty of time to bond and spend time as a family sans technology, creating memories that will last a lifetime. Families can challenge and revive their bodies, minds and spirits in some of the most breathtaking areas in the U.S. with outdoor adventures, such as rock climbing, cattle roping, horseback riding, zip lines, ATV riding or white water rafting. No matter which ranch you pick, the Dude Ranchers' Association (DRA) can help you choose the perfect guest ranch for your family, with more than 100 DRA-accredited dude ranches in North America (two in Canada).
See below for 5 family bonding activities at a dude ranch that are sure to leave the kids clamoring to tell you all they've done for the day over dinner, which is usually served family-style with an absence of technology and other distractions.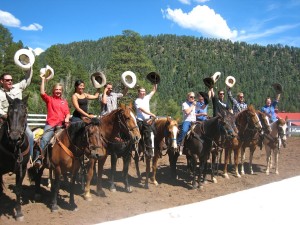 1. Ride out of town – Imagine horseback riding with your family through meadows dotted with wildflowers, while the Rocky Mountains tower around you. You and your family are in search of that reconnection, to each other and to the land, and you've come to the right place: Rainbow Trout Ranch. Rustic with all the modern amenities you'll ever need, Rainbow Trout Ranch caters to children of all ages. Located near several historic Spanish land grants in Antonito, Colo., Rainbow Trout is surrounded by the spectacular San Juan Mountains. Ride horses, catch some trout, hike to an overlook with your kids, relax, and let the land and each other remind you of the important things in life. Kids ages six and older – "Cowpokes" – are given their own horse for the week. "Buckaroos" – children ages three to five – are led on short rides by ranch counselors.
2. Take an expedition – On horseback, on foot, or in vehicles – expedition guests at A Bar A Guest Ranch experience a privately-guided, customized, small-group adventure. Located along the banks of the North Platte River, in the heart of southern Wyoming's Medicine Bow Mountains, A Bar A Guest Ranch is one of the oldest and largest in the country, with nearly 100,000 acres for guests to explore, surrounded by National Forest and Wilderness Area. The ranch is a paradise for children, with riding, fishing, soccer, arts and crafts, music and drama, swimming, tennis, and educational games, such as cork boat and sack races. Teenagers enjoy inner tubing down the river and golf before settling down to dinner with their parents cooked outside over an open fire.
3. Work as a team – Drowsy Water Ranch, situated 90 miles west of Denver, Colo., has programs for children, from infants to teenagers, with plenty of activities for parents and grandparents alike. Capture the fun and your children's hearts when you help them lasso a steerhead. Ditch your tablets for teambuilding group activities outside, such as obstacle courses, zip lining, swimming, hiking, archery and rafting. Afterward, head to the main lodge to enjoy playing cards, browsing in the library or just visiting with new friends while drinking lemonade.
4. Fish in trout heaven – Who needs a video game when you can focus on capturing the real thing in person! Colorado Trails Ranch provides an all-inclusive family vacation adventure in the San Juan Mountains. Enjoy an awesome fishing vacation with access to some of the finest trout fishing around. You'll find more choice spots than you can fish in a week, with specialists trained at introducing beginners to the sport. Whether you're a fishing fan or not, no one in your family will be bored on this vacation. Here, kids and adults can enjoy their own level of adventure. Counselors see to the kids' needs while the parents are off hiking, horseback riding or fishing. From whitewater rafting, to swimming in the heated pool – there's enough tech-free adventure to suite everyone's tastes.
5. Relax in style – Lost Creek Ranch Lodge & Spa is nestled between Grand Teton National Park and the Bridger-Teton National Forest in Jackson Hole, Wyo. The ranch combines outdoor adventure for the entire family and the comforts of a world-class resort in the region's most spectacular location. Yours may be the first footstep in a pine forest that day. Or you may be the first person of the day to say hello to a wandering deer. Every aspect of the buildings, log cabins, corrals, spa and other facilities ensures you relax in the beauty and solitude of the Grand Teton.