The rootsy, authentic sounds of a booming genre are celebrated at what has become an annual Nashville event, the Americana Music Festival.
 By Cowboys & Indians contributor, Hunter Hauk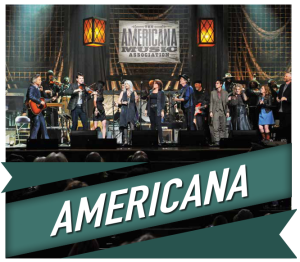 Just off the trend-chasing path of mainstream country music, there is a ragtag community of troubadours crisscrossing this great land, playing pubs and festivals and reminding us all how authenticity sounds. We're talking about Americana.
Like punk rock decades before, Americana music is a natural reaction to the studio-polished mainstream sounds that dominate the airwaves. It shows a healthy disregard toward the gatekeepers controlling access to those airwaves. But despite its inherent authenticity, the genre's name was born of marketing necessity.
A couple of music industry pros, Rob Bleetstein of San Francisco and Jon Grimson of Nashville, coined the term "Americana" in the mid-1990s to draw a line between the standard playlist fare and the music they were playing on their small regional radio programs — music that blended country and folk with elements of rock, punk, blues, and jazz.
Not all of the artists being played were happy with the new label — many preferred not to think about their work in terms of labels and genres. Others felt relieved to finally have a brand and a marketing wind at their back.
The Americana name remained an internal radio industry distinction, unheard by the general public, until the formation of The Americana Music Association in 1999. What began as an informal meeting at Austin's SXSW evolved into anorganization of folks working together in a spirit of celebration and advocacy. This beginning would also clear a path between fans and the music they wanted to buy and shows they wanted to attend.
Jed Hilly, the AMA's executive director, describes it thusly: "The AMA was formed first to build an infrastructure for our community, to give artists a home. [It] grew out of a desire to shine a light on those artists who otherwise might not be heard through mainstream media."
Since then, the AMA has helped increase the genre's stature and acceptance in the industry. Now there are Grammys for Best Americana Album and Best American Roots Song awarded along with their elder siblings, Best Folk Album and Best Bluegrass Album. The word Americana,referring to the musical genre, even became an official entry in that bastion of American reference, Merriam-Webster's Collegiate Dictionary, in 2011.
Yet the most vibrant and visible face of the genre continues to be the Americana Music Festival & Conference, planned this year for September 17 – 21. Held each fall in the heart of Nashville, it draws musicians, fans, and industry pros. At the conference, daytime panels tackle topics that range from touring logistics and health benefits to the growing popularity of intimate house concerts and tips on how to grow a fan base through social media.
The daytime discussions give way to nighttime performances, where lines of fans snake outside of packed venues. The most coveted ticket of all, however, is to the Americana Music Awards ceremony, held at the historic Ryman Auditorium. AMA stalwart singer-songwriters Jim Lauderdale and Buddy Miller emcee the awards and lead the All Star Band, respectively. Pioneers like Emmylou Harris and trailblazing newcomers like Oklahoma's John Fullbright share the space where Hank Williams was called back for six encores of "Lovesick Blues" in 1949.
Fans travel from all over the globe to catch the unique cultural mash-up of acclaimed folk, blues, spirituals, and country, and to witness the presentation of awards handcrafted from donated guitar parts to the winners of Album of the Year, Song of the Year, Artist of the Year, and more.
In a little more than a decade, the Americana Music Festival has set a foundation for cultural proliferation. Successful bands like Mumford & Sons, The Civil Wars, and The Lumineers continue to shine the light on a growing market, while the broader media has embraced the genre in shows like Nashville (with Buddy Miller as executive music producer) and movies such as O Brother, Where Art Thou? and Crazy Heart.
Although there are still few hard rules for defining Americana, as of yet there have been no DJs or hip-hop performers taking the stage at the festival. But there's no genre-purity police — there will be no Pete Seeger-like purist looking to unplug a contemporary Bob Dylan for daring to take folk electric. That's the point: Americana's styles are authentic, but never constricting.And that's definitely something worth celebrating.
The Americana Music Festival will be held in Nashville September 17 – 21. To get tickets and find out more about the Americana Music Festival & Conference, visit www.americanamusic.org. To read more Cowboys & Indians articles, visit www.cowboysindians.com.
Photo provided by Cowboys & Indians.