Jessie Duff: Overcoming the Perception
By Western Shooting Horse contributor, Heather Haines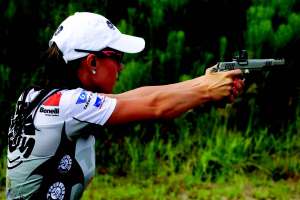 When the father of Jessie Duff introduced her to competitive shooting, he was just sharing his love of competition and firearms. There was no way he could have known Jessie would turn a hobby into a full time career and become a professional athlete, but that's exactly what happened.
At an early age, Duff and her brother would accompany their father to the gun range. "Teaching us firearm safety was his first priority. He wanted us to have a healthy respect for guns, but he wanted us to enjoy it too, because he was a competitive shooter and he wanted to share that with us."
"I shot in my first competition when I was fifteen years old," Duff remembers. "It was the Georgia State Cowboy Action Shooting (CAS) Championship. In CAS you pick an alias, dress up in period clothing and use period correct firearms, but it was still my first competition so I was nervous. It was a state championship too, so that just added pressure. In preparation for the competition, I trained with my Dad who was a five time CAS World Champion. That weekend, I won the Girls Junior Division and that's when I fell in love with competition shooting."
In the thirteen years since she began her career, Duff has broadened her repertoire and competes in the USPSA (United States Practical Shooting Association), Steel Challenge (World Speed Shooting Championships), NRA Action Pistol or Bianchi Cup and Multi-gun disciplines.
In 2012, Duff joined the Taurus Shooting Team as their Captain. "I'm the first competitive shooter (female or male) Taurus has ever had represent them. When they approached me, it was with the intention of being a competitive shooter for the company as well as the Team Captain. I'd shot for other firearms companies before, but was ecstatic when I learned that Taurus was interested in me. Being a team Captain was something I'd never done before, but it was a challenge I was ready to take on!"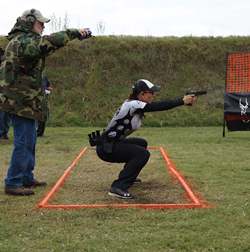 Taurus has been committed to encouraging female and young competitors. "There's this idea that shooting is a male dominated sport." She explained. "I'm just trying to overcome that perception. Being a female and a professional competitor has never bothered me or held me back from accomplishing my goals."
Duff is now twenty eight and living in Mississippi with her husband, Matthew. The two met on the set of their popular TV show, "Friends of NRA TV" on The Outdoor Channel. In addition to her competitive career and duties as television show co-host, Duff, along with her Taurus shooting family, has started a special youth program called Taurus Young Guns. The program is designed to support junior shooters in the various sports. "We wanted to do something to show our support for the next generation and offer them a program they could grow and thrive in. It's not 100% about shooting skills, but who they are as a young person and how they handle themselves on and off the range. It's important they're good ambassadors of the sport, so that up and coming juniors can have positive role models who show them how to set goals and achieve them."
Of course, this is just the beginning for Duff. With over fifty National and World titles standing proudly behind her, she is perfectly placed to be a role model for our next generation of shooters.
To read more articles from Western Shooting Horse, visit www.westernshootinghorse.com.
Photos provided by Western Shooting Horse.