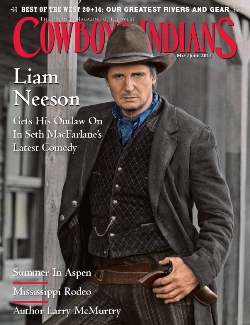 He's the action hero of the moment, but in the ribald new comedic western A Million Ways to Die in the West, Liam Neeson tries on his bad guy.
By Cowboys & Indians contributor, Wendy Wilkinson
For John Wayne purists, the mere suggestion that someone could fill the big man's boots is sacrilegious. But Vanity Fair tried the idea on for size: "The unlikely heir to the Duke's royal shitkickers today," went a 2013 story, "is Liam Neeson, who, after a long, upward-trending career as a Much-Admired Actor, suddenly quantum-leapt into a global authority figure in the art of cinematic smackdown, twisting bad guys' heads as if they were bottle caps. He, too, is six feet four, a mighty tree in the autumn of life." (Or, as a theater critic once said of Neeson, a "towering sequoia of sex.")
While Neeson is probably bound for more Sexiest Man Alive lists sooner than for a revered place in the Hall of Great Western Performers, the idea isn't entirely without merit. Like Wayne, who was still killing it on-screen when he finally won an Oscar at age 62 for 1969's True Grit, Neeson, at 61, is a box office badass, playing, well, badasses.
And, like Wayne, he's far more than the I-will-look-for-you-I-will-find-you-and-I-will-kill-you threat he portrays in the hugely successful and image-transform-ing Taken franchise. As Vanity Fair pointed out, there's also his "calm, anchoring core," "hulk-ing presence," and "innate plausibility as an actor" — all traits that also might equally describe The Duke.
Forces to be reckoned with, both. No argument there.
But even if you allow, as the "Wham! Bam! Thank You, Liam" article suggested, that there are reaching similarities between Wayne's dark masterwork The Searchers and Neeson's commercial Taken cash cows — which are both based on the abduction of a young girl whose life and innocence hang in the balance, followed by a brutal hunt and redemptive rescue by the uncle/father — no one is going to invite comparisons to Neeson's latest outing, Seth MacFarlane's raunchy new comedy, A Million Ways to Die in the West.
The Searchers it's not. Grasping for any other western to compare it to, Neeson's at a loss — except, he ventures, for Mel Brooks' Blazing Saddles, "a very rude film that made the audience chuckle. But Seth has really upped the ante," Neeson tells Cowboys & Indians. "When I read the script I thought, there's no way they can shoot this. But Seth did, and it turned out to be very, very, funny."
In a potty-mouth Seth MacFarlane — who co-wrote, directed, stars in, and wrote a novel based on it — kind of way.
Opening nationwide on May 30, A Million Ways to Die in the West tells the story of a cowardly sheep farmer, Albert (MacFarlane), who backs out of a gunfight, causing his fickle girlfriend, Louise (Amanda Seyfried), to leave him for another man. In rides a beautiful and mysterious stranger, Anna (Charlize Theron), who decides to help Albert get over his obsession with the myriad ways to meet your Maker in the deadly Old West. On his quest for courage, the two begin to fall in love. But all hell breaks loose when Anna's husband, the notorious gunfighter Clinch Leatherwood (Neeson), comes back into town bent on revenge.
"Clinch is a badass [natu-rally], and the straighter I play the character, hopefully the funnier the audience sees him," Neeson says. But the actor — who, as one critic commented in a review of his film Seraphim Falls, "has more presence doing nothing than most actors do playing Hamlet" — found some depth to plumb: "[My character] also supplies a lot of the ballast of the film, being unhappily married to Charlize, who was initially attracted to my rough, stoic Irish maleness."
It seems almost like an inside joke that MacFarlane offered him the role, and that the busy actor accepted it, after a couple of Neeson-targeted sendups in episodes of MacFarlane's animated hit TV series Family Guy. In one backhanded homage, the character Peter Griffin reprises hilariously corrupted lines Neeson made iconic in Taken; in another, Peter calls something "as hopeless as Liam Neeson when he tries to play an American cowboy."
Neeson seems to have taken it all in good humor and given the laugh right back. "I told Seth that I'd only play Clinch Leatherwood if I could do it in my broad Northern Irish accent, as I remembered he did a spoof in Family Guy where one of the characters said, 'Imagine Liam Neeson doing a western with his Irish accent.' "
Even with all its sight gags and cringy sexual humor, there's still some creative genius and filmmaking substance on display in A Million Ways to Die in the West. Set in 1880s Arizona, the movie, which also stars Neil Patrick Harris as the local moustachery owner and Wes Studi as an Apache warrior, was filmed mainly on a constructed set in New Mexico, with several of the most spectacular scenes taking place in Monument Valley. Against those backdrops, there's the running joke-no-joke about death and danger in the Old West (if huge blocks of airborne ice didn't kill people on a regular basis, a trip to the dentist surely could).
"We had Western tack, real guns and gun belts, and yet we were filming this quite crude script written by the Family Guy himself," Neeson says with a chuckle. The incongruous experience made for some mutual admiration. Neeson: "Seth was incredibly approachable and I loved acting with him. He's kind of like a young co-medic Orson Welles in a weird way." MacFarlane: "Liam was such a gift. I was shocked that he agreed to star in my movie. I've always been a huge fan and think he's a phenomenally talented actor."
Beyond that, MacFarlane marveled at Neeson's "professionalism and kindness." And his action-hero ability to keep on kicking ass. "We were shooting in 108 degree temperatures," MacFarlane says, "and Liam was wearing three layers of heavy period clothing. I was sweating, directing in just a T-shirt and shorts, and Liam brushed off the heat and continued working. He looked like and came off as a true cowboy. He rode so well and was very comfortable in the remote surroundings."
Both fans of western movies, Neeson and MacFarlane spent many hours discussing them, especially the John Ford classics. "I know I'm getting old," Neeson says, "when I complain about the two-and-a-half- or three-hour length of today's westerns and think, Why don't they take a page out of John Ford's playbook, which tells a complex story in just over 90 minutes."
To read the complete interview with Liam Neeson, as well as interviews with director Seth MacFarlane and costar Wes Studi, visit www.cowboysindians.com or pick up a copy of the May/June issue available on newsstands now.