Meet The Queen: Mississippi
By Wrangler Network contributor Miss Rodeo America
From way down South, I'll say "Hi Y'all!" This year has been one I will never forget. I have learned so many things, but mostly that the Miss Rodeo America Organization, and all that it stands for, is much like a family. They have taken me in and treated me as one of their own, with love and support that can never truly be explained.
So let me tell you a little bit about all of the "families" that I hold so near and dear to my heart.
First off, lets start off with my hometown family. I come from the one-stoplight town of Summit, in the great state of Mississippi. Although a little muggy and hot this time of year, it might just be the best-kept secret around and full of some of the nicest people you will ever meet. We are the "Hospitality State" after all! Mississippi is also home to the Dixie National Livestock Show and Rodeo, where I had my first appearance as Miss Rodeo Mississippi, and I had the privilege of carrying our great American flag.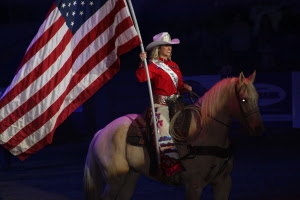 That was an experience I will never forget and the perfect beginning to my year. Not only did my entire hometown come to watch as I rode in to the rodeo each night, but also, I was able to spend quality time with the people that make my position as Miss Rodeo Mississippi such a dream come true. My friends and family, my board and all the countless fans of the greatest show on dirt came out to the Dixie National, and we made memories to last a lifetime.
Let's not forget the family that has brought me into this world and started these big dreams of mine. I never could have made it without the love and support of my parents. I don't think they knew what they were getting themselves into when they took me to my first horse lesson, but 20 years later, I am still going strong. From 4H to youth rodeo, barrel racing to reining, I think I just loved being on horseback more than anything else in this world. I was very fortunate to grow up on our ranch in south Mississippi where we still raise Brangus cattle and American Quarter horses.
We are a growing family too! I am now the very proud aunt to a handsome little boy, Hiram Oliver Sumrall, who made his debut into the world on July 24th, 2015. I will forever be that little boy's biggest fan and his loving Aunt La.
I am also a recent graduate of Texas A&M University, which brings me to my college family. There, I received my Bachelor's Degree in Agricultural Communications and Journalism as well as a minor in French while also being a proud member of the Fightin' Texas Aggie Equestrian team. I was a member of the reining team for four years, and a team captain for two of those years. To say that we were close as a team might just be an understatement. Myself and 52 other girls were more like sisters as we worked hard to represent our team. We had the greatest coaches in the country–they were not only mentors, but advisors and friends as well.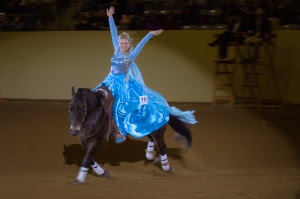 Now I also have my horse show family– the trainer that took me on from a very young age to help groom me into the rider that I am today. This spring, I received an invitation to compete in the World Championship Freestyle Reining in Lexington, KY. I borrowed a horse, came up with choreography and a MS8costume, and we, as an entire family, brought Elsa and the megahit "Frozen" to horse lovers all over the world. I performed my routine in front of several thousand people and came away with the title. But the most exciting part of it all was yet to come. The video of my ride had over 1 million views on Facebook within the first 24 hours, and 10 million within the first 7 days! It was incredible, and an experience that I will never forget. Now we are up to nearly 17 million views! Not to mention, that video and the ride of a lifetime has made an impression on many people. I have received so many notes from mothers across the world and how that video brought such joy to their little girl's life. To see how my video impacted others has been incredible, and the announcer even gave my title as Miss Rodeo Mississippi a shout-out at the end!
All of these experiences and people bring me back to the rodeo family that I have truly come to know and love so much over the past few months. My travels have been exciting and full of new people that I now consider to be family.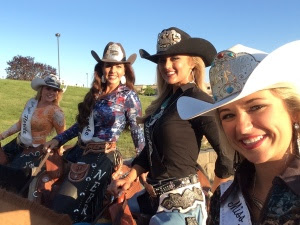 I had the opportunity to go to both The Snake River Stampede in Nampa, ID, and the "Daddy of 'Em All" in Cheyenne, WY. There, I got to experience unbelievable days. We met sponsors and true lovers of the sport we work so hard for. We saw the best competitors in the industry and watched them do what they do best- -all while sharing our love and knowledge for the industry of rodeo.
In Idaho, we also got to do exciting things like taking a plane ride to breakfast, and we went sturgeon fishing too! Also, while in Cheyenne, we went to a pancake breakfast that fed over 8,000 people, and saw the Thunderbird Air Show.
As soon as I made it home from Cheyenne, I hit the road again to make the Neshoba County Fair in Mississippi. There, a new family, a group of people I had never met, took me in as their own for an entire weekend and showed me what the fair was truly all about. If you have never made it to the Neshoba County Fair, it is definitely one to check out. The first fair was in 1889, and is now on the Historic Register of places. It has its roots in agricultural fairs and church camp meetings popular in the nineteenth century. With over 600 homes, a market and the fair itself, the Neshoba County Fair is an experience to be remembered. People take numerous days off from work just to spend time with each other and enjoy all of the fair's festivities without ever leaving the fairgrounds.
My most recent travels brought me to Colorado Springs and the Pro Rodeo Hall of Fame. Here, I witnessed some very unique experiences. During the Hall of Fame Inductions, I saw cowboys of all ages get together and tell stories of their days riding together, the stock that helped shape who they are and the friends and families that they met along the way.
It made me realize what this year really is all about. It is about doing what you love with the people that you love, and that makes us all family. As Miss Rodeo Mississippi, I have had experiences that will truly help shape the person I am becoming, and it is largely due to the people I have been graciously surrounded with and whom I now call family.