by: Chuck Coon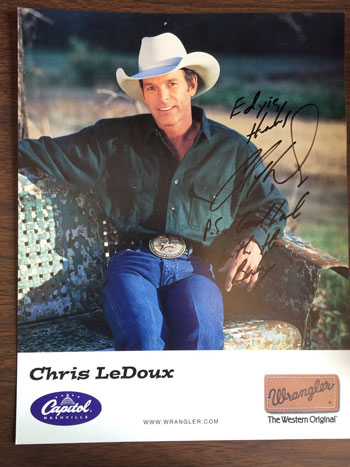 Enough tears have fallen to fill the Powder River through Kaycee, Wyoming where Chris LeDoux called home. He died of a rare form of cancer in March of 2005. During his all-too-short 56 years of life, LeDoux was indeed a rare breed. Beloved by the rodeo world, LeDoux's music captured the spirit of the sport – and of the American West – as few will ever likely match. The young Chris put pen to paper often. Poem after poem reflected his love of rodeo and of a young girl, Peggy, who would become his wife and bear him five children. His sense of humor and self-deprecating manner were constants even in the most painful of times. Besides writing words to become songs, Chris liked to sketch cartoons ala Charlie Russell and "Ole Chuck" would have been honored to ride alongside LeDoux. Many heroes don't quite live up to their reputations. This Wyoming, and rodeo, hero outshone them all. A practical joke player extraordinaire, who would not intentionally hurt even the squirrels on the golf course, Chris will forever be thought of with a certain measure of reverence.
It is hard to believe ten years have passed since his death. So much has happened. All but one of the kids are married now and Peggy LeDoux has six grandkids to hold. A rodeo staged as a tribute to Chris the year he passed was named the PRCA's "Small Indoor Rodeo of the Year." Artists have recorded songs in his name. A New York choreographer took a run at staging a play. Chris LeDoux Memorial Park in Kaycee is nothing less than stunning with a larger than life bronze statue of Chris winning the world on "Stormy Weather" as its centerpiece.
He was world champion professional bareback rider in 1976. When speaking about that accomplishment LeDoux chuckled recalling his bounty. "I won a saddle and a buckle and I got a hat and a pair of boots – and a little bit of money. The money's gone. The boots are worn out. The hat's gone – someone bit a big chunk out of it at Fort Worth that next winter. I still have the saddle and the buckle. But that championship gave me credibility in the music that I'm doing and helped tremendously," LeDoux believed. His stage act came to represent a rodeo complete with mechanical bull, pyrotechnics, and pulsating energy that kept standing-room-only crowds on their feet for two hours – always howling for more. The moment the net fell and the first strains of "Copenhagen" rang out is one all Chris LeDoux fans cherished. Flinging tins was a sport in itself. It was a way to show love too, sort of like resting a bunch of roses at Barbara Streisand's feet. Forgive the comparison but it is just the kind of image that would make Chris smile and say, "Yeah."
His interest in rodeo stemmed from a childhood in Texas surrounded by friends and neighbors for whom rodeo was a way of life. LeDoux decided to give it a try, won a buckle, and was "bitten by the bug." The family moved to Wyoming where rodeo continued to pique his interest. Before he gave much thought to girls or hot cars, Chris LeDoux dreamt of becoming a rodeo champ. He wrote his classic tune "Bareback Jack" while a student at Casper College. His mom had bought a guitar for Chris at Jay's Music Store in Cheyenne a few years earlier. He first strummed and sang along to Marty Robbins "Big Iron." He had many rodeo stars to gaze upon while living in Cheyenne and musicians then started to gain his attention. Favorites included Johnny Cash, Waylon Jennings and Charlie Daniels. "I started listening to country music and loved it. I wanted to be able to play the guitar and sing some of those songs," LeDoux remembered.
Football competed for some of his extracurricular time while at Central High School in Cheyenne but it was always Cheyenne Frontier Days that gave him "Gold Buckle Dreams." His bareback riding skills rose measurably as fellow contestants offered pointers. Soon Chris LeDoux was among the top riders. He could have chosen many different paths during that period in the late 1960s and 70s but decided a wife and family – settling in rural Wyoming – was the best course for his life. A successful rodeo career was overtaken by music. Hundreds of songs about the West, cowboy and rodeo life, and love ensued. It was Garth Brooks who kicked things up several notches by singing the line "Worn out tapes of Chris LeDoux" in Brooks' 1989 hit "Much Too Young (to Feel This Damn Old)." Almost immediately millions more fans of Chris launched a career that brought recognition and a degree of fame well outside the rodeo world.
He was freed on stage after being loaned a wraparound wireless microphone by Sawyer Brown's Mark Miller and the LeDoux Legion will always be grateful for Miller's kindness. Once Chris could move around at will "Hooked on an Eight-Second Ride" was right up there with watching Kaycee Feild win the world. Kaycee, by the way, was named after the Wyoming town LeDoux called home.
Writing songs became more work than fun and Chris would come to depend on others for many of his recordings during the latter part of his long musical journey. "Writing to me is like sitting in a room by yourself all day pulling one hair out a time. I did enough of that. I'm ready to enjoy other things – be outside," he said. He would get back home to the Kaycee ranch often and when there fix fence and do ranch chores his father-in-law saved for him. "I'm usually home calving time," LeDoux recalled. "I kind of wish I was out on the road then."
Another passion entered LeDoux's life in the latter half of the 1990s. Golf. That surprised the cowboy musician. "I hate to admit it. I cussed the game for years. But it's addicting. I don't understand it. Maybe it's just the nice little parks you get to walk through." Chris' family started a benefit golf tournament a couple of years after LeDoux's death. All of the proceeds went toward establishing a memorial foundation to build Chris LeDoux Memorial Park in Kaycee and continue to support various charities including the Justin Cowboy Crisis Fund helping injured rodeo athletes and their families in need.
Chris LeDoux's band, Western Underground, carries on in his honor. Guitar player, and road manager, Mark Sissel stood by Chris's side for 16 years. "It was like getting up every morning and walking down the road with John Wayne. The only difference was there was no on-screen/off-screen. Chris was the same every day – an extraordinary person; an exceptional man," Sissel told the crowd at the first annual Tribute to Chris LeDoux in Casper, Wyo. The band returns annually for Chris LeDoux Days in Kaycee held appropriately enough over Father's Day Weekend.
Mark Sissel had many sleepless nights after Chris died. He needed to put pen to paper and his song "King of Wyoming" dedicated to LeDoux just about says it all:
I loaded up my '64 Fairlane. Aimed it at the western sky.
I've had enough concrete and freeway. I'm leaving it all behind.
I'm looking for the King of Wyoming. The last of a dying breed.
Legend runs from Cheyenne to Cody.
About the King of Wyoming.
He left us way too soon but his spirit remains alive and shining. "He was true to his word. He was real. He cared so much about other people," reflects pro rodeo medic Linda Holtzinger. She is typical of loyal LeDoux fans spread across the globe. Holtzinger looks to the sky every night stars are visible. The first one she sees will forever be lit by Chris LeDoux's smiling face, his cowboy heart, and his voice echoing the soft opening lines of "Look at you Girl."
Look at you Girl.
Standing here beside me. Starlight in your hair.
Looking like a dream I dreamed somewhere.
And look at me girl.
You've got me acting like a lover in an
Old-time picture show.
And how I got the part,
I just don't know.
Chris LeDoux grew into the part naturally. The role we of his gender should all aspire to become. That of a good man.
Chuck Coon is a regular contributor to the Wrangler Network. Mr. Coon has provided stories for the past 20 years to such outlets as The History Channel Magazine, American Heritage and the Denver Post. He is based in Cheyenne, Wyo., where he serves as coordinator for the state of Wyoming's cowboy marketing program.
A Wrangler Network special presentation.
Ten years ago, Chris LeDoux died from cancer. During his all-too-short 56 years of life, LeDoux was indeed a rare breed. Beloved by the rodeo world, LeDoux's music captured the spirit of the sport – and of the American West – as few will ever likely match. The Wrangler Network presents a special tribute to LeDoux, "Missing Chris" to mark rodeo's loss of this talented cowboy, music entertainer, songwriter and artist. Check each day through July 25 for stories, photos and videos.
National Cowboy & Western Heritage Museum Tribute
A decade after his death, the National Cowboy & Western Heritage Museum pays tribute to this American icon through an exhibition developed to showcase his personal memorabilia, some never before displayed to the public. Included are two bronze sculptures LeDoux created, Wild Horse Fit and Eyeball to Eyeball. Both are on loan to the exhibition from his friend and fellow musician Garth Brooks. The temporary exhibition opens during National Day of the American Cowboy on July 25 and will be on display through October 18th, 2015.
nationalcowboymuseum.org