Richmond Champion: Loving Every Second
By Western Shooting Horse Contributor, Heather Haines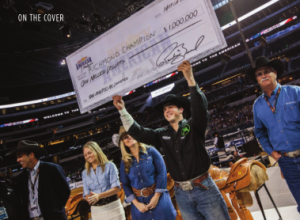 Everyone loves a story they can identify with. There's nothing like relaying the tale of a person who enjoys their job and goes on to accomplish great things. For every single one of us, accounts like that help kindle a spark of hope in our own spirits.
That's Richie Champion's story, which he tells with a humble bashfulness that is both endearing and calming. Champion was just like any other little boy, playing sports in the long daylight hours and growing up with horses in the background of his life.
"I didn't really know I wanted to be a cowboy." He said. "I was still playing sports and stuff and nothing really became of it but, we moved to Arizona and I carried on riding horses and eventually, I knew I wanted to do something like rope or mounted shooting. I didn't know mounted shooting even existed until I got to Cave Creek (Arizona) and saw a newspaper article with Annie on it."
The Annie he's referring to is National and World Champion Annie Bianco. Thus began his introduction into Mounted Shooting, which he continued until rodeo took a front seat. His older brother rode bare back horses when he was in high school and that was always in the back of Champion's mind. Now, he's given up the shooting and rodeo life is continuing to propel him forward.
As Champion has settled into his new career path, he admits to struggling, but it just takes one big win to change your attitude. "Winning Ellensburg last year was definitely huge. It was a big turning point for me. I hadn't been doing very well in short round situations, ya know? I would always do great in the first round and then I would choke in the short round. But I finally held it together and ended up winning. I'm   really proud of those wins and it starts the year off right so your confidence is high. It helps the bank   account too," He finished with a laugh.
Then something even more amazing happens. This year, the rodeo with the largest purse made its debut. RFD-TV's The American, wowed audiences with rodeo icons and a huge pay out of over two million dollars. And Richie Champion was front and center in the big show.
"I was nervous going into it. But everybody was that day. When you walked out in the middle of that arena it was unreal, but it was all the good kind of nerves. I knew I had a good horse in the first round and I knew they were looking for that. They weren't just gonna hand you the win. When I made it through the first round, that's when it really started to hit me!I was like holy crap, I gotta get on another one! And this could be for a million dollars."
Champion continued "I was sitting in the locker room riding the bike. They had this stationary bike in there for us to ride. I was trying to not talk about what was happening. Trying to not even think about it. We were all just kinda joking around in there. Then I stepped out and put my rigging on and the rest happened so fast. I remember them rushing me out on stage and it took a while to realize what even happened. It was surreal."
Of course winning the largest rodeo purse of over one million dollars would be surreal to most of us. And Champion knows that. So he continued in the best way he knew how. "It was almost like right after I didn't even allow myself to really think about it because I had to go straight to Houston and Florida and Iowa. I stayed pretty busy and once things slowed down and I had some time to think, it started to hit me."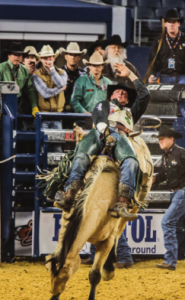 "It (The American) almost made me feel like I had to prove myself. Well, not really prove myself, but people were going to be expecting this from me every time. I just kinda had to get myself back to remembering that I need to have fun riding horses and that you're gonna have your good days and bad days. Just so happens that on the day of The American, I had a really good day," he added.
As far as putting pressure on himself for this season? Once again, Champion's calm and level headed response resounds with thoughts many of us can identify with. "I definitely put pressure on myself but, not because of anyone else. My expectations were higher than they've ever been coming into this year and they're gonna be a bit higher now."
When confronted with a big change, Champion is no different than the rest of us. He pushes through the situation and focuses on what really matters. "I'm really just trying to act like nothing happened and keep going with the same goals I had in mind before: finals and a gold buckle. There's a lot of year left. I still look forward to when we get to rodeo every single day and the wheels on the vehicle never stop turning."
Richie Champions' simple joy in doing something he loves is more than evident. And perhaps that's what is most inspiring about his success. "If you find something that you really love to do and you want to do it and there's no doubt in your mind about it… then give it everything you have and don't worry about the pay days. If you're enjoying every minute of it and having fun, somehow it's just easier to win."
To read more Western Shooting Horse articles, visit www.westernshootinghorse.com.
Photos provided by Western Shooting Horse. Photography by RFD-TV, Tina Marie Vance-Crnic.