WEATHER GUARD PRCA World Standings Watch: Standings Shuffle – Several Cowboys Propelled to the Top 15
As the rodeo season heats up, cowboys are finding themselves in a high-stakes version of musical chairs for one of the coveted positions in the Top 15. A single major rodeo win could set the pace for their 2017 season and grant them a ticket to the Wrangler National Finals Rodeo presented by Polaris RANGER in December.
It's easier to maintain a position at the top than it is to play catch-up for a qualifying position in the WEATHER GUARD® PRCA World Standings, so it's important to win big early in the season.
There were several rodeos from Feb. 13 through Feb. 21 with large payouts, such as the $446,576 San Angelo (Texas) Rodeo and the $216,449 Dixie National Rodeo in Jackson, Miss. In just one week's time, dozens of cowboys found themselves launching to the top of the world standings.
The following are the cowboys who jumped up multiple slots and into the Top 15 between Feb. 13 and Feb. 21.
• (Bareback) Austin Foss moved from 45th to 12th
• (Steer Wrestling) Baylor Roche moved from 35th to 6th
• (Steer Wrestling) Matt Reeves moved from 28th to 12th
• (Steer Wrestling) Dirk Tavenner moved from 31st to 15th
• (Team Roping Headers) John Alley moved from 23rd to 12th
• (Saddle Bronc) Ryder Wright moved from 24th to 9th
• (Saddle Bronc) Chuck Schmidt moved from 23rd to 13th
• (Tie-down Roping) Cody Quaney moved from 23rd to 7th
• (Tie-down Roping) Josh Peek moved from 31st to 14th
• (Steer Roping) Chance Kelton moved from 21st to 15th
• (Bull Riding) Trey Benton III moved from 38th to 9th
• (Bull Riding) Brennon Eldred moved from 39th to 14th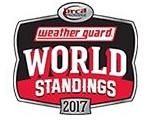 This weekend proves to be one of the biggest in the ProRodeo regular season as the $1,480,500 San Antonio (Texas) Rodeo and the $322,509 La Fiesta de los Vaqueros (Tucson, Ariz.) come to a close. The outcomes of these rodeos and others are sure to impact the world standings in a big way, and possibly give a glimpse at who we'll be seeing in Las Vegas.
Check back with prorodeo.com next week to see who the new leaders are in the world standings.
Courtesy of PRCA