#TeamWrangler Wins Big at Calgary Stampede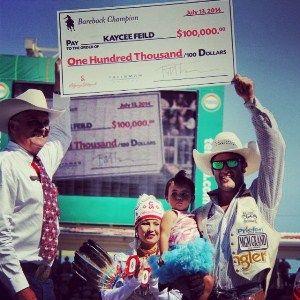 This past weekend the world's best rodeo athletes and finest stock gathered for world's richest tournament-style rodeo featuring over $2 million in prize money; the Calgary Stampede Rodeo.
The competition was fierce but #Team Wrangler members showed up to perform and ended up taking home 1st place in five of the six events as well as a crisp $100,000 each at the final Sunday Showdown.
Below, please find a brief recap of the five #TeamWrangler Calgary Stampede Sunday Showdown winners as well as barrel racing champ Kaley Bass.
Kaycee Feild : Bareback
Feild took home the title on a horse that he struck rich on before, a horse coincidentally named Mucho Dinero. Feild rode Mucho Dinero a few weeks back at the Ponoka Stampede, and while this was his second time riding him, it still didn't make it any easier. Feild told reporters, "He was tough today, the smart sucker, he was trying to get away from me. He ducked and dived, and stalled out in one area for a second, and got higher; then he'd jump forward and try to leave you on the end of your arm. But you've just got to keep riding them, and keep beating them to the ground, and they'll just get more fun."
Dustin Flundra : Saddle Bronc
To capture the $100,000 check and first Stampede Championship, Flundra had to have a ride-off. That's right, a ride-off, and it was with no other than another #TeamWrangler member, Wade Sundell. With his wife and three-year-old son in the stands cheering him on, Flundra rode Holly Blues for 87.5 points, surpassing Sundell's 86 points and roping in the win.
Scott Schiffner: Bull riding
Adding to his list of career wins, Scott Schiffner went into the final round with a positive attitude and with the hopes of riding Mr. Buddy. Luck was on his side because that's the bull he ended up riding for 89.5 points. Winning the Stampede Championship 13 years ago, Schiffner received a check for $50,000 but this time around he has doubled it and his three daughters were there to celebrate.
Trevor Knowles: Steer Wrestling
Winning the Stampede Championship for the third time in five years put a big smile on Trevor Knowles' face. Knowles completed a clean 3.8 second run on his black steer beating Morgan Grant and Bill Bugenig who tied with 4.1 second runs and Tyler Pearson who turned in a 3.5 second run only to be disqualified due to breaking a barrier.
Morgan Grant: Tie-Down Roping
Although he just missed capturing the title in steer wrestling, he rose to the top in tie-down roping with a time of seven seconds flat, his best career time yet. Collecting his bronze was a dream come true for Grant who used to pretend to be a competitor at the Calgary Stampede as a young boy. Taking home money in other events during the week, Grant left with a total of $141,000, an amount we're sure surpassed his imagination as a kid.
Kaley Bass: Barrel Racing
In an exciting and very close barrel racing final round, Kaley Bass took home the title by just a hundredth of a second, beating out the 2013 Stampede champion Jean Winters and fan favorite Fallon Taylor, both who had fantastic rides but ended up tying with a ride of 17.62 seconds. Bass won the race on her horse, Cowboy, who she's had since she was only three years old.
Source: cs.calgarystampede.com
Photo provided by Kaycee Feild.