The Adventures of Miss Rodeo America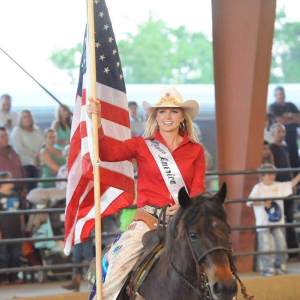 By Wrangler Network contributor, Paige Nicholson, Miss Rodeo America, 2014
Hi! I'm Paige Nicholson, Miss Rodeo America 2014. Since becoming Miss Rodeo America, I've been lucky enough this year to travel from one end of our beautiful nation to the other. From Kissimmee, Fla. on the East Coast to Columbus, Mont. on the West Coast and my home state of Mississippi in the middle; I've been keeping busy with rodeos and special events.
I particularly enjoyed my time at the National Western Stock Show and Rodeo in Denver this past January! It was my first trip as Miss Rodeo America, and so many people attended the performances, which made it really exciting! I've also been having a great time attending children's rodeos and doing school visits, it's nice to see the excitement on kids' faces when they meet a rodeo queen.
Time has flown by, but I've now reached the halfway point in my reign. With so much travel in the past six months, I'm thankful to have my Wrangler jeans and shirts because they are so comfortable and stylish—not to mention durable!
Recently, I had the privilege of visiting the Wrangler headquarters in Greensboro, N.C. to model new styles for their upcoming catalog. It was a wonderful experience all-around; from getting a sneak peak at the new styles coming out (keep an eye out for my two favorite pieces; the flare legged jeans and denim vest) to meeting the people behind the brand.
Next on my list of travels is the Cody Stampede Rodeo and the Cheyenne Frontier Days in Wyoming, both of which I am really looking forward to.
If you would like to learn more about the Miss Rodeo America organization or the Miss Rodeo America pageant, contact the MRA office at (719) 948-9206 or email info@missrodeo.com.
Until next time!
Paige Nicholson
Miss Rodeo America, 2014
Photos provided by Paige Nicholson.