U.S. Farm-Raised Horseradish Crusted Catfish with Remoulade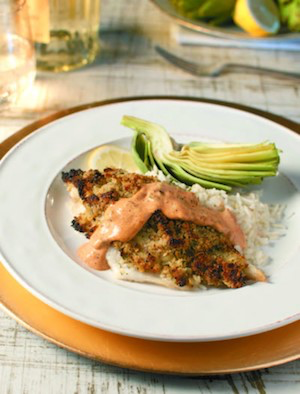 There is no secret of my love for the flavor that comes from spicy food and the bite of fresh horseradish, but when combined life is instantly better. The smell of fresh spices combined with the Remoulade layered across baked U.S. Farm-raised catfish will make your next meal 5 stars! One thing I continue to learn is that catfish is not only easy to cook, but is incredibly tasty with thick healthy portions when raised here at home. The ways to cook this fish are endless and are guaranteed to impress. I recommend following this recipe as close as possible, but don't go easy on the horseradish. Be sure to get some that is fresh and grated like Inglehoffer or Beaverton Foods products, and then combine with a great creole mustard like Zatarains to make this recipe sing.
And remember to be aware of what you buy, I always check the label to make sure it's U.S. Farm-Raised Catfish and so should you. Enjoy 100% All-American!
Courtesy of Wrangler Network contributor David Sharp.
@sharpdlance