WEATHER GUARD World Standings Watch: Team Roping Race Heats Up
Top 3 in the 80's and the Team Roping $80,000's
WEATHER GUARD PRCA World Standings Watch
(very debatable in Pop)
1. Billie Jean – Michael Jackson
2. Livin on a Prayer – Bon Jovi
3. Sweet Child of Mine – Guns N Roses
But, there is one it appears that everyone can agree on is #1 Country Song in the 80's – 'He stopped loving her today' – George Jones.
The top three team ropers have all now earned $80,000+ in the WEATHER GUARD PRCA World Standings and watching them bounce back and forth has been truly exciting. Although not exact money for the teams, its close enough that we could see the battle this year be a header and heeler world title from different teams. That is of course, unless Kaleb and Junior don't let off the gas or falter in the average at the WNFR they have positioned themselves to continue their plight to win the title and with the exact same $$$.
Heading
1. Kaleb Driggers (Albany, GA) – $87,906.26
2. Luke Brown (Stephenville, TX) – $84,633.62
3. Clay Smith (Broken Bow, OK) – $81,466.68
Heeling
1. Junior Nogueira (Burleson, TX) – $87,906.26
2. Paul Eaves (Ionedell, MO) – $82,755.50
3. Jake Long (Coffeeyville, KS) – $81,289.02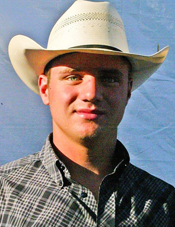 Also, in steer wrestling, the excitement of last years Resistol Rookie Steer Wrestler continues as JD Struxness from Appleton, MN moves to #8 with $56,123.
J.D. followed the win of his favorite rodeo, Cheyenne, by splitting the win in Lovington, N.M., and claiming the Lawton, OK title. Keep watching for James Daniel (J.D.) to push through for the next few weeks to claim his spot in Vegas contending for the title.
**Note, there is a thunder of greats behind him and several making a push like Trevor Knowles to move from the top 20 to inside the 15. There is also another Checotah, Ok man with his sights set on making his first WNFR and following the ones before him the bearing the last name Duvall, come on Riley!
WEATHER GUARD PRCA World Standings FUN to WATCH……these two – Sage Kimzey and Joe Frost in 1st and 2nd and smiling a bunch, like in this interview after the Cody, WY WCC event.
wranglernetwork.com/blog/kimzey-frost-rise-to-the-top-at-champions-challenge
WEATHER GUARD World Standings Watch is written by David Sharp.
@wndavidsharp