Wrangler National Patriot Program Honors Wounded Warriors at PBR Finals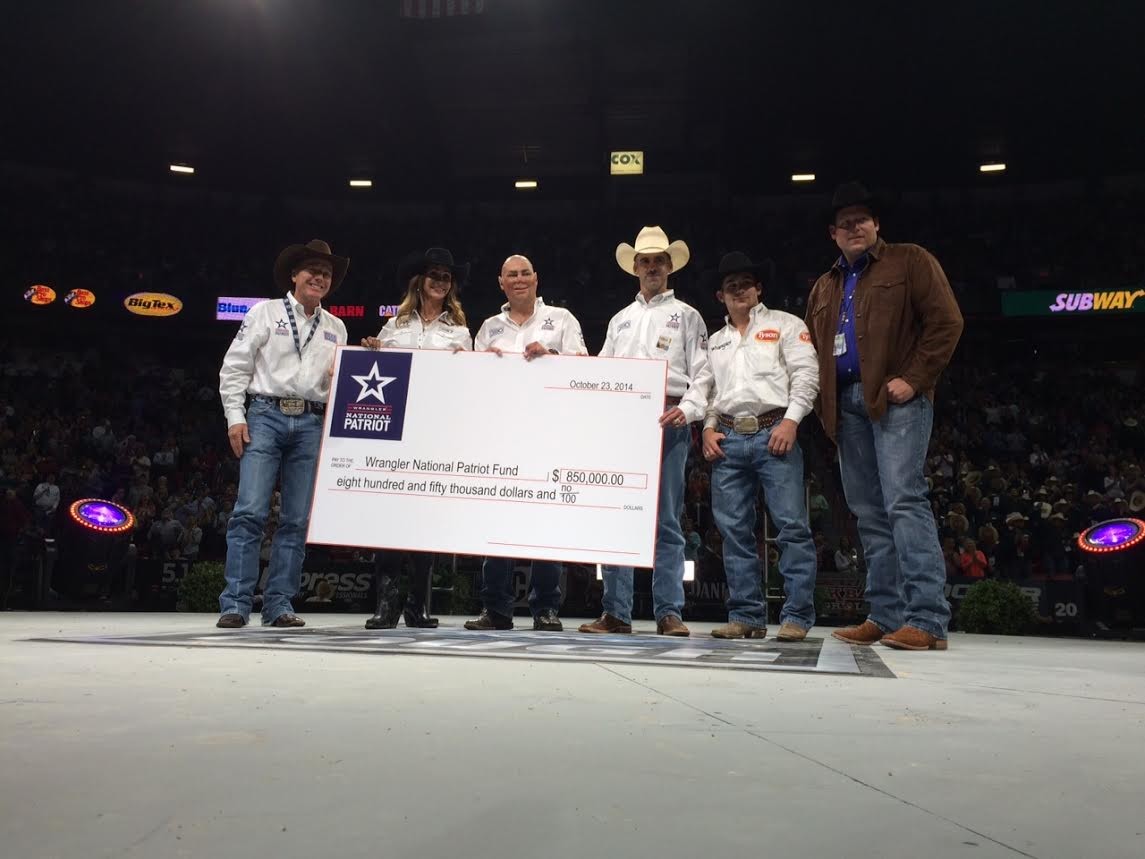 The Wrangler National Patriot program, a cause that raises funds and awareness for wounded or fallen soldiers and their families, presented a check for $XX to represent the total funds raised by the fund to-date during the 2014 PBR World Finals in Las Vegas this weekend. Honored during the presentation were two U.S. Army servicemen – Command Sgt. Major (CSM) Paul Bianco and Sgt. Shiloh Harris.
CSM Bianco, who has provided more than 27 years of service to the Army, most recently served as the USFOR-A Farrison Segeant Major under CJTF-101 and CJTF-10 in Bagram, Afghanistan. Bagram – the largest Military installation in Afghanistan which was also visited by the Wrangler National Patriot tour in 2012 – supports more than 30,000 military and civilian residents. While serving with the 10th Mountain Division in Afghanistan, CSM Bianco was injured during an enemy missile barrage. Currently, CSM Bianco is employed as a public safety Sergeant and is certified as a police officer, fire fighter, and medic for the City of Kalamazoo, Mich.
Sgt. Shiloh Harris served two tours in Iraq as a Calvary Scout, a role that's often described as the 'eyes and ears' of the Army. During his 2007 tour, Sgt. Harris was involved in a car bombing that resulted in the death of three soldiers. Sgt. Harris survived along with the driver of the vehicle; however he lost his ears, part of his nose, some fingers and over a third of the skin on his body. The long road to his recovery started with being in a medically induced coma for two months. Most recently, Sgt. Harris published a memoir about his inspiring story of healing and recovery, Steel Will: My Journey Through Hell to Become the Man I was Meant to Be.
To learn more about the Wrangler National Patriot program, visit wranglernationalpatriot.com.