Wrangler Network Article: Kassidy Dennison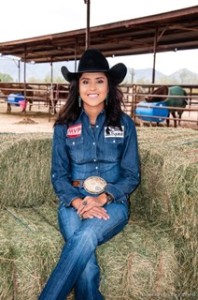 Wrangler is proud to announce new endorsee, Kassidy Dennison, an eight-time Indian World Champion Cowgirl, professional barrel racer and the first Navajo to qualify in the Women's Pro Rodeo Association (WPRA) barrel racing.
Growing up with a rodeo lifestyle, Kassidy is not a stranger to competition in the Rodeo world. Her parents Karl and Debbie both are former rodeo competitors with a list of accomplishments and titles of their own. While living to the family name, Kassidy herself is already in the books for making history.
In just a short time, Kassidy has acquired many accolades to her name, owning the title of being the first Navajo cowgirl to win a 2010 title at the National High School Finals Rodeo, winning the breakaway roping competition, and claiming the Turquoise Circuit Rookie of the Year award in 2011. While finishing third in the national rookie chase and participating in the 2012 College National Finals Rodeo as a member of the Cochise College Rodeo Team, Kassidy is ready to take her career to the next level, hoping to place in the finals at this year's WNFR in December, a major accomplishment for women in Rodeo.
Originally, from Tohatchi, New Mexico, a small town of just 800 people, Kassidy is a proud member of the Navajo Nation. With a passion for giving back to her community, Kassidy hopes to set a positive example for all Native American youth and women who strive to follow their dreams.
While following her dream to become a professional athlete in the sport of rodeo, Kassidy Dennison has learned that it is more to life than to be a winner in the arena, but outside as well, in the arena of life. With hard work and perseverance, Kassidy has already accomplished so much and can only continue to be successful.
"I'm thrilled to be competing in my first Wrangler NFR and it's an honor to be a part of an elite group of rodeo athletes that represent the Wrangler brand. Long Live Cowgirls!"
Welcome to the Wrangler family Kassidy!