Wrangler NFR Round 4 News and Notes
by ProRodeo.com | Dec 04, 2016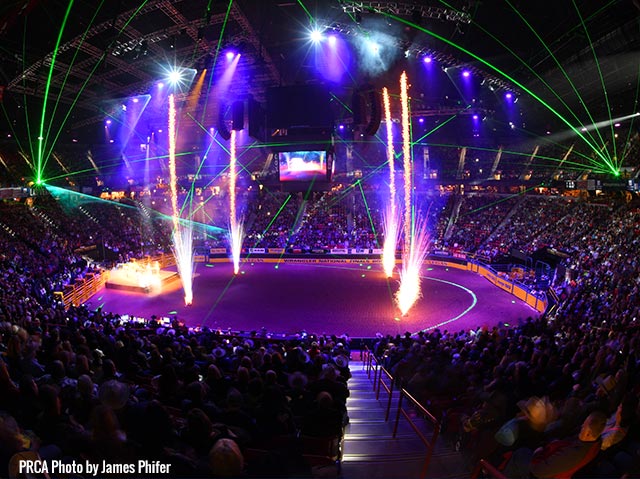 Memorial Night will serve as the opening act and the national anthem will be performed by country music star Daryle Singletary. B&W Trailer Hitches is the performance sponsor.
WRANGLER NFR LIVE ON TELEVISION, RADIO AND INTERNET
Tonight's Wrangler NFR presented by Polaris RANGER will be televised live and in HD on CBS Sports Net (DISH Network channel 158 and DirecTV channel 221) from 7-10 p.m. (PT) with Jeff Medders and Butch Knowles announcing, Joe Beaver and Don Gay providing commentary, Suzanne Alexander hosting the pre-show and Kadee Coffman as the sideline reporter. All 10 performances of the 2016 Wrangler NFR will be available live with a video-on-demand option via pay-per-view through FloRodeo.com exclusively in Canada, Brazil, Mexico and Australia. ProRodeo Live is airing coverage on a network of radio stations, including Rural Radio, and online at www.prorodeolive.com with Steve Kenyon as the lead announcer.
RYDER WRIGHT MAKES HISTORY
Saddle bronc rider Ryder Wright is having a truly memorable debut at the Wrangler NFR – the 18-year-old won Rounds 1, 2 and 3. Those victories have earned him $88,692 and moved him from 14th to second place in the WEATHER GUARD® PRCA World Standings, with $159,296. (In 2014, his uncle Spencer Wright jumped from 13th to first to win the gold buckle.)
Ryder Wright also is the first roughstock rider to win the first three rounds as a WNFR first-timer. Sixteen people have won the first three rounds at the WNFR; it's happened at least once in every event except bull riding. Of those 16 people, five of them – before Ryder Wright – did so in their first appearance, all of them barrel racers or team ropers:
1961: barrel racer Boots Tucker
1979: team roping partners Kent Winterton and Don Kimble
2002: barrel racer Tammy Key Fischer
2012: barrel racer Mary Walker

It's worth noting that Tucker (1961), Jimmie Munroe (barrel racing, 1984) and Robert Etbauer (saddle bronc, 1991) won the first four rounds. Munroe also won Round 5 – the only person to have won the first five rounds. No one has won all the first six rounds – yet.

TEAM ROPERS EYE ANOTHER AVERAGE TITLE
Luke Brown and Jake Long are leading the team roping average, which means that Brown is in position to win the average title for the third time in four years. It would also give him a fourth NFR average title overall, putting him in a tie for third on the all-time list with Jim Rodriguez Jr., Reg Camarillo, David Motes and Clay O'Brien Cooper. Leo Camarillo has the record with six NFR average titles and Tee Woolman is second with five. Brown's previous titles came with Martin Lucero (2010) and Kollin VonAhn (2013, 2015).

NEWS & NOTES
Bareback rider Jake Vold drew Flying U Rodeo's Lil Red Hawk tonight, the same horse Clayton Biglow had an 89.5-point ride on to win the finals of the Reno (Nev.) Rodeo in June. Jessy Davis drew Growney Brothers Rodeo's Wild N Blue; Jake Brown had an 89-point ride on that horse to win the Clovis (Calif.) Rodeo in April. Saddle bronc rider Allen Boore faces Bar T Rodeo's Lullibelle, a horse CoBurn Bradshaw had an 88.5-point ride on to capture the title at the Dixie Roundup in St. George, Utah, in September. Cody Wright faces Frontier Rodeo's Let 'Er Rip. The first time Wright rode that horse, on March 15, 2014, he had a 90-point ride to win the Southeastern Livestock Exposition Rodeo in Montgomery, Ala. Almost a year ago, Let 'Er Rip won the Round 9 WNFR saddle bronc of the night award when Taos Muncy won that round on the horse with an 83-point ride. Bull rider Tyler Smith faces J Bar J's Little Big Man, who won bull of the night in Round 3 of the 2015 WNFR when he bucked off Parker Breding.

Record times and scores for the fourth round of the WNFR:
BB: 90.5 points, Will Lowe, 2004
SW: 3.1 seconds, Dean Gorsuch, 2013
TR: 3.5 seconds, Brady Tryan/Jake Long, 2010
SB: 90 points, Jesse Kruse, 2009; Jesse Wright, 2012
TD: 6.6 seconds, Cody Ohl, 2009
GB: 13.49 seconds, Taylor Jacob, 2013
BR: 92 points, Jesse Bail, 2001; Paolo Crimber, 2004

Courtesy of PRCA