Wrangler NFR Round 5 News and Notes
by ProRodeo.com | Dec 05, 2016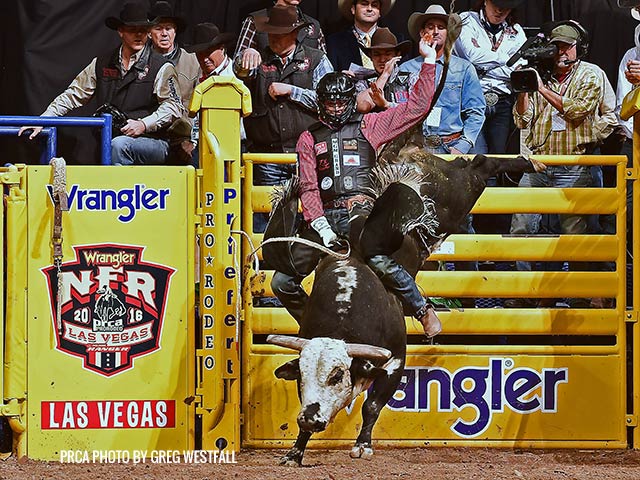 Trick Pony will serve as the opening act and the national anthem will be performed by contest winner Molly Gaynor. Today also is Tough Enough to Wear Pink Night. Montana Silversmiths is the performance sponsor.
WRANGLER NFR LIVE ON TELEVISION, RADIO AND INTERNET
Tonight's Wrangler NFR presented by Polaris RANGER will be televised live and in HD on CBS Sports Net (DISH Network channel 158 and DirecTV channel 221) from 7-10 p.m. (PT) with Jeff Medders and Butch Knowles announcing, Joe Beaver and Don Gay providing commentary, Suzanne Alexander hosting the pre-show and Kadee Coffman as the sideline reporter. All 10 performances of the 2016 Wrangler NFR will be available live with a video-on-demand option via pay-per-view through FloRodeo.com exclusively in Canada, Brazil, Mexico and Australia. ProRodeo Live is airing coverage on a network of radio stations, including Rural Radio, and online at www.prorodeolive.com with Steve Kenyon as the lead announcer.
BULL RIDER TEEL TO MISS REMAINDER OF WNFR
Bull rider Cody Teel, the 2012 PRCA world champion, is going to miss the rest of the 2016 WNFR after suffering a fractured left clavicle Sunday night. The injury happened during Round 4 when Teel was bucked off Pickett Rodeo's Relentless.
"I'm getting some X-rays today, but Tandy (Dr. Tandy Freeman, the medical director for the Justin Sports Medicine Team) said it was broke last night, and it felt broke to me," Teel said. "I think I landed on my (collarbone) when I hit the ground, but after I watched the video it looked like he also stepped on me. So, I'm not real sure which one it was, but I know I'm done for the rest of the NFR."
In addition to his world championship, Teel also won the average at the WNFR in 2013 and 2015.
RYDER WRIGHT LOOKS TO MAKE MORE HISTORY
Saddle bronc rider Ryder Wright has already hit the jackpot in his WNFR debut in Las Vegas. The 18-year-old has won the first four rounds, and earned $114,923 so far. Tonight, he will try and do something no roughstock rider in PRCA history has done – win five rounds in a row at the NFR. ProRodeo Hall of Fame saddle bronc rider Robert Etbauer is the only man to win four straight rounds outright – in 1991. Robert's brother, Billy Etbauer – a five-time world champion and fellow Hall of Famer – won or split the win in four consecutive rounds in 2005. Barrel racer Jimmie Munroe is the only person in NFR history to win the first five rounds, in 1984. Wright has a grand opportunity to make history tonight as he faces Spring Planting, the PRCA Saddle Bronc Horse of the Year in 2009, and co-horse of the year in 2013.
NEWS & NOTES
Bareback rider Clayton Biglow has won $77,692 at the 2016 WNFR, and he has a good chance to go to the pay window again tonight when he matches up with Pete Carr Pro Rodeo's Dirty Jacket, the 2014 and 2015 Bareback Horse of the Year. Jessy Davis draws Calgary Stampede's Reckless Margie, who Jake Brown had a 90-point ride on in Denver in January. Jake Vold draws Hi Lo Pro Rodeo's Wilson Sanchez – Orin Larsen had an 88.5-point ride on the horse to win the Wrangler Champions Challenge presented by Justin Boots in Pueblo, Colo., in August. R.C. Landingham faces Wayne Vold Rodeo's Mucho Dinero, a horse which was named the top bareback horse of Round 10 of the 2015 WNFR when it carried Tanner Aus to a split of first place with an 83-point ride. Wyatt Denny faces Pete Carr's Classic Pro Rodeo's Scarlet's Web, a 10-time WNFR qualifier. Brown had an 89-point ride on Scarlet's Web to win the Guymon (Okla.) Pioneer Days Rodeo in May. Reigning world champion saddle bronc rider Jacobs Crawley was bucked off in Round 4, but has a great chance to bounce back when he faces Frontier Rodeo's Medicine Woman, the PRCA Saddle Bronc Horse of the Year in 2011, 2014-16. Medicine Woman also was the top saddle bronc horse of the 2015 WNFR. Rusty Wright had the top ride of the regular season on Medicine Woman, with a 91-point trip to win Rodeo Corpus Christi (Texas) in April. Zeke Thurston draws Frontier Rodeo's Maple Leaf, who tied for saddle bronc horse of the year in 2013. Sterling Crawley meets Outlaw Buckers Rodeo's Lunatic Party, the saddle bronc of the night during Round 5 of the 2015 WNFR. Bull rider Shane Proctor has moved from 15th to third in the world in four nights, and is the only man to ride all four of his bulls. If he makes it 5-for-5 tonight aboard Rafter G Rodeo's Johnny West, it should be a big score. The bull has been ridden four times in 41 outs, and all four of those rides were for at least 86.5 points.
Record times and scores for the fifth round of the WNFR:
BB: 91.5 points, Bobby Mote, 2008 (equal to the arena record)
SW: 3.0 seconds, Steve Duhon, 1986 (equal to the arena record)
TR: 3.6 seconds, Garrett Tonozzi/Kinney Harrell, 2008; JoJo LeMond/Cory Petska, 2010
SB: 93 points, Billy Etbauer, 2003 (arena record)
TD: 6.9 seconds, Cody Ohl, 2010; Trevor Brazile, 2010
GB: 13.46 seconds, Carlee Pierce, 2011
BR: 91.5 points, Ryan Brown, 2003
Courtesy of PRCA