Acme Feed & Seed Announces the July Acme Unplugged, with Legendary Songwriter Steve Cropper & Friends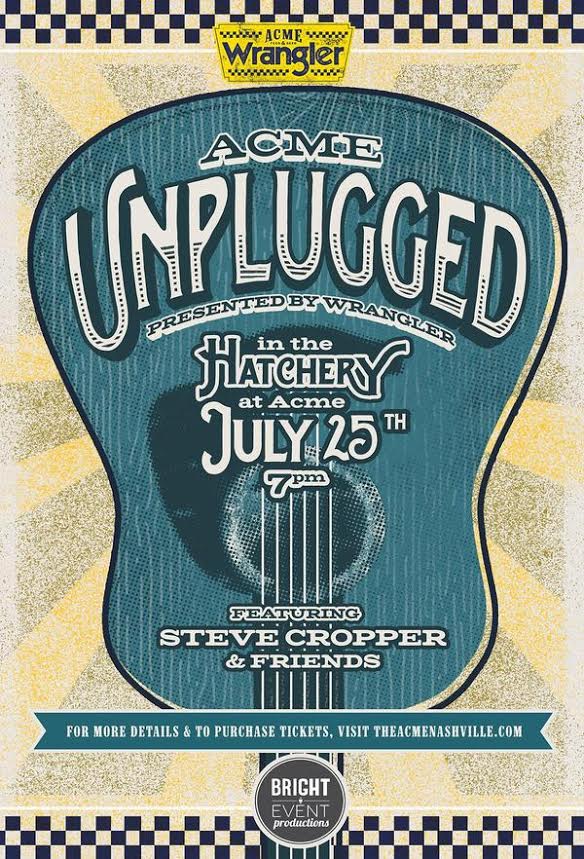 WHAT: Join us and The Wrangler Network, for Acme Unplugged; a unique, monthly night of music from Nashville's finest local singers and songwriters at The Hatchery and live streamed on WranglerNetwork.com, as well as on Acme Radio via AcmeRadioLive.com and the TuneIn app. July's Acme Unplugged will feature legendary songwriter and guitarist Steve Cropper, along with a curated selection of his favorite local songwriters and performers.
WHEN/WHERE: Monday, July 25, at The Hatchery at Acme, and online at WranglerNetwork.com; Doors at 6 p.m., show at 7 p.m.
WHO:
Steve Cropper: Born on October 21, 1941 on a farm near Dora, Missouri, Steve Cropper moved with his family to Memphis at the age of nine. Bit by the music bug, Cropper acquired his first mail order guitar at the age of 14. Personal guitar heroes included Tal Farlow, Chuck Berry, Jimmy Reed, Chet Atkins, Lowman Pauling of the Five Royales and Billy Butler of the Bill Doggett band.
As a guitarist, A & R man, engineer, producer, songwriting partner of Otis Redding, Eddie Floyd and a dozen others and founding member of both Booker T. and the MG's and The Mar-Keys, Cropper was literally involved in virtually every record issued by Stax from the fall of 1961 through year end 1970. Such credits assure Cropper of an honored place in the soul music hall of fame. As co-writer of (Sittin' On) The Dock Of The Bay (Otis Redding), Knock On Wood (Eddie Floyd) and In The Midnight Hour (Wilson Pickett), Cropper is in line for immortality. Cropper is currently the host of Cropper Radio Hour on Acme Radio. Learn more
Alicia Michilli: Alicia Michilli is a 24 year old R&B/Soul artist from Detroit, Michigan. This Nashville transplant was raised on the Detroit Motown sounds and it's undisguised in her music. Featured on the hit show America's Got Talent, her soulful and powerful vocals hauntingly echo those of legends past. After years of performing around Michigan and writing original material Alicia decided to check out Nashville's music scene. With confidence and class, she quickly gained the attention and support of many fellow writers and performers. She has recently teamed up with her long time hero, Keb' Mo' for his monthly Blues Jam at The Fontanel in Nashville, TN. Learn more
Nicole Boggs: A Nashville based soul artist, Nicole is known for her mix of soul, jazz, R&B, blues and funk. In addition to being a powerful vocalist and natural-born performer, Nicole is also a gifted songwriter and multi-instrumentalist. She has had the pleasure of sharing the stage with Josh Groban, Cindy Blackman, and Beth Hart. You can see Nicole playing shows around Nashville or touring up and down the East coast. Learn more
TICKETS: Tickets are $10/pp and can be purchased in advance here:
https://www.tandum.com/acme/july2016unplugged, or at the door. All ages are welcome.
ABOUT ACME FEED & SEED
Acme Feed & Seed, Nashville's iconic, century-old building, located in the heart of downtown, provides locals and visitors an original experience while honoring the much-loved character of Lower Broadway. A bustling lunch spot during the day, the first floor transforms into a "funky-tonk" at night, featuring rotating live music of Nashville's diverse musical landscape where every genre is represented. The first floor also plays home to the Acme Farm Store, offering locally-made artisanal gifts and sundry goods, as well as Acme Radio, an internet radio station providing an unfiltered voice of Music City and broadcasting live shows and unique programming via AcmeRadioLive.com. The second floor features a lounge with seasonally-inspired handcrafted cocktails, a menu of easily-shareable dishes and Acme's sushi bar. The third floor encompasses The Hatchery, the largest one-level private event and music venue on Lower Broadway. On Acme's rooftop terrace, guests can enjoy an open-air bar with 360 degree views overlooking the neon lights of Broadway, fireworks of Nissan Stadium and stunning views of the Cumberland River.