Armes Captures RTCFR Average Title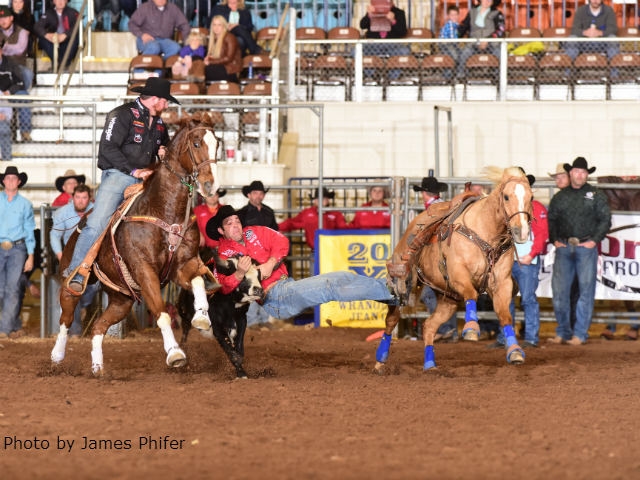 WACO, Texas – Just missing out on qualifying for the 2015 Wrangler National Finals Rodeo didn't sit well with steer wrestler Bray Armes.
Armes lost out on the coveted No. 15 spot to Blake Knowles by a mere $166.
Armes, a three-time WNFR qualifier (2012-14), is trying to erase that memory, and there's no better way to do that than to win rodeos.
That's exactly what Armes did at the RAM Texas Circuit Finals Rodeo (Dec. 31-Jan. 2).
The Pilot Point, Texas cowboy clocked a 13.1-second time on three head to win the average at the Extraco Events Center.
"I just came here and backed in there and tried to make the best runs that I could," said Armes, who also won the RTCFR average crown in 2004. "I just tried to be solid, and it paid off."
With his average winning performance, Armes qualified for the RAM National Circuit Finals Rodeo April 7-10 in Kissimmee, Fla.
Armes punched his ticket to the RNCFR by being consistently fast in Waco. He had a 3.9-second first round winning run and then he was 4.1 seconds to tie for second with Shayde Etherton in the second round.
In the finals, Armes just needed a 9.4-second time to defeat Austin Courmier, and he responded with a businessman-like effort, stopping the clock in 5.1 seconds. Courmier was second with a 17.5-second time on three head.
Armes left Waco with $6,341 in his bank account.
"I knew what time I had to have and I just backed off the barrier and ran him down there and made the run," Armes said. "When you know you just pretty much need to go get out of the barrier and go catch him and throw him down good, sometimes that's a little tougher than having to be 3.9 seconds, but things worked out for me."
Armes was riding his horse, Ote to capture glory at the RTCFR. Clayton Hass, who finished fifth in the 2015 PRCA world standings, was hazing for Armes. Hass won the Texas Circuit year-end championship.
"Ote worked really great for me," Armes said.
Armes made a frantic push the last week of the 2015 regular season, highlighted by his $5,068 in winnings at the Justin Boots Championships Sept. 25 in Omaha, Neb.
However, when Blake Knowles finished fourth at the Sheriff's PRCA Rodeo in San Bernardino, Calif., Sept. 27 and collected a $921 check that denied Armes his fourth trip to Vegas. Armes won the WNFR average title in 2013 when he finished a career-best third in the world standings.
"When you don't achieve what you want to achieve it has dang sure made me practice more," Armes said. "I'm just trying to be solid and make practice pen runs, and usually when you do that you win. When you go try to do too much you break barriers and you don't do good."
Armes did go to the 2015 WNFR and hazed for Casey Martin in Rounds 1 through 4 before his hazing horse, Bam was injured. Martin rode Ote at the WNFR.
"I stayed the rest of the time (after Bam got injured) and got Ote ready every night for Casey," Armes said. "This season I'm just focused on doing the best I can and let the chips fall where they may."
Other winners at the $199,130 rodeo were all-around cowboy Trevor Brazile ($7,896 team roping, steer roping), bareback rider Evan Jayne (238 points on three head), team ropers Trevor Brazile and Patrick Smith ( 19.1 seconds on three head), saddle bronc rider Isaac Diaz (251 points on three head), tie-down roper Timber Moore (25.9 seconds on three head), barrel racer Kelly Tovar (47.93 seconds on three runs), steer roper Scott Snedecor (35.9 seconds on three head), and bull rider Cody Rostockyj (178 points on three head).
Courtesy of PRCA