Big Cat Keeps Bucking for the Family Behind Him
By: Susan Bedford
May 04, 2016
There is perhaps no bigger fan of Big Cat than Gerald Almand.
He had followed the bull's career as he progressed through the American Bucking Bull Inc (ABBI) ranks. He saw his promise as a young calf and celebrated his ABBI Derby victory in Las Vegas in 2013, and rooted for him through an ABBI Classic year plagued by injury.
When he arrived on the Built Ford Tough Series, Gerald anxiously awaited Big Cat's debut as a short round bull in Oklahoma City. He and his wife, Betty Sue, had plans to stay at home on their ranch that weekend glued to their TV.
Big Cat held a special place in the hearts of the Almands, and not just because they were PBR fans. Big Cat was an extraordinary athlete who had bested all but one cowboy so far in his career and, more importantly, had a family tie to the Almands.
It was their son, Joey, who had cared for the bull throughout his competitive career.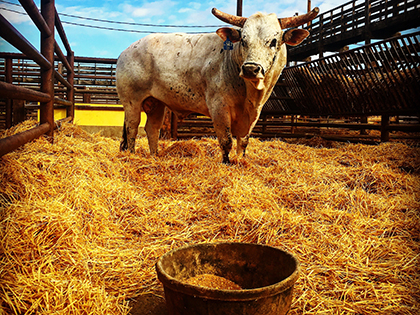 Joey, however, never made it to Oklahoma City to watch Big Cat make his debut. That Friday, on his drive to Oklahoma from the TLW Ranch, he received a call that changed everything.
His father had fallen ill and had to be airlifted to a hospital in Dallas.
"It was like a dream going up there to see Big Cat in the short round," Joey said. "Then the day turned into the worst nightmare you couldn't wake up from."
Gerald Almand passed away the next day, January 24, the day Big Cat made his debut.
The Show Must Go On
Joey never made it to the event, but the show had to go on an it did when Big Cat bested Markus Mariluch in just over two seconds in Round 3.
PBR Director of Livestock Cody Lambert was impressed enough by what he saw to invite the TLW bull to buck in the short go in Anaheim, California, then again in Sacramento. Next thing they knew Big Cat had bucked across the country on the BFTS from New Mexico to Montana.
Tracey Leigh Williams, the "TLW" in TLW Bucking Bulls, was quick to point out the three people who make it all possible- herself, Joey and herd manager Sugar Kuhn.
"It took all three of us to get Big Cat to where he's at," Tracey said. "Sugar raised him and pitched him to me. I took a chance based on her opinion, and I bought him. Joey's done an amazing of job taking care of him since he came to our ranch in Athens (Texas)."
Big Cat came out of the breeding program of Kuhn Livestock, but there would have never been a Big Cat in the first place if not for the relationship between Sugar, H.D. Page and Julie and Steve Ravenscroft.
Big Cat, like the TLW brand itself, is a story that is based on the deep ties of friendships and family.
"Cat is a Spit Shine son. Spit Shine is a double-bred Whitewater that comes from Steve and Julie's program," Sugar explained. "After I expressed my admiration for him, they were kind enough to let me use him as a sire on our (Kuhn Livestock) herd in California,"
"The Pages come into play as Cat's mom is Sugar Pie, a daughter of Get Western, a bull H.D. was also generous enough to let me use to breed to."
Once Big Cat was wearing the TLW brand, Tracy, Joey and Sugar put their heads together as to how best manage his care and career.
"All three of us make decisions as a family," Tracey said. "Another member of our family just happens to be a bucking bull."
The Real Deal
As Big Cat grew in size, now around 1,825 lbs, and talent (over $85,000 in career earnings), the TLW team began to suspect they had a real talent.
This was confirmed when nearly every major player in the bull business started making offers to buy Big Cat.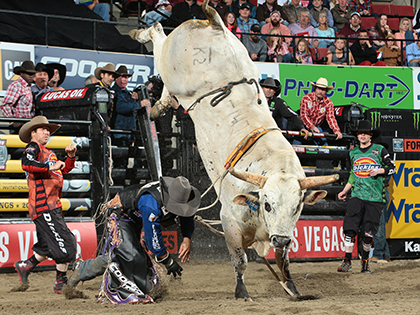 "I thought he was amazing, but sometimes- when he's not getting the high marks from the judges- you start to doubt yourself," Sugar said. "But I realize that no one's lasted very long on him, and they just really haven't been able to see all that he can do yet."
Tracy was adamant from the start that Big Cat was not, and would never be, for sale.
"I think he is as good as any bull in the short go," she said. "I realize we (TLW) haven't been around that long, but the years of hard work and experience that we each went through individually in order to get to a place where we could even have this company together and ultimately have Cat, is priceless."
The first time Tracy will see Big Cat buck live is at Last Cowboy Standing, the final PBR Major of the first half of the BFTS season and the headlining event of Helldorado Days in Las Vegas. Due to other work commitments, she has only been able to watch him on TV so far this season.
"I was just so excited in January that he was going to a Built Ford Tough (event) he earned it in his own right, and that was an invitation he worked hard for," Tracy said. "I watched him on TV in shock. I must have watched it 50 times, over and over. It's still hard to absorb that he's not only at the BFTS level, but in the short round.
"My ultimate goal was just to get a bull on the BFTS. It still amazes me. I look at him, and it still feels surreal."
The pride is evident among each member of TLW. That said, there is also the realization that no matter how things play out the rest of the season, the team won't have the perfect fairy tale ending.
The man who was father to one third of the TLW team, and loved the rest of them like the daughters he never had was gone.
Gerald never got to see Big Cat buck in the short go. He knew the big bull's talent would be recognized and that his turn would come, but he never got to see his first short round performance that day in Oklahoma City.
Despite that, Joey is confident his father has seen every out since then- just from a slightly higher vantage point.
"I really think Big Cat is bucking for dad this season," Joey said. "and that he's watching us from above."
© 2016 PBR Inc. All rights reserved.