Bingham dominates in Lovington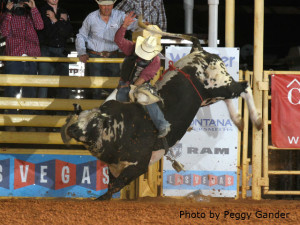 LOVINGTON, N.M. – Tim Bingham continued his path of destruction August 5, and pretty soon, no bull is going to want to see him climbing over the bucking chute.
The 22-year-old bull rider is on fire, and it doesn't seem to matter which bull his name shows up next to. He picked up another huge win at the Lovington Xtreme Bulls event in Jake McClure Arena with a score of 180.5 points on two head.
"I feel awesome," a joyful Bingham said following his big victory. "This is my best two-bull total that I've ever had. I'm speechless. To win back-to-back Xtreme Bulls events is amazing, and my confidence is higher than it's even been. I'm having so much fun."
Who could blame Bingham for all the joy he's feeling? He took the title at the Dodge City (Kan.) Division 2 Xtreme Bulls event exactly one week ago.
In Lovington, he won the first round with an 89.5-point trip on Salt River Rodeo's Lucky Dawg, which meant he would be the last man up in the final round. After Cole Echols, Joe Frost and Brennon Eldred all rode in the finals, Bingham knew he'd need a qualified ride – and a good one – to win the title.
"When guys in front of me ride, it puts a little pressure on me, but I ride better when I see a few guys before me stay on," Bingham said. "I get amped up and ready to roll. The crowd was loud and great. They were going crazy."
Bingham gave them good reason to cheer in the finals when he rode for 91 points on Pete Carr's Classic Pro Rodeo's Line Man. He won the average by four points over Echols, and left no doubt who the best bull rider in Lovington was Tuesday night.
"It was the first time I got on Line Man," the Honeyville, Utah, cowboy said. "He's a handful, that's for sure, but I was determined to ride him. It definitely felt like a 90-point ride because that bull was really bucking and trying to get me out of position. You can tell when it's a 90-point bull. The difference between those elite bulls and the others is night and day."
Bingham entered the week eighth in the Windham Weaponry High Performance PRCA World Standings. He was 26th in the Xtreme Bulls standings, and needed a big push to make sure he qualified for the Tour finale in Ellensburg, Wash., on Aug. 30.
The $11,577 he won for sweeping the board in Lovington will go a long way in both sets of standings. He's sitting pretty in his quest for his first Wrangler National Finals Rodeo qualification, and should also make the Xtreme Bulls finale.
"I went in knowing the only standings I was too low in were the Xtreme Bulls standings, and I knew I needed to focus on these Xtreme Bulls events and get some money won," said Bingham, who should move into the top five in the world, and close to the top 10 in the Xtreme Bulls standings.
"Qualifying for the Tour finale was my new temporary goal, and now I'm golden for Ellensburg."
Echols placed second in the average with a score of 176.5 points on two head, and earned a total of $7,832. Eldred was third with 167.5 points on two, and took home $5,713.
—
For in-depth coverage of the Lovington Xtreme Bulls event, be sure to read the Aug. 15 edition of the ProRodeo Sports News.