CBR Bull of the Event Heads to Las Vegas with the Captain
CBR NFR Bull Profile – 191 Big Jake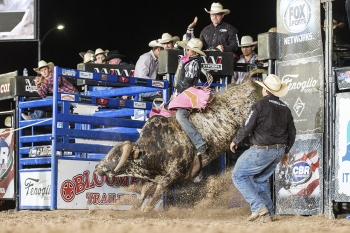 Owen Washburn, former CBR Bull Team Challenge World Champion and famed bull rider nicknamed "The Captain" for his command of consistency during his competitive years, heads to Las Vegas this week on the other side of the chutes with Salt River Rodeo bucking bulls for the National Finals Rodeo.
On the trailer is 191 Big Jake who also bucks on the Road to Cheyenne tour with Washburn's Bull Team Challenge team. 191 earned CBR Bull of the Event honors, the rankest marked bull, in Rio Rancho with a 90.5 bull score while bucking off Demond Haynes.
"I knew nothing about that bull, Owen said he was good and would go around to the left and he was a little strong and fast on me and I made a wrong move that caused my hips to slide out," said Cody Jesus who bucked off 191 in 4.54 seconds (45.5 bull score) in the Shoot Out round of the CBR Colorado River Chute out in Laughlin last September.
191 bucks off 83.33 percent of his opponents and was ridden twice in 2017 in PRCA competition. CBR's Dustin Boquet was 88.5 points on him in Tucson and Luke Gee was 84 points on him in Buckeye, Arizona. According to Probullstats.com and Prodeo.com zero of the 15 NFR qualifiers have been on Big Jake.
191 is a veteran of the NFR and a round winning bull for Salt River and Garrett Tribble in 2016 when they posted 85 points to win round 7.
He typically goes left out of the chutes giving left handers a slight advantage, but with only three qualified rides on the books, anything can happen.
Owen Washburn, his wife Tricia, their son Braiden, and daughter Tierney raise bucking bulls in Lordsburg, New Mexico. Washurn followed in the footsteps of his grandfather Norman Washburn who was a member of the original Cowboys' Turtle Association.
Washburn was the 1989-90 NHSRA Bull Riding champion, the 1994 Turquoise Circuit Bull Riding Champion and finished 9th at the Wrangler National Finals Rodeo. He qualified for the PBR National Finals 10 times and was the 1996 PBR World Champion.
After riding for nineteen years, Washburn retired and with the same dedication as he rode, he raises impressive bucking bulls.
Courtesy of CBR