CBR World Finals Champion Cody Jesus Set to Compete in CBR Window Rock
Championship Bull Riding Window Rock presented by the Navajo Nation Parks and Recreation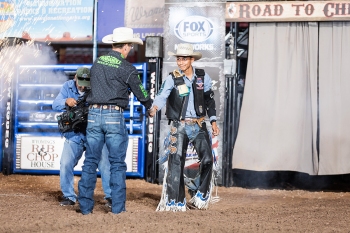 WINDOW ROCK, Arizona – (August 10, 2017) – Championship Bull Riding (CBR) returns to Window Rock with four-time World Champion and Pro Rodeo Hall of Famer Tuff Hedeman, but this year an even bigger star will take the dirt beside Hedeman and six time World Champion bull rider Sage Steele Kimzey.
The bull riding sensation of the Navajo Nation, Cody Jesus, returns to Window Rock with a new title and a desire to jump start his quest to be a World Champion in front of friends, family, and the Navajo Nation.
CBR and Jesus return to Window Rock, Arizona on Sunday, September 3, 2017 at the Dean C. Jackson Memorial Arena at 8 PM. The annual bull riding only event is presented by the Navajo Nation Parks and Recreation Department as the 71st Annual Navajo Nation Fair, the largest Indian fair, which begins September 4 and runs through the 10th.
A Kick off Reception will begin the festivities at 5:00 pm on September 3, located in the Hospitality Tent where refreshments, presentations and an autograph session is scheduled, sponsored by ARTSCO Inc., KTNN and KWRK Radio, Navajo Parks and Recreation Department, and Tate's Auto Sales
Newly crowned CBR World Finals Champion, the bull riding sensation of the Navajo Nation, Cody Jesus of Sawmill, Arizona, kept pace with three World Champions and surpassed the top three men in the CBR to ride four of five bulls and win the average title in Cheyenne at the 2017 CBR World Finals – the eighteen year old Navajo bull rider left the arena at Frontier Park with the largest check and thrill of his young career…and life.
"Bull riding is an individual sport and everyone has a different way of executing – learning to ride at the highest level is hard and I mean riding when it means something, no matter where you are," continued Hedeman when asked about Jesus's performance.
The former Navajo Bull Riding Champion arrived in Cheyenne for his first professionally sanctioned World Finals competition and claimed the average title that came with a Hy O Silver trophy buckle, CBR logo Fenoglio boots and Jesus's personal favorite, a check for $41,050.00.
"I think I am going to buy a car and have something reliable to get to the bull ridings and rodeos in," said an elated Jesus when looking at the jumbo check he received from Tuff Hedeman just moments after being the best bull rider of the 2017 CBR World Finals.
The Navajo Nation, who annually brings the CBR to Window Rock as the second stop on the Road to Cheyenne, is extremely proud of their new rising star.
"Cody has been riding with the Navajo rodeo associations for a short period since he at the time was still in high school. He first came to the forefront when he won the 2015 Navajo Nation Fair. Navajo Parks and Recreation was very proud that he had demonstrated that he could compete at the national level with his win at Rio Rancho. I see in Cody that he loves riding bulls and would enter at any opportunity to compete and I believe that his competitive spirit is something that motivates him to do his best at all times. The Navajo people love the sport of rodeo and especially bull riding and anytime a Navajo competitor in any rodeo event is doing well the people fully support the athlete because he or she represents the Navajo Nation and people. Cody is a winner and all events I have seen him ride he has placed and I fully believe if he is given opportunity to compete in the CBR tour that he will again challenge Kimzey and come out on top as national champion. The Navajo people love livestock, horses, cattle, sheep and it is ingrained into every person's character, that the animals are sacred and must be treated with reverence and honor.
The rookie bull rider who won the average in Rio Rancho last January to begin his CBR season, put on a show spurring all his bulls without hesitation or getting out of shape. Jesus claimed the average and two rounds, including the richest round, the Shoot Out.
Jesus who just completed his rookie year in CBR took home a little over $41,000 for his two day five round effort which moved him from sixth to fourth in the CBR final World Standings.
"He's a bad cat, we witnessed the start of a long illustrious career and it's happening right now to Cody. Last year in Window Rock he ask me to pull his rope and he was a pile of points and I knew he would be one to watch," said newly crowned CBR Kimzey on watching Jesus win the title he earned last year.
Other top CBR tour contenders are five time World Champion Sage Kimzey, several National Finals Rodeo qualifiers.
CBR will bring 24 of the best bull riders in the country and pit them against the top bulls on tour in Window Rock. The Sunday night lineup will follow the CBR's three round tournament style format which is popular with fans as it allows them to see their favorite riders challenge as many as three bulls in one night as they progress to the lion's share of the $30,000 purse in the final Shoot Out Round.
Four time World Champion Bull Rider and Pro Rodeo Hall of Famer Tuff Hedeman will be the CBR Chute Boss ensuring each rider and bull has a fair shot at the money. The event will feature multiple World Champion bull riders and Hedeman traditionally invites a hometown bull rider to take on the CBR's field of 24 elite bull riders. Their competition – the top bulls on the CBR tour including several World Champion bovine athletes.
The competition is also part of the CBR Million Dollar Bull Team Challenge and this year the fans are invited to follow along the $45,000 competition among the bulls that is held simultaneously to the rider draw. Each bull team brings three bulls that are featured during the first two rounds of competition each night. Those bulls receive points for their performance in the arena and are combined with the ride time of the bull rider for the aggregate bull score. At the end of the night, the owner with the three highest-scoring bulls as a team will receive the $20,000 first place check.
CBR is known for their action-packed performances that keep fans on the edge of their seats. From having great bulls matched up with super star riders, to upbeat music and enthusiastic fans, the CBR in Window Rock will be second to none.
Immediately following the bull riding, fans will get a chance to meet and get autographs from Tuff Hedeman and the CBR Bullfighters and champion bull riders. List of contestants will be available at a later date.
Tickets will be in sale on August 18 at the Fair Office. The performance will be held at Dean C. Jackson Memorial Arena, Navajo Nation Fair Grounds, Highway 264, Window Rock, AZ. Tickets on sale August 18, 2017 $20 for adults and $10 for kids. More info 928-871-6478 or (928) 550-1775 – Wanda Nelson. For media credentials or interviews please contact Leigh Ann Schroeder leighann@cbrbull.com.
About Championship Bull Riding –
Located near the cowboy capital of the world, historic Weatherford, Texas, Championship Bull Riding (CBR) is an organization dedicated to promoting and preserving the very best elements of the sport. Under the direction of CEO Benny Cude and bull riding icon Tuff Hedeman, CBR has grown into an organization that works to put the best riders on the best bulls, delivering world-class qualified rides and entertainment to its legions of world-side fans. CBR has two tours, riders begin in the Horizon Series earning points to move onto the elite Road to Cheyenne Tour. The Road to Cheyenne Tour culminates in July in Wyoming at the legendary Cheyenne Frontier Days where the World Champion Bull Rider earns a $100,000 bonus. The CBR Bull Team Challenge is also part of the tour events where stock contractors bring their best bulls and compete for annual cash prizes that total over $1 million. Providing opportunities for contestants, stock contractors, fans and sponsors is why CBR is the REAL COWBOY SPORTtm. CBR is featured at over 70 venues across the United States with national television programming on the Fox Sports Networks for 26 consecutive weeks in prime time. Follow CBR on all major social media platforms as Championship Bull Riding and CBRbull. For more information visit www.cbrbull.com or call 817-626-BULL (2855).
Courtesy of CBR