2018 CBR Bud Light Classic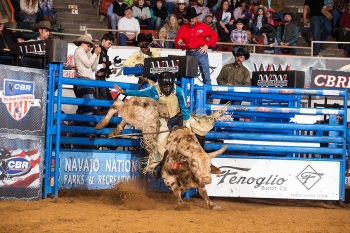 Four time World Champion bull rider and pro rodeo hall of famer, Tuff Hedeman announced today the selection of the Bounty Bull for the first performance of the 2018 Bud Light Classic starting at 8 pm tonight at the Oman Arena.
The highest earned score by a bull rider during the regular "long round" portion of the performance earns the bull rider the opportunity to get on a second bull to try and win $10,000 – if he can hang on and still be attached to that bull at the 8 second whistle.
Sounds easy? And yes you are thinking, $10,000 for 8 seconds of work, oh yea, I got this.
But it is not as easy as it sounds because the bounty bull selected by Hedeman, who knows a little something about rank bulls, picked a bull named Chaos Ghost owned by a doctor from Arkansas, Scott Winston, and a former professional bull rider, Corey Melton.
"Everybody thinks they can ride him but they can't, he is intense and gains speed as he bucks," said Corey Melton.
Here's what you need to know before you bet the farm on this match up. 210 Chaos Ghost loves the Oman Arena. He has only been ridden twice on the Road to Cheyenne and both times were in the bowl shaped arena that riders and bull owners agree creates a unique environment second to none on the tour.
"The Oman is an incredible venue, fans have a 360 degree view of the event, they see the riders up close, the bulls even closer, and it creates an amazing and exciting atmosphere," said Hedeman, CBR Ambassador and Chute boss who selects the bulls that power the Bud Light Classic.
Chaos Ghost has a history in Jackson and was awarded the Bull of the Event buckle on one of those "outs" in Jackson. In 2017 the current CBR's World Standings leader bucked off of him in less than 3 seconds, but the PRCA's Rookie of the Year would love to have a rematch Friday night.
"Hopefully I will get another shot at him in Jackson, he's a great bucker and if you make the whistle you have earned $10,000," said Campbell.
Fact 1: Chaos was ridden one time on the 2017 Road to Cheyenne by 7 time World Champion and the reigning CBR World Champ, Sage Steele Kimzey for 91.5 points on the rider side and 91 points on the bull's side of the effort – advantage bull.
Bull riding 101 teaches that the bulls are being scored half and the riders half. So a great rider can make a good ride but if the bull does not perform well he will not receive a high score.
Fact 2: In 2015 he was ridden here by a young gun, Wyatt Rogers, a college educated bull rider also from Oklahoma who will be on the roster again this year – advantage bull rider.
Fact 3: According to his manager and traveling partner, former professional bull rider Corey Melton, he is an easy keeper, eats whatever he wants, and stands square in the chutes which gives the bull rider a more than fair opportunity to "get out clean" – advantage bull.
210 Chaos Ghost came from former bull rider Jacob Kennemer of Mayflower, Arkansas. He is sired by Kamryn's Chaos and competed as a three and four year old before he found his way on to the CBR's Road to Cheyenne tour.
"I watched him at the classic level (bulls compete for money) and Jacob didn't want to sell him and when he turned 5 he called me and I bought him – his first event was in Jackson, Tennessee in January of 2016 and he was the rankest score of the night winning us the Bull of the Event," said Corey Melton of Melton Bull Company, Tolar, Texas.
That first out for in 2017 for 210 was in Jackson at the Bud Light Classic and the match up was with with five time World Champion bull rider Sage Kimzey who showed him well for 91.5 points on the ride side and 91 on the bull score side.
He would go on to Hobbs, New Mexico later in January last season and be named Bull of the Event for the second time, this time bucking off Juan Alonzo and receiving a 90.5 bull score. He has a good start for the 2018 season bucking off and earning 90 points on the bull side score and the Hy O silver trophy buckle for the rankest bull at Huron, South Dakota – the CBR season opener in August.
As far as things we don't know about him is where he got his name, and who will be the next bull rider to hear the 8 Second whistle while still upright.
What's in a name?
Like pedigreed horses and show dogs, bucking bulls names usually reflect their bloodlines. As far as 210's name goes – Melton was unsure so an educated guess (thanks to Google) is he is named after a game mode in the popular Call of Duty video game series. That game features a "chaos ghost". During this game you can play with other people, the players have 2 minutes – not 8 Seconds, and the weapons (bull riders) are scattered and can be picked up…with three self-revives (a bull rider's dream) but most of the time – time runs out and players (bull riders) lose. Starting to see the similarity?
What to look for on Friday night when he comes out of the chutes?
"He's got some moves to him, it looks like he bucks the same every time but he adds a little extra, everybody thinks they can ride him but they can't and I think his confirmation makes him difficult to ride, he is a long bull and when he bucks he has a lot of whip and that is what gets the rider off balance," added Melton.
Why do the cowboys like him?
"He is real good in the chute, he stands still, you can pull all the rope and wiggle around and he doesn't move, he really gives them a fair opportunity," said Melton.
The great bull watching in Jackson would not be complete without mention of the CBR Bull Team Challenge competition which is going on simultaneously to the bull riding. $90,000 will be paid out nightly to the winning trio of bulls.
"The CBR has created a great format with the three rounds of competition and an environment for competition that attracts stock contractors because they can earn money that is second to none in the bull riding business, said Benny Cude, CBR Chairman of the Board, owner of Championship Pro Rodeo and owner-breeder at the 7Rocking X Ranch in Priddy, Texas.
CBR and PBR World Finals bull and 2017 Bull of the Year Nominee, 210 Chaos Ghost who earned the rankest bull score and award in Huron. Brought to town by Winston/Melton Bull Company's 210 Chaos Ghost has history in Jackson.
The CBR Bud Light Classic is the seventh stop of the 16 city CBR Road to Cheyenne tour featuring a field of 24 elite bull riders in two performances. Friday night features a bounty bull format where the highest score from round one will attempt the bounty bull for a $10,000 check. Saturday night is the CBR three round tournament style event ending in a final four Shoot Out round worth at over $78,000 to the riders and $45,000 in competition prize monies for the four legged bucking bull athletes.
Make plans to join us for the CBR World Finals Shoot Out in Cheyenne held at the Cheyenne Frontier Days Rodeo, CBR World Finals Tickets, in July include a five round two day Shoot Out for the $100,000 bonus check.
Event Location is at the Oman Arena, 179 Lane Ave, Jackson, Tennessee 38305.
Bud Light Classic Tickets are available at Rustic Soul, 1926 Emporium Drive, Jackson, 38305 or online at cbrbull.com
Friday night performance – Ticketing link
Saturday night performance – Ticketing link
Websites: Cbrbull.com; Cfdrodeo.com; EnergyEntertainment.com
For more information contact: Leigh Ann Schroeder, leighann@cbrbull.com or 940.902.1112. Follow Tuff Hedeman on the Official Tuff Hedeman Fan Page on Facebook, Twitter and Instagram and @TuffHedeman and CBR on Facebook at Championship Bull Riding, Twitter and Instagram @CBRbull.
Courtesy of CBR