Cody DeMoss Wins Reno for Fourth Time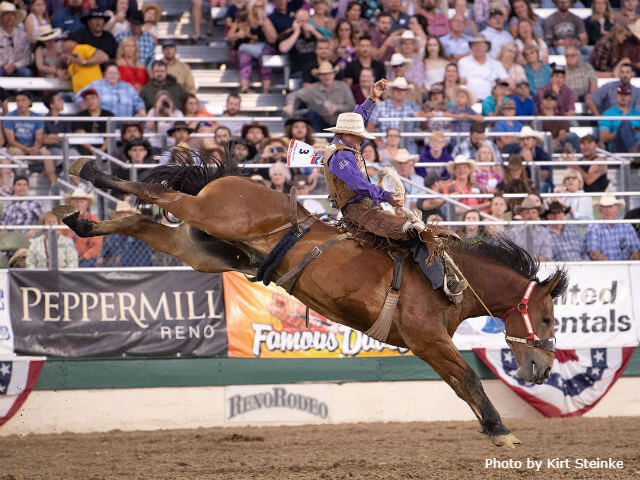 RENO, Nev. – Cody DeMoss won his fourth set of silver spurs during the 99th annual Reno (Nev.) Rodeo, June 23.
The Louisiana cowboy's 252 points on three head in saddle bronc riding added up to a $9,063 payday and a boost of confidence as Cowboy Christmas approaches.
"Man, when I entered this rodeo the plan was to win it," DeMoss said. "It's amazing when you get your head wrapped around what you want, and God gives you the power to do it."
DeMoss, 37, won Reno's saddle bronc riding and all-around title in 2005 by also competing in team roping with Clayton Hass. He won his third set of Reno spurs in 2012 by scoring 252 points on three head.
This year, the score and the outcome were the same thanks to making 87-point rides in the first round and the final round.
"A friend of mine hooked us up with a truck before we left and he said, 'Go get 'em cowboy,'" DeMoss laughed. "He bet his dad $20 I would win, and I can't wait to send him a picture, so he could collect his $20."
The night before the final round, DeMoss watched videos of Rosser Rodeo's Flood Tide bucking at the Santa Maria (Calif.) Elks Rodeo earlier this month.
"The stars just lined up for me here," DeMoss said. "I didn't think nothing of it, just got a good spur out and tried to stay on top. It felt amazing and it is a really, really good horse."
Before winning Reno, DeMoss was sitting at 29th in the 2018 PRCA | RAM World Standings with $16,284. With the $9,000 boost from Reno, he's building a case for making his 14th qualification for the Wrangler National Finals Rodeo. DeMoss competed in Las Vegas almost every year for the last 15 years (2003-07, 2009-12, 2014-17).
"That's the joy of those next couple weeks, all the money," DeMoss said. "You can make the NFR the next few weeks."
The Reno Rodeo is more than just a chance to win some cash for DeMoss.
"Reno is the start of Cowboy Christmas because we have one every day until the 20th of July," DeMoss said. "We are entered to the max, so we get excited to go and drive all the way here from Louisiana. That is what you're thinking about – we draw good here and Bob (Tallman) on the mic is a good experience, and it's like seeing family. Wayne (Brooks) is here with a boy named Ace who plays the guitar well. We just like coming here."
Up next, DeMoss is heading to Ponoka, Alberta, followed by an extensive list of PRCA competitions spanning the U.S. and Canada between now and the end of July.
"Man, it's no holds barred," DeMoss said. "Tomorrow is another rodeo. I can't ride off this. I've got to keep doing it every time, that's why roughstock stays humble. We have to do it every time and keep putting it out there and keep driving to the next one."
He's also set to compete at three rodeos during July 4.
"I'm good to go," DeMoss said. "Just got to get through the first week of soreness – then you're hungry like a wolf and before you know it, you're riding."
Other winners at the $492,004 rodeo were all-around cowboy Jordan Ketscher ($2,491, tie-down roping and team roping); bareback rider Tim O'Connell (251 points on three head); steer wrestler Hunter Cure (13.6 seconds on three head); team ropers Aaron Tsinigine/Trey Yates (18.1 seconds on three head); tie-down roper Tyson Durfey (25.5 seconds on three head); barrel racer Nellie Miller (51.74 seconds on three runs); and bull rider Jeff Askey (175 points on two head).
For more coverage of the Reno Rodeo, check out the June 29 online issue of ProRodeo Sports News at prorodeo.com.
Courtesy of PRCA