Josh Frosh Takes RWCFR Title
by Tracy Renck | Nov 06, 2016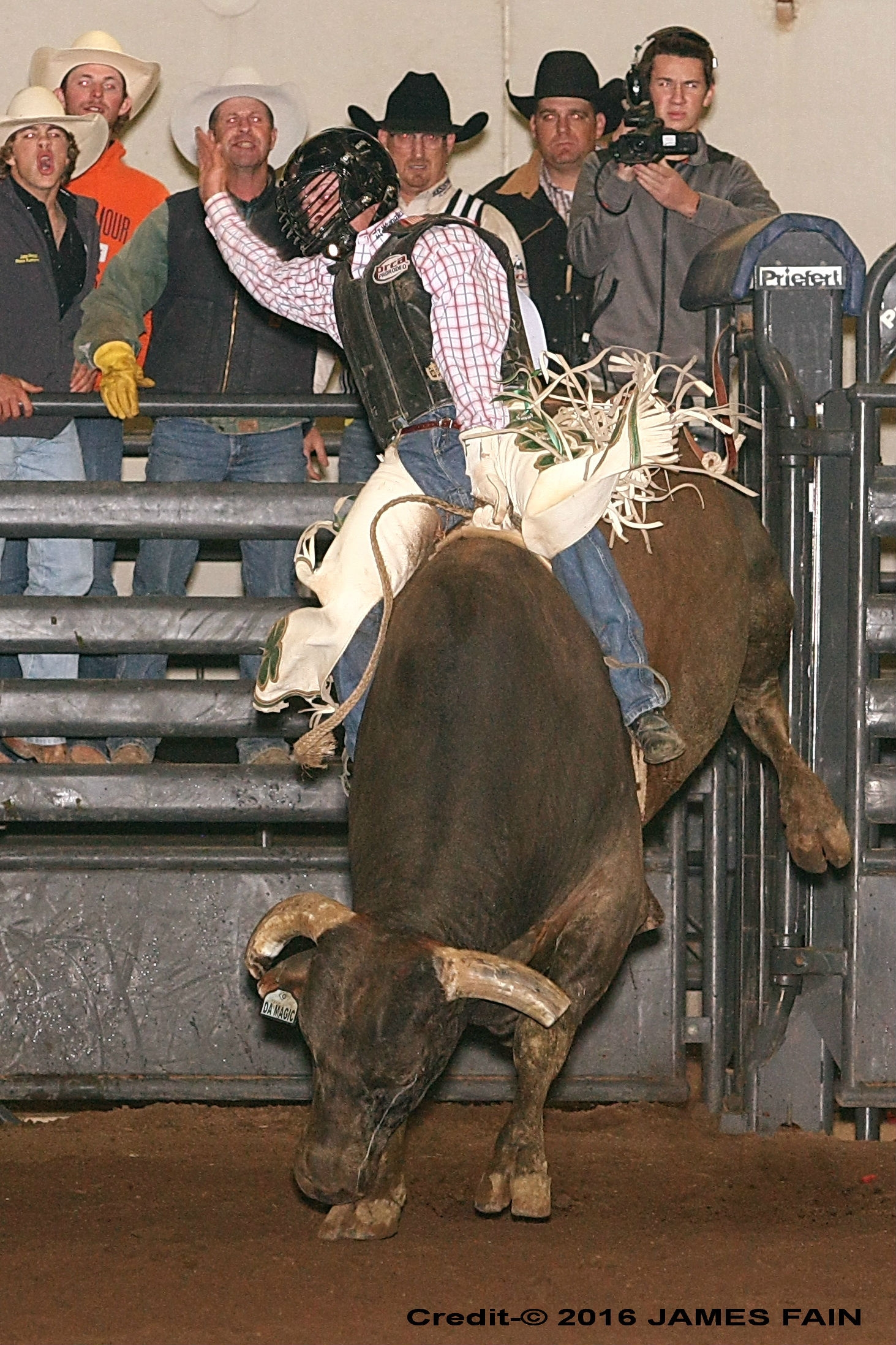 HEBER CITY, Utah – Bull riding started with a bang and ended with a fizzle at the RAM Wilderness Circuit Finals Rodeo as the top scores were all in the first go round, only one qualified ride was made in the second go, and everyone was bucked off the final night on Nov. 5. The cowboy from Randlett, Utah, Josh Frost, was a tough act to follow as he nailed an 89-point ride on Diamond G Rodeo's Da Magic.
"The bulls were pretty tough and we had some good runs, but I never dreamed I would win the whole deal off the first round," Frost said. "I was pretty disappointed when I got bucked off, but it helped when I won the whole thing."
On Nov. 3, Frost's bull turned to the right with plenty of drop and kick and then right at the 6-second mark he faked left and came to the right again.
"I thought about spurring him and he switched directions again," Frost said. "He dang sure bucked me off at the whistle."
Tyler Bingham was the only bull rider to make a qualified ride in the second go round on Nov. 4 with 79 points and nobody lasted 8 seconds on Nov. 5.
"It was a pretty dang good pen of bulls," Frost said.
Frost had a good shot at being a contender for the RWCFR All Around, but missed about a month of competition after getting horned at the hip in late August. There was some blood clotting in the tissue which required surgery as well as a vacuum pump, he said.
"I had a big hole in my leg for a couple of weeks," Frost said. "It got healed up fine now, it was a flesh wound and didn't hurt the muscles."
Although he missed out on the tie-down roping, he was able to make the jump to the RWCFR for bull riding and is now geared up for the RAM National Circuit Finals Rodeo in Kissimmee, Fla. on April 6-9.
"As soon as the doctor said I was good to go, I was riding," Frost said, noting the recent injury had no impact on his ability to compete at the RWCFR.
Frost placed second at the 2015 RNCFR and his brother, Joe Frost, was in first.
"If a guy goes in there and rides four bulls, you'll have a good chance of winning it all," Frost said. "I've got some months to prepare and am excited."
Other winners at the $171,741 rodeo were all-around cowboy Rhen Richard ($1,920 in tie-down roping and steer wrestling), bareback rider Mason Clements (254 points on three head), steer wrestler Baylor Roche (13.1 seconds on three head), team ropers Jaguar Terrill/Jason Warner (16.6 seconds on three head), saddle bronc rider Jesse Wright (260.5 points on three head), tie-down roper Matt Shiozawa (28.4 seconds on three head), barrel racer Calli Van Tassell (46.49 seconds on three runs) and bull rider Josh Frost (89 points on one head).
For more coverage of the RAM Wilderness Circuit Finals Rodeo, check out the Nov. 18 issue of the ProRodeo Sports News.
Courtesy of PRCA