Kiddie Kapers Parade has a New Route
Free parade to start at Salinas High School and end at the Steinbeck Center
SALINAS, CA, June 13, 2018 – The 88th annual Kiddie Kapers Parade will take place Saturday, July 14th at 6:30pm with a brand new extended route which will take in five reviewing stands affording the opportunity for dance, drill teams and bands to perform five times. It is presented by Sakata Seed America. Approximately 1,200 children will parade down the street during one of the most beloved Big Week traditions that kicks off the California Rodeo Salinas. The theme this year is 'Surf, Sand & Saddles.' "My dedicated team of volunteers is excited to bring a Hawaiian "Aloha" flavor to this event," said Kiddie Kapers Parade Chairman Brigid McGrath Massie. The Grand Marshal for 2018 is 9 year old Elise Dunton who successfully competed in the children's poetry contest during the California Rodeo's Cowboy Poetry contest in March.
No pre-registration is necessary; check in at the Salinas High School parking lot at 726 S. Main Street starting at 5pm on July 14th. Volunteer Marshals will award cash prizes to winners in each of the categories. Every parade participant will receive an award ribbon, a crisp dollar bill and valuable coupons from local merchants. Members of the Knights of Columbus Chapter 5140 will provide supervision and security at the beginning and end of the parade. The parade will end near the National Steinbeck Center at 1 Main Street in Salinas. Children can participate by walking in the parade, riding on floats, bikes or wagons and more. Community volunteers wanting to help out can email kiddie.kapers@gmail.com to join the fun. Details about parade categories and a map can be found at: https://www.carodeo.com/events/2018/kiddie-kapers-parade.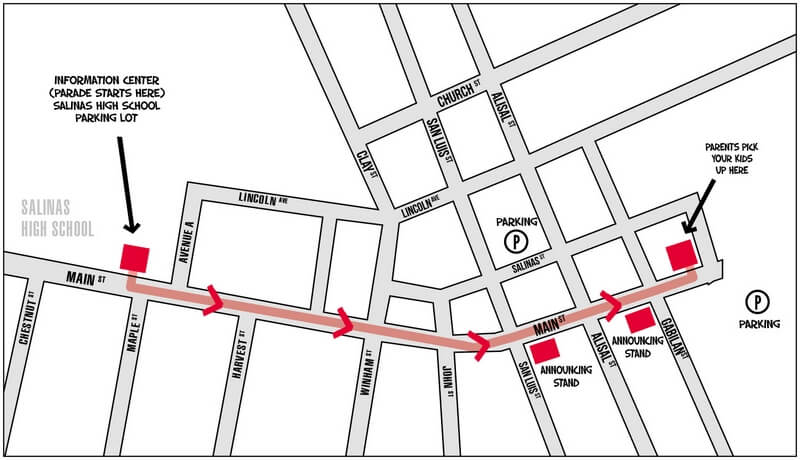 About California Rodeo Salinas
The 108th California Rodeo Salinas will take place July 19th-22nd, 2018. The California Rodeo Association is a not-for-profit organization that strives to preserve and promote the traditions of the California Rodeo Salinas and the West. We support the community and other non-profit organizations through the staging of the annual California Rodeo Salinas and other year round operations of the Salinas Sports Complex. Through donation of our facility, vending and fundraising opportunities during Rodeo and other events, the California Rodeo Association returns over $400,000 annually to local non-profits. For more information about the California Rodeo Salinas, log on to www.CARodeo.com or call the California Rodeo Office at 831-775.3100. 'Like' the California Rodeo on Facebook at www.facebook.com/CARodeoSalinas or follow us on twitter @CaliforniaRodeo for updates, photos and more.