Kimzey Resets CBR Record Winning Third World Title
Championship Bull Riding World Finals at Cheyenne Frontier Days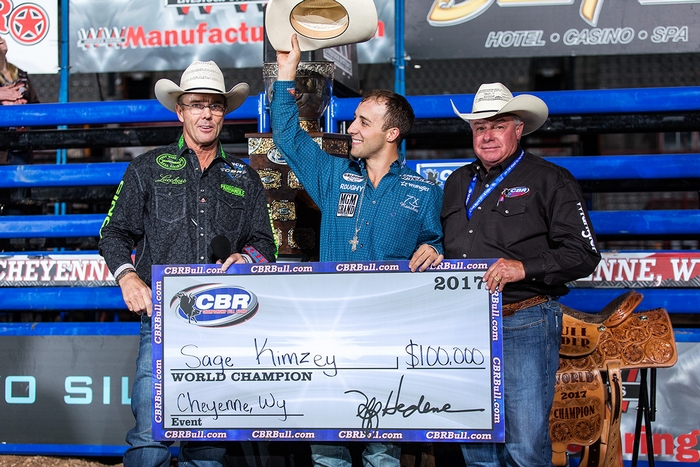 CHEYENNE, Wyoming – (July 26, 2017) – Exercising a leap of faith, Sage Kimzey survived a risky decision and collected an unprecedented third CBR World Championship in front of an ecstatic packed house on night two of the five round bull riding competition that thrills Frontier Park each year as part of Cheyenne Frontier Days – and nights.
"I just kind of let the moment take over, feed off the crowd and everything, it never gets old, big pressure moments for a lot of money are moments of pure perfection for me, it's all I have every wanted to do, it's an awesome experience and an awesome night," said Kimzey.
Missing the first two rounds of this year's $300,000 edition of the CBR World Finals, Kimzey risked his third CBR title by staying in Utah to compete in a large added money professional rodeo on Monday night. Kimzey described what it was like to come in two bulls behind.
"It's sketchy, I don't kike cutting it that close and I prayed about my decision and the Lord told me where I needed to be, I know my capabilities as an athlete and I know who I am as a bull rider and I knew what I had to do," said Kimzey while signing autographs.
Kimzey's win equation could have gone either way, but in the end he rode a bull he had never seen, 756 Whacked Out (Burleson Barnett) for 92 points to clench the title with 2477 points.
"Tuff showed me some videos on him, and he looked really good and I was not expecting him to buck that hard and he went right into my hand and felt really good," added the now six time World Champion bull rider from Strong City, Oklahoma.
The number two man coming into Cheyenne, Eli Vastbinder, shined in Cheyenne once again riding four of five of his bulls for the third consecutive year. Vastbinder finished second in the World Finals average race and second in the CBR World Standings after mounting a yearlong crusade of consistency riding 77.71 percent of his bulls in CBR. But the one that got away in round two at 6.07 seconds, 151 Arkansas Flash owned by Williams, Pepper, and Freeman, left him a mere 6 points behind Kimzey in the final tallies.
"I am an Eli fan – he had a great year going toe to toe with Sage – all I can say is my experience – the best thing that ever happened to me was when I blew a World Championship that I had, I learned to never take anything for granted and you have to learn to finish," said Hedeman.
In an intense year of city to city battle, Kimzey finished the year and began the CBR World Finals 266.5 points ahead of Eli Vastbinder. Vastbinder had a stellar World Finals and for the third consecutive year he rode four of his five bulls including a 90.5 on NFR bull 3728 Yellowhair (Hurst) to finished second with 2,471 points.
Kimzey who surpassed Matt Austin's two CBR World titles (2005, 2006) admitted setting records was a goal.
"I love messing with the history books, you know whenever I set out to do this I wanted to be the greatest of all time and that is still my goal and every bull I get on is one step closer to that, I try my heart out every bull I get on and I hopefully by the end of it will all work out," said Kimzey in a post event interview.
The Average
As one legendary career was ending, another was beginning.
Retiring bullfighter Matt Baldwin, who for the past 17 years has saved thousands of bull rider's lives including fighting bulls at the first sanctioned CBR event, witnessed a young eighteen year old Navajo rider competing in his first professional World Finals competition surge – just as he is stepping away.
Navajo Bull Riding Champion Cody Jesus was the first to ride three and he never lost control of the average. The rookie bull rider who won the average in Rio Rancho put on a show spurring all his bulls without hesitation or getting out of shape. Jesus claimed the average and two rounds, including the richest round, the Shoot Out. Jesus who just completed his rookie year in CBR took home a total of $41,050 for his two day five round effort which moved him from sixth to fourth in the CBR final World Standings.
"It is exciting to see a young guy come into a big event and deliver, it is extremely difficult to be successful at a high level and he was riding with extreme confidence which is a very important factor in bull riding," said four time World Champion and Chute boss, Tuff Hedeman about the new rising CBR super star.
"He's a bad cat, we witnessed the start of a long illustrious career and it's happening right now to Cody. Last year in Window Rock he ask me to pull his rope and he was a pile of points and I knew he would be one to watch," said Kimzey on watching Jesus.
Thirty six total qualified rides in the five rounds and two performances resulted in nine 90 point plus scores with Cody Jesus earning three of them. In addition to Kimzey, Trey Benton, Juan Alonzo, Bayle Worden, Wesley Silcox and Vastbinder also topped 90.
Two time CBR Finals winner and PRCA World Champion Wes Silcox came into the competition as a replacement and left with third place in the average after riding three of five for 267.5.
Round two winner, eighteen year PRCA Rookie of the year leader Boudreaux Campbell, rode four of five including winning round two with 88.5 points on 006 Sycamore Springs (Elite). Campbell bucked off his final bull of the season in the Shoot Out round to remain in third place in the CBR World Standings with 1,844.5 points, 633 off the lead.
The "natural" CBR sophomore rider Colton Jesse was back from injury riding two of three to finish inside the top five with 257 on three.
CBR Bull Team Challenge Competition
With $300,000 on the books to award, the 72 bulls entered in the CBR BTC arrived in Cheyenne. Elaborate pedigrees and extensive profiles were all tossed out and on Monday night the arena dirt was level for these elite buckers. In the end it was the Cinderella story of the season, the tale of two young Mississippi cattlemen, Justin Freeman and Colby Pepper, who bucked their bulls and took home the title of 2017 CBR Bull Team Challenge World Champion.
The best friends who met at a concert in Louisiana decided to split up to make the trip.
"I drove because I had faith with the man upstairs, the man up there is why we are where we are right now – and wanted to have a truck up here to pull that new Bloomer trailer home – just in case, said Justin.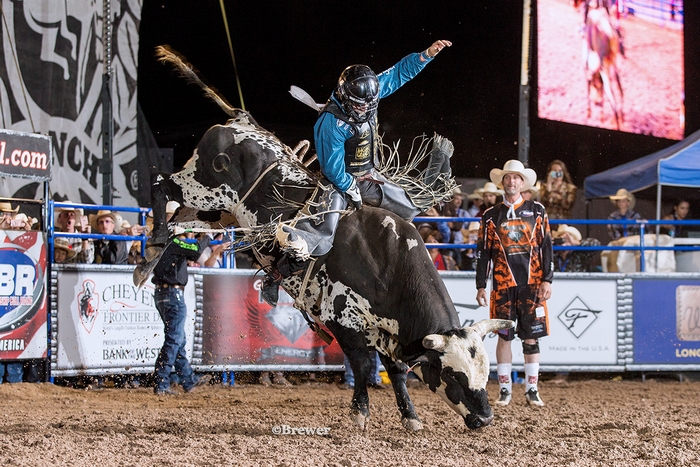 With the prize package and jumbo check tucked inside a new custom tricked out Bloomer trailer, the young stock contractors were not at all worried about who would get the new Fenoglio Boots or American Hat. The extremely shocked, humble and grateful young men were escorted to the center of the arena to receive the $100,000 check that accompanies the title as well as a Juan Munoz custom saddle and Bloomer Trailer.
With 284.24 points the boys were quick to say they had a little help from two very special friends. Franchise partner Terry Williams who did not make the trip to Cheyenne but helped the young men get started and when they called to tell him they won he said, "Are you sure, better go back and double check."
Winning is no stranger to Williams, a six time professional stock contractor of the year in multipleassociations, and with the help from former World Champion Bull Team winner Scott Burruss with bull selection, the dream team was complete. But what happened next is unpredictable – the team draw was the top three average winners. Jesus on Red Cloud and wins round one with a 90.5 ride, Eli Vastbinder on 151 Arkansas Flash and Boudreaux Campbell on JJ11 Chocolate Thunder. Only Jesus was successful but Vastbinder and Campbell rode just shy of the whistle which gave the team the extra points they needed in the BTC format.
"The bull Eli got on was Radley's bull in first round of Vegas, he got a lot better the last few weeks bucking in pro rodeos this summer and he really bucked," added Colby.
"Third bull was a change at the last minute and after we saw J11 in the rodeo we were convinced that was a good decision," continued Justin describing the bulls.
William Barnett and Scott Burleson were 1.33 behind the leader and they took home a $70,000 check.
Bull of the Event
High praise from Tuff Hedeman's as he quickly referred to the next bull when asked who the best bull out of the night was. X9 Standing on X's tied with 756 Whacked Out (Burleson Barnett #2) a bull that was substituted in at the last minute due to injury was ridden for 92 points by Kimzey.
X9 was on K & G/Barrett/Willis's team. X9 was 90 point rank bull score bucking off Braden Richardson in the third round.
Extended coverage of the bull team competition in Cheyenne will continue on www.cbrbull.com.
CBR World Standings
1, Sage Kimzey, 2477 points, $100,000. 2, Eli Vastbinder, 2471. 3, Boudreaux Campbell, 1844 points. 4, Cody Jesus, 1159. 5, Caleb Sanderson, 959.
CBR World Finals Shoot Out Round
1, Cody Jesus, Sawmill, Arizona, 92.5 points on EG3034 Fraulein, Jaynes, $37,050. 2, Eli Vastbinder, Statesville, North Carolina, 90.5 points on 3728 Yellowhair, Hurst Pro Rodeo, $19,950. 3, Boudreaux Campbell, Crockett, Texas, no score on 23 Bone Crusher, Brown Ranch, $2,000. 4, Wes Silcox, Santaquin, Utah, no score on 169 Crimson King, Winston Loe and Melton, $2,000.
CBR World Finals Average Results with total payout on 5 bulls
1, Cody Jesus, Sawmill, Arizona, 357 points on 5 bulls, $41,050. 2, Eli Vastbinder, Statesville, NC, 352.5 on 5 bulls, $23, 950. 3, Wesley Silcox, 267.5 on five, $4,000. 4, Boudreaux Campbell, 260.5 points, $4,000.
CBR World Champion Bull Team Challenge Results
1, Williams, Freeman and Pepper 284.24 points, $100,000. 2, Burleson, Barnett #2, 282.91, $51,000. 3, Jaynes Gang, Johnston & McKinney, 282 points, $34,000. 4, Harris Bucking Bulls, 280.75, $24,000. 5, Rockin C, Rafter B, and Harris, 279.32, $19,000. 6, Jerilyn Harmon's Elite Bull 278.75, $12,000. 7, Harris Bucking Bulls #2, $11,000, 277.87. 8, JQH Bucking Bulls 277.27, $9,000. 9, Hurst Baker and Rawson, 276.26, $7,500. 10, Championship Pro Rodeo, 275.51, $6,500.
Round by round scoring available at cbrbull.com/events and extended coverage of the CBR World Finals at Cheyenne Frontier Days will continue on cbrbull.com, Facebook, Twitter, and Instagram.
Article by Leigh Ann Schroeder
Courtesy of CBR