Miss Reno Rodeo Pageant Takes Place this Week
June 10, 2014
Miss Reno Rodeo is a year-round goodwill ambassador of the Reno Rodeo and the Reno Rodeo Foundation. She maintains a busy public relations schedule attending a variety of events ranging from visits to local schools in conjunction with the Reno Rodeo Reading Round Up to representing the Reno Rodeo at professional rodeos throughout the nation. Miss Reno Rodeo also receives a wealth of awards including a beautiful saddle, a commemorative buckle and college scholarships.
Three contestants will be competing in the pageant this week: Courtney Butler, student at TMCC, Gabriella Madraso, student at UNR, Nikki Avera, graduate at UNR.
Contestants will compete in: Horsemanship, speeches, impromptu speeches, rodeo knowledge, media interviews, school visits, personality and a written exam. Coronation of 2015 Miss Reno Rodeo will take place at 8 PM, Friday, June 13 at The Peppermill.
Miss Reno Rodeo Pageant Schedule
Wednesday June 11
Horsemanship Competition
Thursday June 12
Personality Interviews
Written Exam
Rodeo Luncheon, Impromptu speeches
TV Media Interviews
Reno Chamber Mixer
Friday June 13
Radio Media Interviews
Queen's Luncheon, Modeling, Speeches, Impromptu
Miss Reno Rodeo 2015 5:30 PM Coronation Dinner, 8:00 PM Coronation-Peppermill
2015 Miss Reno Rodeo Pageant
Queen Contestant Bios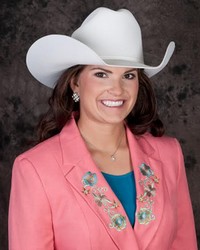 Gabriella Madraso, UNR
The daughter of Troy and Cheri Madraso, originally from Hawthorne, Nevada now calls Reno home. She has been in Reno almost four years, although she has always spent much time in Reno, even as to being born. She currently attends University of Nevada, Reno where she is in the Secondary Education Teacher Prep Licensure Program where she is working towards her Bachelors of Arts in Secondary Education with an emphasis in English. When she is not hard at work studying for school, she works as a Substitute teacher for the Washoe County School District as well as for Bishop Manogue Catholic High School. In her free time she enjoys Team roping and riding horses—especially with her father, Troy. She also enjoys spending her past time fishing, barrel racing, breakaway roping, and spending time with her family and friends, which usually involves good food.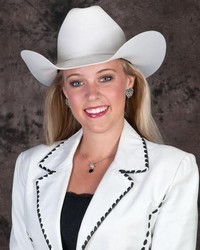 Nikki Avera, UNR
Nikki is a fifth generation Nevadan, born in Reno and raised throughout Northern Nevada. She began riding horses with her family on their ranches in Paradise Valley, NV. This is where she discovered her love for the western way of life. She has been a member of the Reno Rodeo flag team for the past four years. Through equine volunteer opportunities, Nikki developed a passion for using the magic of horses to help children with disabilities. She hopes to one day open her own therapeutic horseback riding center for individuals with disabilities. She recently graduated from the University of Nevada, Reno, with a Bachelor of Social Work Degree. In her free time, Nikki enjoys riding her horses, traveling, camping, watching football and spending time with family and friends. It would be an honor and a dream come true to represent the Wildest, Richest Rodeo in the West as Miss Reno Rodeo.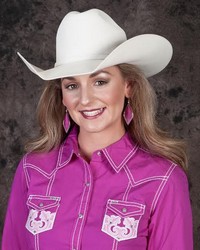 Courtney Butler, TMCC
Courtney was proudly born and raised in Reno, NV. She is the middle child of two sisters, Rebecca and Brittney, and two brothers, Colton and Mason. She attends Truckee Meadows Community College aspiring to be an emergency room nurse. She is currently working as a Certified Hospice Aide at Gentiva Hospice. Courtney enjoys camping, hiking, water tubing, exploring the mountains on horseback with her mom, Kim, and barbeques with family and friends. Her true passion, though, is barrel racing on her horse, Brighteyes. Courtney's family and animals are everything to her. She believes that life is about living to the fullest and savoring every experience with each breath.
Courtesy of Reno Rodeo