PBR Partners with Bullfighters Only in Oklahoma City

By: Heather Croze
January 15, 2016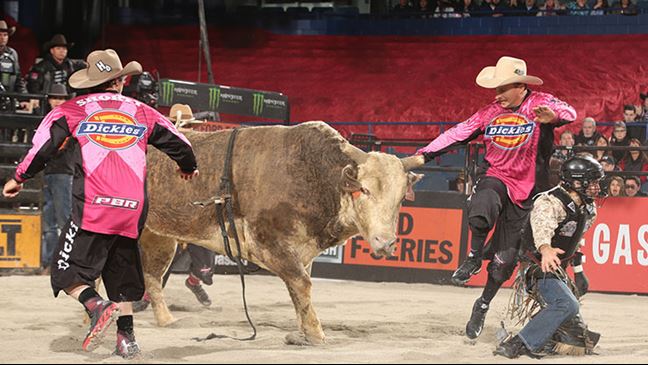 PUEBLO, Colo. – Fans of the PBR (Professional Bull Riders) have come to expect high-energy, non-stop action and excitement from the toughest sport on dirt. In Oklahoma City, they won't be disappointed.
For the Built Ford Tough Series (BFTS) Express Employment Professionals Invitational in Oklahoma City on Jan. 22-24, the PBR has partnered with Bullfighters Only (BFO) to entertain fans with the most talented bullfighters in the country. Launching in 2015, BFO's mission is to grow the sport of bullfighting, by letting fans see the hard work and skill that goes into the sport.
By showcasing the skills that bullfighters require to protect bull riders in the arena, BFO hopes to be the platform upon which the sport of bullfighting grows and to give young bullfighters the experience they need to excel in the sport.
BFTS's Dickies bullfighters, Frank Newsom (Paoli, Oklahoma) and Cody Webster (Wayne, Oklahoma) have both competed on the BFO circuit. Appearing in Oklahoma City will be Nate Jestes (Douglas, Wyoming), Chuck Swisher (Dover, Oklahoma) and Weston Rutkowski (Haskell, Texas).
In 2015 Swisher won the BFO's first-ever Las Vegas Championship while also serving as a bullfighter at the National Finals Rodeo. Rutkowski, a third generation rodeo cowboy, was the 2013 World Champion Freestyle Bullfighter and the 2015 National Western Bullfighting Champion. Jestes is a two-time National Western Stock Show champion as well as the 2015 Bulls of the West Freestyle champion.
Two rounds of competition will take place, one on Friday and one on Saturday, both occurring during intermission of the BFTS event. During each round the bullfighter has 60 seconds to acquire points for exhibiting his own unique style and flair, control and difficulty maneuvering around and jumping over the bull, as well as his ability to keep the bull engaged. They have the option to end the fight at any time after 40 seconds. The bulls also can earn up to 50 points for their speed, intensity and how long they interact with the bullfighter.
The points from each round will be added together and on Sunday during intermission the bullfighter with the most points will be presented with a $10,000 check as the winner. Money earned at BFO events determines the sport's standings as the bullfighters are striving to qualify for the Bullfighters Only Championship which will take place at the National Finals Rodeo in Las Vegas, Dec. 1-10. Currently 12 bullfighters will be competing on the tour in 2016 along with six alternates.
The BFO will conduct a complete tour in 2016 with standalone events and competitions included at PBR events and larger well-known rodeos.
© 2016 PBR Inc. All rights reserved.