PBR Returns to Kansas City
By: Heather Croze
February 18, 2016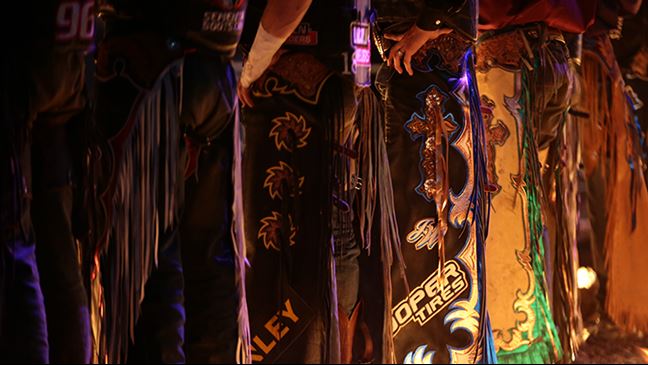 KANSAS CITY, Mo. – Kansas City get ready for one of the greatest battles in history when the PBR (Professional Bull Riders) bucks into Sprint Center on Saturday and Sunday, Feb. 20-21 with the Built Ford Tough Kansas City Clash, presented by Foley Equipment and brought to you locally by Sonic. For the 13th consecutive year, the PBR's elite Built Ford Tough Series (BFTS) will bring the Top 35 bull riders and the rankest bulls in the world to Kansas City for the toughest sport on dirt. For two nights, fans will witness intense matchups between man and beast, where 8 seconds can mean victory or defeat to each opponent. Thrilling, high-flying rides and jaw-dropping wrecks will leave everyone on the edge of their seats as the PBR's brave athletes risk it all against bovine athletes more than 10 times their weight, some tipping the scales at more than 2,000 pounds .
The bull riding action begins at 7 p.m. CT on Saturday, and at 2 p.m. CT on Sunday. Tickets for the two-day event are on sale now and start at $15. They are available at the Price Chopper Box Office at Sprint Center, www.SprintCenter.com and by telephone at (888) 929-7849.
For an enhanced PBR experience, fans can purchase the PBR Elite Seats. Located in an exclusive section of the arena immediately next to the chutes and all of the action, the PBR Elite Seats are priced at $400 each, and will give fans the VIP experience of a lifetime; a pre-event reception with refreshments, backstage tours featuring a PBR 101 presentation, and meet-and-greets with some of the PBR's top stars. Contact PBR Customer Service at 800-732-1727 for more information.
The PBR has awarded approximately $1.9 million over the years in Kansas City, with the following men claiming event wins:  J.W. Harris (2015), Emilio Resende (2014), Marco Eguchi (2013), L.J. Jenkins (2012), Caleb Sanderson (2011), Austin Meier (2010), Guilherme Marchi (2009, 2008, 2005), Justin McBride (2007), Mike Lee (2006), Dave Samsel (2004), Troy Dunn (1997), Owen Washburn/Tuff Hedeman (1996).
Last season, 2014 PBR Rookie of the Year J.W. Harris captured his first BFTS win of 2015, as the only rider to go 3-for-3 on the weekend. Harris will not be returning to defend his title after having surgery to repair a right elbow ligament tear he sustained at the PBR event in Anaheim, California, three weeks ago, but 35 other PBR stars are eager to take home the winning buckle.
Two-time and reigning PBR World Champion, J.B. Mauney is gunning for his first win of 2016 after claiming his first-ever PBR 15/15 Bucking Battle victory last weekend in St. Louis. Competing alongside Mauney will be former World Champions Silvano Alves (2014, 2012, 2011), Guilherme Marchi (2008) and Mike Lee (2004) as well as rookie sensations Derek Kolbaba and Nevada Newman.
During Round 1 on Saturday and Round 2 on Sunday, the bull riders will face one bull each. Following Round 2 on Sunday, the Top 15 riders with the highest cumulative scores after the two rounds will advance to the Built Ford Tough Championship Round for one more ride and a chance at the event title.
Following Round 1 on Saturday evening, a special round of competition will be held as the sport's best bovine athletes and PBR stars will compete during the 15/15 Bucking Battle. The series' Top 15 bull riders will be randomly matched against the 15 highest-ranked bulls in Kansas City for a special round of action. Airing on CBS, Sunday, Feb. 21 at noon ET, the 15/15 Bucking Battle offers a total purse of $21,000 and additional points toward the PBR world standings.
Some of the best bulls in the business will also be in Kansas City for the 15/15 Bucking Battle including 2015 ABBI Classic Champion Sweet Pro's Bruiser (D&H Cattle Co./Buck Cattle Co.). Beaver Creek Beau (Chad Berger/Clay Struve/PBR Bar), Pearl Harbor (Boyd-Floyd/Bar D Cattle Co.) and Stone Sober (D&H Cattle Co./Buck Cattle Co. H.D. Page) are some of the other bulls fans will see.
Round 2 of the Built Ford Tough Kansas City Clash, as well as the Built Ford Tough Championship Round, will air on CBS Sports Network on Sunday at 8 p.m. ET. Fans can also watch all of the action live via the PBR LIVE app, available for download now on Google Play and iTunes, or online at www.pbr.com/live.
The Built Ford Tough Kansas City Clash will be the seventh event on the 2016 PBR Built Ford Tough Series  schedule. The season will consist of 26 stops, traveling to such cities as Chicago, New York, Anaheim, California, and Dallas. It will culminate in the PBR Built Ford Tough World Finals in Las Vegas on Nov. 2-6 when the 2016 PBR World Champion, the bull rider who earns the most world standings points during the season, will receive the coveted World Championship belt buckle and $1 million bonus.
The BFTS is televised every week on CBS, CBS Sports Network and networks around the world. BFTS telecasts are produced for the PBR under a multi-year agreement with David Neal Productions, a Los Angeles-based production company led by 34-time Emmy® Award winner and Peabody Award winner David Neal, who serves as executive producer.
© 2016 PBR Inc. All rights reserved.