Proctor Helps Kolbaba Go from Student to Mentor
By: Justin Felisko
April 06, 2016
PUEBLO, Colo. – There's not much difference between 17-year-old Derek Kolbaba and 19-year-old Derek Kolbaba when it comes to looks. However, much has changed since Kolbaba was receiving the Stoney Covington Memorial Buckle award at Shane Proctor's annual bull riding school in Nespelem, Washington, two years ago.
The former Proctor pupil is now a Built Ford Tough Series mainstay, chasing a World Championship gold buckle right alongside his mentor.
Kolbaba first met Proctor when he was 14 years old when his grandparents brought the Walla Walla, Washington, bull rider to Proctor's camp at the Colville Indian Reservation. It was the first of four trips to Proctor's bull riding school, which is celebrating its seventh anniversary this week.
Kolbaba won the Stoney Convington Memorial Buckle — named in honor of Nespelem, native Anthony "Stoney" Covington, who passed away at 17 years old during a bull riding accident at a Pro West Rodeo Association event.
Proctor gives the belt buckle to a rider that "shows the most heart and improvement" over the course of the two-day camp, Ridin' Rank on the Rez.
Now Kolbaba has returned to assist Proctor with teaching 40 aspiring bull riders at camp this week.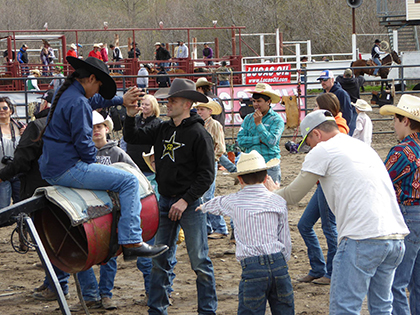 "It is pretty cool to see that," Kolbaba said. "Looking back at old pictures. I have a few from the school. When he was giving me the buckle one of the years that he gives out there. It is crazy to see what it has come to now. We are good buddies and talk every week, room with each other and go to a bunch of rodeos. It is pretty awesome to have somebody like that to help me out."
Kolbaba is amid his first full season on the Built Ford Tough Series after qualifying for the 2015 Built Ford Tough World Finals last year through the BlueDEF Tour Finals. He is currently 15th in the world standings, while Proctor sits in fifth.
"He had a lot of talent at 14, 15 years old," Proctor said. "I was really excited. I have always kept an eye on him since because I always wanted to see what was going to happen with it. You could tell he was destined to be a star from the beginning."
Kolbaba is the second rider to make it to the BFTS after attending Proctor's bull riding school. Cody Hudson competed in one BFTS event (St. Louis, 2014), but Kolbaba is the first to earn a full time spot on tour.
Proctor has seen Kolbaba become a more controlled bull rider after first arriving at the Colville Indian Reservation with a wild free arm motion.
"He used to kind of override them and get excited and get a little deeper hold. Now he really brings his knees up and lets his bulls move underneath him so he doesn't have to make a lot of big moves."
Proctor recalled Kolbaba's 15/15 Bucking Battle winning 89.75-point ride on DaNutso as an example of the growth Kolbaba has made since his early teenage years.
Kolbaba has already set a career-high with 11 qualified rides.
"I really got to see that in Anaheim," Proctor continued. "If you watch him, he didn't make a whole lot of big movements with his free arm, which is something I really stress, especially with bulls away from your hand. You can just see it right there. He picked something up and put it to good use."
Kolbaba agreed that learning how to become more controlled was one of the biggest lessons he learned during Proctor's camp. He wasn't trying to replicate Proctor's unique style, but instead wanted to find parts of Proctor's style to blend with his own.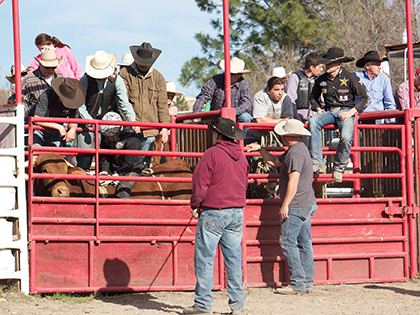 "Shane always talks about keeping to the basics and driving forward and kind of taking the power away from them," Kolbaba said. "If you do that on any bull, the chances of riding them are pretty well. That was probably the biggest thing. Your free arm can either make you or break you. If it is getting behind your head or putting you out of position then you are not going to be there for the full eight."
The two became traveling partners this season at BFTS events, as well as PRCA rodeos. They are attempting to qualify for the PBR World Finals and the National Finals Rodeo.
The two likely will compete at Last Cowboy Standing, the last PBR Major of the first half, and the Helldorado Days Rodeo in May before the BFTS summer break.
"Traveling, we get to talking about him high school rodeoing, and he went to all the same places I did growing up," Kolbaba said. "It is crazy how we have all of the similarities. His stories going to Goldendale High School rodeos, and I went to that all throughout high school rodeo. It is funny. He remembers all of that and it is just how I grew up as well."
Proctor had no qualms about bringing Kolbaba home as another instructor.
"I figured that is the next step in his life, and he will probably learn a lot along with teaching it," he said.
Proctor, who has bucked off 11 consecutive bulls since winning Iron Cowboy, also believes the camp will be good for him to bust out of his slump.
"That is bull riding," Proctor said. "I was in the same kind of slump last year. It is what it is. You are going to have your good months and you are going to have your bad months. You have just have to keep fighting through it. I don't feel like I am riding bad. I just don't feel like I am not getting to the whistle.
While both riders are working towards their first career gold buckles this year, the bull riding school is not necessarily about grooming the next PBR young gun like Kolbaba.
Instead, it is much more about presenting an affordable opportunity to young riders. While most schools can cost a few hundred dollars, Proctor's camp costs only $50 and the attendees are spoiled with all kinds of souvenirs. Every kid will receive a Ridin' on the Rez sweatshirt from Tool and Gage House, while Kawasaki, Cooper Tires, CINCH and the PBR donated various items and gear for the camp.
"My goal is just to give kids an opportunity," Proctor said. "If they go on to be World Champion bull riders that is awesome. I bring a unique perspective to the sport. I really understand the dynamics of bull riding, but we are just trying to build good people.
"If you want it, go out there and achieve it. That is the things we really stress. Not just in bull riding, but in everyday life. Be champions of life in and out of the arena."
Follow Justin Felisko on Twitter @jfelisko
© 2016 PBR Inc. All rights reserved.