Proctor Reminds himself to Practice what he Preaches
By: Justin Felisko
April 17, 2017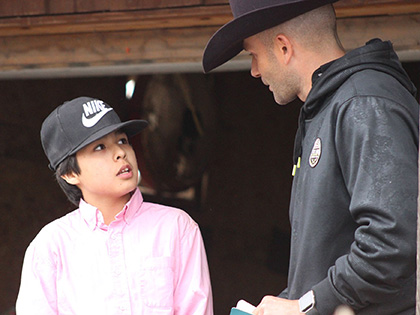 PUEBLO, Colo. – There were three things running through Shane Proctor's mind during his 88-point ride on Jack Daniel's After Party during the championship round of the Stanley Performance In Action Invitational.
"Stick your chest out."
"Ride to the front."
"Don't let your free arm get behind you."
Those were the key tenants Proctor stressed at his annual Ridin' Rank on the Rez bull riding school two weeks ago, which was held in Nespelem, Washington, prior to the Billings, Montana, Built Ford Tough Series event.
Proctor has been hosting the two-day bull riding school for 12 to 18 years olds since 2010, and every year he walks away inspired by the 40-plus kids in attendance.
The 32-year-old transformed that inspiration this year by going 4-for-4 in Billings for a second-place finish in his first event back from a riding wrist injury.
"You practice what you preach," Proctor said. "That is what that school is all about. Going back and learning the basics. It helps me as much as it helps them."
Throughout all four of his qualified rides, Proctor knew he had to stick to those three basic principles if he hoped to limit the amount of pressure his wrist would feel.
Proctor had missed the Sioux Falls, South Dakota, BFTS event because of a sprained ligament and had ridden only three of his last 15 bulls.
The 2011 PRCA champion bull rider also is riding with arthritis, bone spurs and a broken bone in his wrist that are products of a 12-year career and eight trips to the Built Ford Tough World Finals, as well as five Wrangler National Finals Rodeo qualifications.
Proctor knew he needed that week off to recuperate and make those minor adjustments to break out of his slump.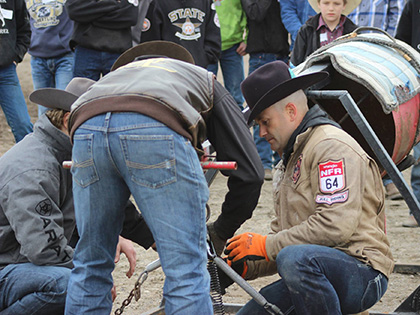 He began Billings with an 83.25-point ride on Cowtown Slinger and followed up his Round 1 ride with 86.5 points on Sketchy Bob and 85 points on Sully.
"One time around there I backdoored by (Sully), got pulled up and it was right back to the front," Proctor said. "When you ride back there in the bull's territory, it adds all that pressure and momentum right there to your hand. I knew I wouldn't be able to hold on if I did, so I knew I had to get back to the front and ride square.
"That is what I had to get back to doing."
Proctor had plenty of opportunities at his bull riding school to get back to repeating the basics to the kids and himself.
"We bucked close to 300 head in two days," Proctor said. "Them kids would not quit. We literally just ran out of time. We kept bucking them, bucking them and bucking them."
"It was amazing. Best school yet."
Proctor earned 350 world points in Billings and is ranked 11th in the world standings heading into this weekend's Tacoma Invitational, presented by Cooper Tires.
Proctor is excited to once again be riding in his home state as Washington welcomes back the BFTS for the first time since the 2015 Seattle Invitational.
Tacoma will also feature a 15/15 Bucking Battle on Saturday night. Fans can watch the 15/15 Bucking Battle exclusively on CBS national television Sunday at 2 p.m. ET.
"I grew up about 4 hours from Tacoma," Proctor said. "It is on the west side of the state and my family is from the east side. It is going to be cool because my brother-in-law's family is from right there in Tacoma. It is just awesome. My parents will be there. My nephews. Everyone."
Proctor says he doesn't expect to need surgery on his riding wrist anytime soon.
He is 14-for-40 (35 percent) through 13 BFTS events, which is a 6.62-percent increase from 2016.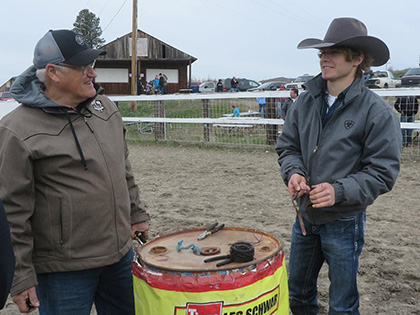 Proctor still remembers when he was once an aspiring bull rider attempting bulls of Steve Katich right there in Nespelem Arena where he now holds his annual bull riding school.
Growing up in the Northwest resulted in Proctor, a Lake Roosevelt High School graduate, developing a riding style that really focuses on riding to the front of his opposing challengers.
"We ride a different style of bulls than they do in Texas," Proctor said. "We always got on bulls that were real big and real strong. They might not turn back as much, but they are really powerful. We have a different style because of it."
Proctor and Derek Kolbaba, who is currently sixth in the world standings, are the only two riders ranked inside the Top 35 from the state of Washington.
Proctor, though, expects that to change.
"That is one of the best areas to get on as far as high quality bulls," Proctor said. "That is why you see a lot of rank riders. It kind of slacked off for a little bit, but it has really picked up in the last couple of years."
In fact, Proctor extended an invitation to 2016 National High School Finals Rodeo reserve bull riding champion Levi Gray (Dairy, Oregon) to hit the summer run with him once Gray turns 18, while 2015 National High School Finals Rodeo champion Wyatt Covington (Omak, Washington) also may be a future PBR bull rider.
"There are a lot of good, young bull riders coming up," Proctor concluded.
Follow Justin Felisko on Twitter @jfelisko
© 2017 PBR Inc. All rights reserved.