Steer Wrestler Lambert Grabs RNCFR Lead
by Tracy Renck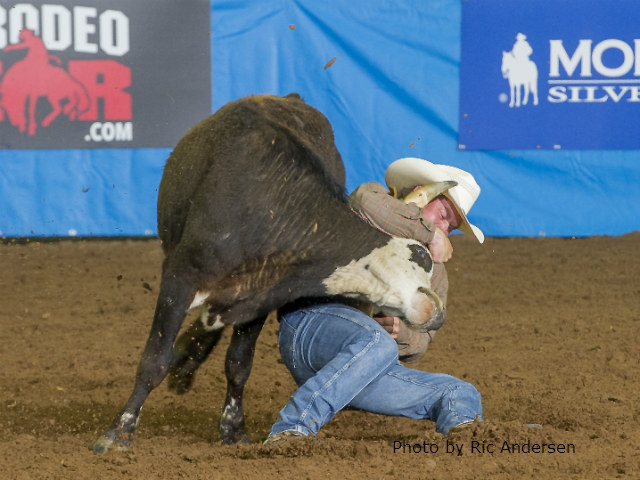 KISSIMMEE, Fla. – For the last several years, steer wrestler Sterling Lambert has been a standout California Circuit cowboy.
Lambert, whose nickname is "Gator," had his talent on full display on the circuit system's biggest stage Thursday.
The Fallon, Nev., native took the first-round lead with a 4.6-second run at the RAM National Circuit Finals Rodeo at the Silver Spurs Arena.
"I was riding (six-time Linderman Award winner) Kyle Whitaker's horse for the first time (Thursday night) and he's a really nice horse and I was just really trying to get a good start," said Lambert, 29. "I just wanted to do my job and bulldog, and it worked out well. Kyle (Whitaker) also did a really good job hazing."
This was Lambert's third consecutive trip to the RNCFR, and he didn't have much time to think about his run Thursday, as he was the first cowboy out.
"It seems like the last three years I've been here at the RNCFR I've been one of the first two or three guys to go in the first round," Lambert said. "But, this is the first time I've ever had a good start here, so this is awesome. Hopefully I will be able to keep things rolling."
Lambert did come to Kissimmee with plenty of momentum. He was seventh in the April 4 WEATHER GUARD® PRCA World Standings. Lambert, who joined the PRCA in 2007, had a career-best finish of 37th in the 2013 world standings with $31,511.
"I'm really excited to be back here at the RNCFR," Lambert said. "This is awesome. I have not done real well here in the past, and I would love to win a lot of money this time."
Lambert will not compete again in the RNCFR until Saturday night, but he doesn't have any big plans from now until then.
"I'm going to hang out and help my buddies out (Friday night), and then I will try and do the same thing again on Saturday night," Lambert said. "I'm not going to back off too much because steer wrestling gets pretty bad if you miss a barrier and you end up late."
While Lambert has RNCFR experience, the same can't be said for team ropers – header Billy Bob Brown and heeler Garrett Jess – who were making their RNCFR debut.
However, the Columbia River Circuit year-end champions didn't look like RNCFR rookies as they took the first-round lead with a 6.3-second time.
"I just went up there and caught him, and Garrett heeled and got a good finish and we made a good run, and this sets us up for the long haul," said Brown. "That's what we are here for, to get in the final four. We have a lot of confidence here lately and hopefully we can keep it going."
Brown and Jess are in their second year roping together, and Jess acknowledged they tried to stay calm on this big stage.
"We've been to a lot of rodeos and roped a lot of steers for a lot of money, and we just tried to stick to our game plan," Jess said.
Brown was quick to credit his 8-year-old horse, Harry, for his success.
"He's a game changer for us," Brown said. "He's just an amazing athlete and is really fast. He's one of a kind and I'm blessed to have that horse."
For good reason. Brown has been riding that horse for three years and it has won him a slew of honors. He was the 2014 PRCA/Resistol All-Around Rookie of the Year and also won National Intercollegiate Rodeo Association team roping championships with heeler Logan Medlin his junior and senior years at Tarleton State University (Stephenville, Texas). He also was the all-around national champion at the CNFR as a junior.
In addition to Lambert, and Brown and Jess, other first-round leaders Thursday were bareback riders R.C. Landingham (83.5 points on Big Rafter Rodeo's Logan's Crossing) and Chase Erickson (83.5 points on United Pro Rodeo's Little Dougy), saddle bronc rider Allen Boore (82 points on Harry Vold's Mountain Climber), tie-down roper Cole Bailey (8.7 seconds), barrel racer Sarah Kieckhefer (15.90 seconds) and bull rider Cody Rostockyj (80.5 points on Sutton Rodeos' Tea Time). The first round concludes Friday night at the 7:30 (ET) performance.
The tournament-style RNCFR format determines the national circuit champions in each event. All 24 qualifiers from the 12 circuits compete in the two preliminary rounds of the rodeo. The top eight contestants from each event advance to the semifinal, with all previous scores and times thrown out. The top four move on to the final round, a sudden-death competition that determines the national circuit champion in each event.
The Wrangler Network will be live streaming all the action from the RNCFR. The coverage begins at 7:30 p.m. (ET) April 8-9, at 1:30 p.m. April 9 and at 2:30 p.m. (ET) April 10. Log on to www.wranglernetwork.com to watch.
Courtesy of PRCA