TBR Bucking Bulls Stick to the Process
By: Keith Ryan Cartwright
June 27, 2016
PUEBLO, Colo. – When judges marked Buffalo Scott with 66 points at the Spring Fling in Stephenville, Texas in March, one of his owners, Shannon Brito, was disappointed.
But he wasn't overly concerned.
"We knew he could buck," said Brito, who had seen the promise of his latest 2-year-old, "but he was still in his infancy and he ended up taking a crash."
Brito and his partners – Tim Reed and Pete Thomas – knew they needed to be patient. Ten years into their bucking bull venture, the Nocona, Texas, residents had long since proved their patience.
While other contractors might not have paid the ABBI entry fees for a futurity bull that yielded 66 points in its first outing, TBR Bucking Bulls stayed the course and, with the help of their trainer Rodney "Hubcap" Lingard, committed to getting Buffalo Scott some more outs.
To them, he had shown an ability to buck.
Now he just needed to keep his legs underneath him.
"You have to remember they're just babies and they're going through the process," Brito said. "If you watch the video from the American Heritage you can tell he knows what to do now."
In a matter months, Buffalo Scott went from falling down – he finished 45th out of 58 futurity bulls in Stephenville – to winning the highest paying event of the ABBI futurity season.
Buffalo Scott scored 89.25 points, in Duncan, Oklahoma, and more importantly earned a check made out to TBR Bucking Bulls for $102,640.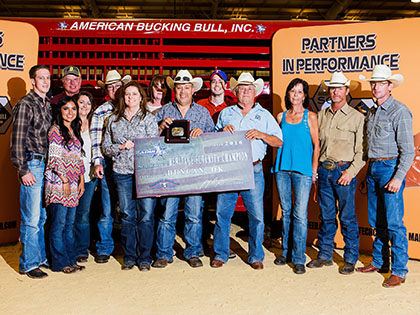 "Ever since he figured it out he's won three in a row," said Brito, who noted that Buffalo Scott won an open event with 87.75 points and then came out of the same chute as he did at the American Heritage for the Two Bulls Challenge back in Duncan with 89 points.
Brito anticipates one more out for Buffalo Scott before they focus on the Finals in Las Vegas.
He said earlier this season Buffalo Scott was mean and wanted to hook anyone that got near him. Nowadays, a more mature Buffalo Scott calmly stands in the chute while staring at the gate, without so much as backing up or squatting down when they strap the dummy on his back.
"I attribute all that to Rodney," Brito said. "There are not too many 2-year-olds you can actually touch."
Brito had reached to Adelhardt Cattle to buy a 2-year-old bull.
Scott Adelhardt told him Buffalo Scott was the bull to buy, but initially the Kansas-based breeder wouldn't part with him because he was injured and Adelhardt wanted to make sure he could guarantee a healthy bull.
After seeing a video of the out in which Buffalo Scott injured himself, Brito knew he needed to try and make a deal right then.
"My mind was scrambling because I know if this bull is healthy I cannot afford to buy him," Brito admitted. "Basically I gambled and bought a bull that could barely walk."
But when he showed the video to Lidgard, a retired bull rider who was a World Finals qualifier in the infancy of the PBR, the Australian native agreed with Brito's decision to purchase Buffalo Scott.
Lidgard told him, "He's a superstar if we can get him healthy."
Brito said that months before the American Heritage he already felt lucky the Adelhardt's worked with him on a deal. Brito paid $10,000 versus waiting and paying somewhere north of $50,000.
Once they hauled the bull down to Texas, they changed his nutritional program and "babied him until he was healthy."
He's one of two bulls Lingard keeps at his ranch. The other is a half-brother to Buffalo Scott that is currently spending time out in a pasture with some cows.
Brito credits Lingard with Buffalo Scott's success.
"It was a gamble that paid off," Brito said. "I'll be honest, I have to give all the credit to Rodney. He is why we're successful."
Brito, 50, and his father Herman, who passed away in 2005, had originally owned racehorses.
Brito owns a construction company that builds restaurants and Reed has worked as his right-hand man since 1996, while Thomas, who was a longtime friend of Brito's father, owns another construction company.
In recent years, Brito scaled back his construction business.
The trio have been friends for 20 years.
On New Year's Day 2006, the home of longtime stock contractor Johnny Locke was completely destroyed by a devastating fire.
Brito said he didn't know Locke personally other than their kids had grown up going to school with one another, but, as is the case in a small community like Nocona, Brito offered to donate a weeks-worth of labor and have one of his construction crews help rebuild Locke's home.
By the time they left the job site they had completely rebuilt the house.
In that short period of time, Brito and Locke had become fast friends.
"He's ambassador for the bucking bull business," Brito said, of Locke. "Me and my wife (Tamatha) used to joke that if you talk to Johnny Locke long enough you're going to wind up in the bucking bull business."
And sure enough Brito wound up in the bucking bull business.
That June, a bull named Outta The Blue won the first ABBI American Heritage Futurity and, in October, the Locke family invited the Brito's to Las Vegas. Locke no longer owned the bull, but he had raised him and was proud of the bull's success.
Brito and his son Austin, who was among the first ABBI Junior Futurity contractors, owned a few bulls. Brito has an older son, Daniel, who was too old for the program, but the elder Brito became an ABBI member in 2007.
Reed was the first to partner with him.
Thomas, who had briefly partnered with Brito on a racehorse following Herman's passing, joined his two friends and TBR Bucking Bulls was officially in the bucking bull business.
"I knew they would enjoy it," Brito said, "so I recruited them."
"We knew how to do it," said Brito, who decided to sell the farm and go all in in 2016. "We just never could afford to, so I told (Austin) we were going to give it a go. If it didn't work out we'd restore cars or something else for a hobby."
Brito added, "Through the years we hadn't really had a lot of success." The $10,000 he paid for Buffalo Scott is the most they've ever paid for a bull.
TBR Bucking Bulls currently has seven bulls—four yearlings and three 2-year-olds.
Lingard believes Buffalo Scott hasn't reached his full potential yet. Even the announcers at the American Heritage said it looked Buffalo Scott had "muscles in his ears."
"You can just see the passion," said Brito, of his prized bull. "It's undeniable. We had a dinner with everybody and Rodney told us we haven't seen his fullest potential yet. He's still earning it, but you can tell."
Brito added, "He was a little out of shape, to be honest with you, at the Heritage."
Beyond this year, it's hard to say what the long term plan is for TBR Bucking Bulls.
They prefer competing in Futurity, Derby and, perhaps, Classic competitions- but they have no interest in hauling mature bulls to PBR events and they only way they'll wind up at Built Ford Tough Series event is if they're hauling Buffalo Scott as a Classic bull.
"He's special and it would take an extra special situation for him to be gone," said Brito, who talked about keeping the bull and breeding him, but "that would be new to me." To be fair, they're undecided as to what the future may hold for their superstar.
However, the kindness of one family to another and the karma that paid off a decade later, has made three simple guys, who never wanted anything more than to enjoy themselves, major players in the ABBI bucking bull business.
"It's just crazy the way small towns work," Brito said. "Everybody comes together to help everybody and I know when you do good things, good things come back to bless you and that's why we always try to do the right thing.
"We've been very blessed."
© 2016 PBR Inc. All rights reserved.