Ted Kimzey is a Whole Lot More than Sage's Dad
by Kendra Santos, PRCA Director of Communications | Jul 11, 2016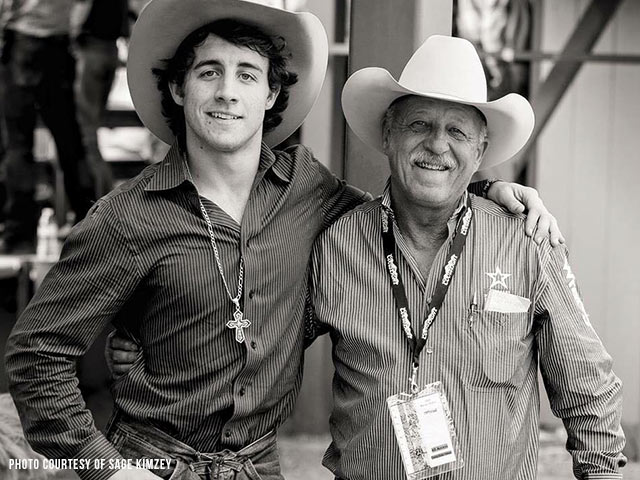 Father's Day is June 19. Tis the season to celebrate awesome cowboy dads everywhere. Bull riding megastar Sage Kimzey and I were exchanging notes about how much we appreciate our dads the other day. The next thing I did was pick up the phone and call his proud pop—PRCA clown-bullfighter-barrelman Ted Kimzey.
I've been around awhile, so I've gotten to watch Ted work—a lot—including his second Wrangler National Finals Rodeo presented by Polaris RANGER, in 1987, where Ted worked the barrel at the Thomas & Mack Center while guys like that year's legendary World Champion Bull Rider Lane Frost and his three-time PRCA Champ of the World best friend Tuff Hedeman owned the arena during the bull riding event.
Last issue, Sage shared some of the wisdom and life lessons both inside the arena and out that he's learned from his dad. This time it's Daddy Ted's turn.
Kendra: I know how proud you and Jennifer are of Sage. I also know you're equally proud of your other two kids. Tell us about them.
Ted: Sage has a big sister, Dusta, who just graduated Cum Laude (with honors) from Southwestern Oklahoma State University in May with a Doctor of Pharmacy degree. She college rodeos and runs barrels in the WPRA. Their little brother, Trey, just finished his junior year of high school. He rides bulls and trick ropes, and trick rides with his sister. They trick ride at PRCA rodeos under the name Tricked Out.
You're 63 now. I know you worked as a PRCA clown and barrelman for decades. What years did your career span in the arena?
I got my card in 1974 and haven't ever retired officially. I still occasionally go do a job. I don't subject myself to hookings anymore. I finally outgrew that part of it. But I do still occasionally take my barrel and tell some jokes. I've spent my entire career trying to build and put together this ranch (in Strong City, Okla., population 43). I never really quit, but I did slow way down to be there while my kids grew up for the junior rodeos, the junior high, high school and college rodeos.
How would you describe yourself as a dad, in a word?
I can't do it in one word, but I can try to do it in a few. I'd say missioned, dedicated and not willing to settle for less than your best effort. I had a mission. When my kids told me they wanted to rodeo, I made sure they did a darn good job at it. My mission was to help them be the best that they could be at what they chose to do, whether it was rodeo or tennis or anything else. And I was dedicated to helping them get that done. I would not accept anything less than their best effort.
Sage is wreaking havoc on rodeo's record books, including coming off of his second-straight gold buckle and a $327,178 season, which is the most money ever won in a year in any event. Do you believe he was born to be a superstar or raised to be one?
Neither. I think he had very good genes in his blood, which would come from both me and his momma. At some point in life he wanted to succeed at rodeo, and he gave the dedication to go do it. There was a wrestling club in Elk City when Sage was a kid, and his granddad, Steele Kimzey (Sage's full name is Sage Steele Kimzey) took Sage. He became a talented wrestler, and it really helped his attitude, physical ability and dedication.
Sage has struck it rich, and so young. What financial advice have you given him?
It all happened pretty quick. By the time Sage was a junior in high school there was no doubt in my mind that he was going to go to the NFR. I never thought he'd go to the NFR or win the world as early as he did in his career. We've had a tremendous accountant, and Sage has been fortunate enough to grow up around him. He learned early to invest wisely and be smart about it.
You Kimzeys stay true to your humble roots, don't you?
When I graduated from high school my family didn't have indoor plumbing. It was some hard times. I just vowed that that wasn't the way it was going to happen with me. Sage did the same thing when he set his mind on being a world champion. He's done well, and he's smart with his money. They told me that at the College Finals Sage ordered a cheeseburger and the waitress told him it would be an extra 25 cents for the cheese. Sage wouldn't give 25 cents for a slice of cheese that costs 5 cents. That's just the way he was raised. To this day, Sage will get home in the middle of the night from a rodeo and work cattle on the ranch the next day.
Did you set out to build the model bull rider, or did that evolve on its own?
No. Lord no. Sage did some other things. He played on the state championship basketball team for Cheyenne High School. He was the sixth man—the first guy to come off the bench. If the coach needed somebody to defend somebody it was like the coach siccing a dog on him. He'd say, "Get him, Sage," and away he went. He played so hard that he rattled good players.
In all the years I've known you you've been a dyed-in-the-wool PRCA patriot. Sage is the same way. Why is that?
In 1974 when I got my card, all I wanted to be was a PRCA cowboy. Even after the rules changed somewhere in the middle of my career that allowed it, I never worked an amateur rodeo. Not one—as a clown, a barrelman or a bareback rider. All I cared about was being a professional. To me, going to an amateur rodeo meant that you weren't a professional, even though the rules allowed you to do that. I can see that in Sage. Sage cares as much about the PRCA as I have all these years. I've cussed a few decisions made over the years, just like everybody else. But the PRCA is still the best game in town. Always has been. To me, there's only one world champion, I don't care if you're a calf roper, a bulldogger or a bull rider. If it doesn't say PRCA in front of it you're just a guy who won a title.
Did you compete before becoming a clown and barrelman?
I had clowned and fought bulls at a few smaller rodeos before I got my card. I had an opportunity to work the barrel for (ProRodeo Hall of Fame stock contractor) Bob Barnes. I didn't grow up wanting to be a rodeo clown. I was a bareback rider and a bull rider, and I wanted to go to the NFR. It didn't scare me to be in front of bulls, but it scared me to be on top of them. That's how things evolved.
Is it true you were undefeated in the Wrangler Bullfights?
Well, technically, yes. I only worked one Wrangler Bullfight as a bullfighter, in Greeley, Colo., when I was the alternate for a no show.
What's the most important advice you ever gave Sage?
I always harped on Sage about the basics. Everybody's basics don't have to be the same, and you might have a couple that are different from everybody else's. But you have to bring it down to the basics. I remember a time when he was in high school when Sage was struggling. It was just the two of us in the motorhome, and someone told Sage to do this or that. I said, "Sage, I might not have a gold buckle, but no one can tell you how to ride bulls. You have to figure out what works for you. Take a little bit from what we all tell you, and try that. Put that together for Sage Kimzey and make that work for you. Nobody can tell you how to be a world champion. Listen to everybody, but don't believe everything everybody tells you. Take one little piece of it, if it works for you."
Do you say anything specific about the bull riding?
Every time I talk to him now and he's fixing to get on somewhere I tell him, "I love you. And Sage, stay square and in the box—just like you put a glass box on you. When they open the gate, all of your moves should happen inside that box. Keep your shoulders square, which keeps your hips square." I've never been disappointed when Sage got bucked off if the effort was there. I would tell him, "If you get to where you can ride 50 percent of your bulls they will pay you lots of money." (Sage's professional career riding percentage is 65, and at press time in 2016 was 76 percent.)
You worked the barrel at the NFR in 1980 and '87, fought bulls in two NFR openings and were selected to work the barrel a record 17 times for the Wrangler Bullfights at the Finals. You've been there and done it, and now have to be in the running for proudest dad in the stands at the Thomas & Mack. When it's all said and done, what do you want people to say about Ted Kimzey?
I guess I'd like for them to say that I was a very, very proud member of the PRCA, that I was a good—maybe even one of the best—clown-bullfighter-barrelman, and that I raised one hell of a family that's carrying on the PRCA tradition, because all three of them are. When they talk about those Kimzey kids, I hope somebody thinks I had a little to do with that.
Grateful for great dads everywhere.
Happy Father's Day!
Courtesy of PRCA