Teel Captures Second WCC Win in a Row in Scottsdale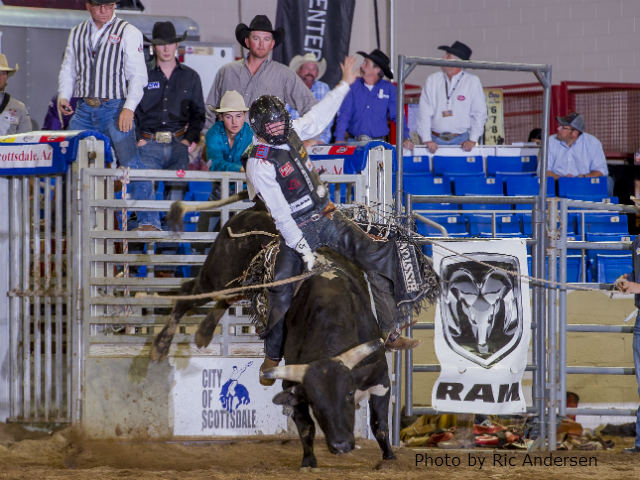 SCOTTSDALE, Ariz. – Cody Teel has been an elite PRCA bull rider since 2012 when he won a won a gold buckle.
And, the Kountze, Texas cowboy showed again why Feb. 28 at the Wrangler Champions Challenge presented by Justin Boots.
Teel, competing for Team RAM, had an 84.5-point ride on Summit Pro Rodeo's Custer to win the event at the West World Arena.
"I had never seen that bull before and he was kind of a newer bull," said Teel, 23. "He was a real good, solid draw and one you want to get on for sure. I'm glad it worked out."
This was the second year in a row Teel won the WCC event in Scottsdale. A year ago, Teel had an 87-point ride on Salt River Rodeo's Big Hoss.
"I figured I was going to be in the mid-80s when I rode him (Custer)," Teel said. "He was a good bull with some timing and a little back up to him, and one you had to pay attention to in order to get by. I knew I would have a good chance to get the win if I did my job. There has been a great set of bulls here for the last two years and I was glad I came out on top again."
This was Teel's fifth career WCC event win as he also has victories at Rapid City, S.D., (Feb. 4, 2014, shared with Sage Kimzey), Kennewick, Wash., (Aug. 19, 2014), Pueblo, Colo., (Sept. 2, 2015), and two in Scottsdale.
"For sure Champions Challenges are events I want to go to," Teel said. "They are just in and out events and you know where you stand that day and have a great chance to win money."
Teel was able to get his latest WCC win by filling in for an injured Brett Stall, who had left ankle surgery Feb. 8.
"I was just glad I was able to take advantage of the opportunity I got," Teel said.
At the 2015 Wrangler National Finals Rodeo presented by Polaris RANGER, Teel made a frantic push for his second world championship. He arrived in Las Vegas in seventh place and left as a runner-up after winning $185,731 at the WNFR – $67,269 for winning the average. Teel finished with $278,749, only behind Kimzey's $327,178 total.
"With all the money at the Finals you definitely want to make it there," Teel said. "But, I went in there seventh last year and that was just a little too far out because Sage had a big lead going in. You want to keep pace for sure. You're not zoned in on one particular number, you just want to keep consistent all year and keep pace. That way when you go into the Finals you are not too far behind."
Other winners at the $92,800 rodeo were ProRodeo Hall of Fame's bareback rider Teddy Athan (85 points on Four Star Rodeo's Rusty Slim), B&W Trailer Hitches steer wrestler Dakota Eldridge (3.7 seconds), team ropers – Team PRCA's Coleman Proctor and Russell Cardoza (4.7 seconds) and ProRodeo Hall of Fame's Kory Koontz and Colby Lovell (4.7 seconds), saddle bronc riders – Team Justin's Joe Lufkin (85 points on Powder River Rodeo's Look Again) and Experience Kissimmee's Jake Watson (85 points on Salt River Rodeo's Smoke Ring), Experience Kissimmee tie-down roper Adam Gray (7.6 seconds), and Team Las Vegas barrel racer Benette Little (17.90 seconds).
Courtesy of PRCA