Terry Walls, June 2, 1946 – Nov. 9, 2016
by ProRodeo.com | Nov 10, 2016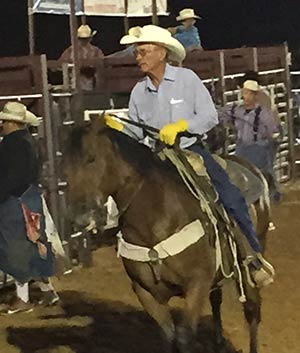 COLORADO SPRINGS – PRCA stock contractor Terry Walls, who sent many top animals to the Wrangler National Finals Rodeo over the last three decades as owner of Terry Walls Rodeo Company and Pro Rodeo Inc., died at his home in Goldthwaite, Texas Nov. 9 due to complications from a non-malignant brain tumor. He was 70.
Walls was a champion tie-down roper and steer wrestler in the American Junior Rodeo Association as well as serving as President of that organization in the early 1960s before moving on to Tarleton State University (Stephenville, Texas), where he was part of the national championship team of 1967, and to timed-event competition at the PRCA level.
With his wife, Delia, he moved to Stephenville in 1970 and built the first indoor arena in the area.
They founded the Terry Walls Rodeo Company there and put on their first rodeo in Glen Rose, Texas, in April 1971.
Walls bought his PRCA card as a stock contractor in 1995 and became well known as one of the first producers in Texas to breed bucking horses using stock obtained from northern companies, including Harry Vold Rodeo. The Terry Walls Rodeo Company merged with J.C. Kitaif's Pro Rodeos Inc., in 2008 and Terry subsequently became sole owner.
He remained active breeding horses and bulls for more than 40 until he and partner Allen McCloy sold Pro Rodeos Inc. to Jimmy Ray in June of this year; the company is now known as New Star Pro Rodeo.
Walls' last rodeo as a stock contractor was the Young County Rodeo in Graham, Texas March 17-19 this year.
He is survived by his former wife, Delia, a PRCA secretary; daughter Schielli Creacy (Adrian Mortimer) and son Trent Walls, PRCA Tie-down Roping Director and two-time NFR qualifier; sister, Karen Walls; and brothers, Charles (Linda) and Ronnie Walls.
A memorial service will be held at 11 a.m. on Monday, Nov. 14 at the Erath County Cowboy Church on Highway 67 in Stephenville. In lieu of flowers, donations may be made to the Terry Walls Rodeo Scholarship Fund at Tarleton State University.
Courtesy of PRCA