The Morning Line: Big Sky, Day 1
By: Slade Long
July 29, 2016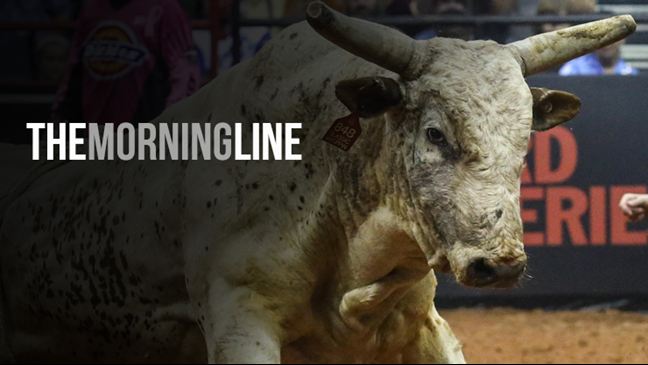 Morning Line – Big Sky, Day 1
Chad Berger is justifiably proud of his Stock Contractor of the Year awards. He's won it the past two seasons and, at the moment, he looks to have a lock on the award this year as well. Over the Built Ford Tough Series summer break, Berger has beefed up his herd, and his bulls have been working steadily at lower level events, including high profile BlueDEF Tour and Touring Pro events in Bismarck, North Dakota, Binford, North Dakota, and Thief River Falls, Minnesota.
Cooper Davis on 914 Say I Won't Playboy:
When BFTS action resumes next month, Davis will be one of the contenders. He won the BFTS World Finals last year, and he's kept that momentum so far this season as arguably one of the current best riders in the PBR. He's got a bull here that he was 85.75 points on in Little Rock, Arkansas, back in April and he's likely to start this event off with a good ride.
Marco Eguchi on 077 Skid Row Joe:
Eguchi is almost certainly going to get the job done here. We haven't seen this bull at the BFTS level since early in 2015, but he's been ridden seven times in as many BFTS outs. He spins into Eguchi's hand as well. He hasn't been ridden this summer, but Eguchi will change that tonight.
Ryan Prophet on 103 Strong Heart:
Tyler Harr won the opening round in Bismarck on this bull in late June, and Darcy McBean placed on him in Thief River Falls two weeks ago. This may be the best draw in the round. He's a quality, veteran bull that isn't easy, but carries a lot of riders to the pay window. Prophet is right-handed, and Strong Heart tends to go to the left, but that shouldn't be a big issue on an honest bull.
Robson Palermo on 13X Old Brindle:
Old Brindle is a relatively new bull in the Berger string, but Luis Blanco was 87 points on him in Thief River Falls, and Palermo will be a tougher test. Palermo has battled injuries for as long as anyone can remember, and it's been a bigger challenge for him throughout his career than staying on bulls.
Cody Ford on 142 Criminal Intent:
This is a rematch from last summer. Ford had this bull in Thief River Falls in July of 2015 and was 84.5 points, and Criminal Intent is ridden more often than not when he faces the top-tier riders.
Gage Gay on 803 Off the Rez:
Gay had this bull in the first round here in Big Sky last year and bucked off. He had him again in Deadwood, South Dakota, this summer for another zero score. Off the Rez doesn't travel far and wide, but he's been pretty good at throwing off right-handed riders. He's 9-0 against them, including J.W. Harris at the BFTS World Finals last year.
Chase Outlaw on 960 Big Sky:
Outlaw sat out the first half of this year recovering from shoulder surgery, but once he was cleared to compete, he's come back with a vengeance. He's turned in quite a few big rides over the summer, and a lot of them came on Berger bulls. He won Bismarck, and did very well in Deadwood and Thief River Falls. He's got a chance to do well tonight on a bull that should fit him. Big Sky is a showy bull that likes to go to the left, and Outlaw should get along with him.
Stetson Lawrence on -00 Moldy:
Lawrence won this event last year, and he's got a fairly new bull here that we don't know much about, but he is rideable. Fabian Dueck rode him in Deadwood in June.
Tyler Harr on 367 Rand's Big Cadillac:
This is another relatively new bull we don't know much about, but Matt Werries won a round on him in Thief River Falls a couple of weeks ago. Harr has had some good rides over the summer. He hasn't been as successful as Chase Outlaw, but he's improved since the early season.
Sean Willingham on 3662 Mr. Hobbs:
Willingham should win this match. Mr. Hobbs has been around for a few years now, and he's consistently been good for right-handed riders, and not so much for lefties. Willingham has been competing at the lower levels all season, and he's turned in a lot of scores, but he's missed a few chances to win events.
Nevada Newman on 47X Felix:
Felix hasn't seen much action at the BFTS level, but he has been around the lower levels quite a bit. He's 5-9 against left-handed riders, and that's almost as easy as it gets in the bull riding world. Newman is solid on bulls that go into his hand, and this matchup should go his way.
© 2016 PBR Inc. All rights reserved.