The Morning Line: Colorado Springs, Day 1
By: Slade Long
September 24, 2016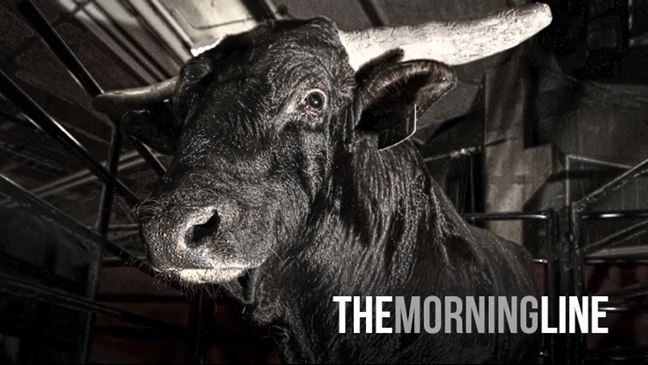 Morning Line – Colorado Springs Round 1
Fabiano Vieira on 6810 Compact:
Compact is hands down the best bull to have in this round, but unfortunately for Vieira he's a much better fit for a right-handed rider. Kaique Pacheco earned 90 points on him in Tucson, Arizona, late last season. He's been ridden 14 times in 46 career outs, and six of those rides ended up being round wins for the rider. Vieira has not been riding well of late, going three for his last 13 bulls since Nashville. The shoulder problems may be catching up with him. When he was not struggling with injury, he was as good a rider as Silvano Alves at his peak.
Aaron Roy on 11 Banjo:
We saw this bull earlier this season, and he's fun to watch. He resembles the Stay-Puft Marshmellow man in that he's big, white, and pudgy. That said, he can be a little rougher than he looks. He tends to go to the right, and he can pound the ground pretty hard and loosen guys up. He's 5-0 this season at Built Ford Tough Series events.
Kaique Pacheco on C02 Cheap Trick 2:
Pacheco has the advantage on paper in this matchup, although this isn't a particularly easy bull to ride. Cheap Trick has given up just four rides in 23 career outs, but three of those four went to right-handed riders. Pacheco is riding well at the moment, and he has what it takes to get the job done here, but this won't be a cake walk.
Cody Heffernan on 1974 Pile Driver:
Aaron Roy earned 90.5 points on this bull at a Touring Pro Division event in Bismarck, North Dakota, this summer. Pile Driver isn't likely to produce a 90-point ride at this level, but he should spin into Heffernan's hand and could be worth 86-88 points. Heffernan needs to convert at the BFTS level. He hasn't done well enough against BFTS bulls this season, and this one may help him earn some points.
Marco Eguchi on 30 Springer Mountain:
Eguchi got on this bull twice over the summer, and rode him once. This is a good bull, and he's an even match for Eguchi. Once he gets into a spin he's rideable enough that most riders should be able to handle him, but his first few jumps are tough to deal with. He can cover a lot of ground before he goes into a spin.
Joao Ricardo Vieira on Z71 Dirty Little Secret:
Gage Gay earned 87 points on this bull at a Brighton, Colorado, TPD event last month so there's some history. That said, that trip is the only out we have on record for this bull. He's making his BFTS debut here, and he'll face serious competition in Vieira.
Kurt Shephard on W26 Page Break:
Page Break is 9-0 at the BFTS level and he's far from a rookie bull. He's been around for a few years, and he's been to the National Finals Rodeo and the PBR Built Ford Tough World Finals. He's one of the better bulls in the draw for this round, and he's not that easy to ride. Shephard has been on him before and took him to the 5 second mark.
Cody Nance on 64Y Slash:
These two met in Nampa, Idaho, during the 2015 season, and the bull won. Slash has only been to one event this year, but in 2015 he was pretty busy, and gave up two rides in five BFTS outs. Nance has a shot here, but it will be a struggle.
Silvano Alves on WB12 Who Dey:
This is a good draw for Alves. This isn't the same Who Dey that threw J.B. Mauney last week, and he's considerably less that salty. He likes to go to the left, and that will be away from Alves' hand, but his timing is like clockwork. If Alves can get into the spin with him he should be locked in.
Jess Lockwood on C12 Rebel Yell:
This bull is extremely rider-friendly, but only to right-handed riders. He's 5-6 against righties and 7-0 against lefties. There's a good reason for this. He spins to the right, and when he first comes around he's a little tricky. If Lockwood can hang past the first round or two we'll see Rebel Yell settle into a more steady rhythm and get a little easier to handle.
Jorge Valdiviezo on 977 Bad Grandma:
Valdiviezo hasn't done well during the second half of the season so far, but this bull gives him a chance to get a good start in this event. Bad Grandma goes to the right, and he's the kind of bull most guys here should handle easily, especially right-handed guys.
© 2016 PBR Inc. All rights reserved.