The Morning Line: Des Moines, Day 1
By: Slade Long
April 23, 2016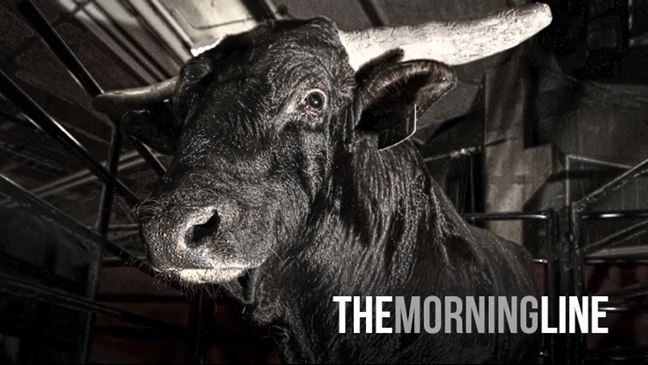 Morning Line – Des Moines Round 1:
You can think of Saturday night as a warm up round. The bulls are pretty tough here, but the Round 2 bulls will be significantly tougher. With this being a two day event, what happens in this round could make or break every rider's chance of winning this event.
Aaron Roy on 911 Hy Test:
Hy Test is always a choice draw. He will spin to the left and he tends to drift across the arena while spinning, and while that can add difficulty it isn't the case with this one. He's been ridden far more often by left-handed riders, but right-handed guys have had some success on him.
Cooper Davis on 03 Comfortably Numb:
This bull has a fairly distinctive look. He's a brown bull with no horns, a white face, and four white socks. He likes to spin to the left, and like Hy Test, he can move around in this spin. Unlike Hy Test, his spin does add some difficulty. Instead of drifting in a particular pattern, he will take a step forward or shift sideways away from the rider at irregular intervals. He works at getting the rider run back off his rope, and it's important to stay to the front on him, but he's just shifty enough to make that hard. He has been ridden several times, and for pretty good scores.
Joao Ricardo Vieira on 807 Cowtown Slinger:
These two have met four times before, and Vieira is a perfect 4-0 against him. It should be noted that all of their previous matchups came in 2013-2014 when Slinger was in his prime. He's somewhat easier to ride now than he was then, and Vieira has been one of the more consistent riders this season. At the moment, though, he's bucked off his last seven bulls in a row, and if he truly has it in his mind that he wants to win a World Championship he can't be happy with that.
Eduardo Aparecido on 885 Soldier's Pride:
Aparecido has had this bull twice before. Once in Sioux Falls round 2 last season (bucked off), and once in Sioux Falls round 2 this season (83.25 points). Soldier's Pride usually goes to the left, and he's a good draw, but he doesn't just drill a hole in the ground in the same spot. Like Davis's bull Comfortably Numb, he can shift away from the rider or move forward at times, and that is enough to let him occasionally throw off even the better riders if they make a mistake.
Stormy Wing on 915 Tom Horn:
Jess Lockwood became the first man to ride this bull in Sioux Falls, but it's ridiculous that the bull went that long. He wasn't that difficult with Lockwood, and Wing should be fine with him. Wing doesn't have a qualified ride since Duluth, and that's really unacceptable at this level. Because of that it makes it hard to think of him as a favorite in any matchup, but this bull should be good for him.
Silvano Alves on 09 Legal Tender:
In his first championship season, Alves rode 68.32% of his bulls on the BFTS level. This season he is at 34.15% approximately half that. It's hard to say what the new Alves is all about, but the old one dominated all but the very best bulls. Legal Tender is a good fit for Alves, but they met last year and the bull won. This is a bull we see in short rounds sometimes, but he should go to the right with a little backup. The old Alves would not have had any problem with him at all.
Tanner Byrne on 264 Ram It:
This bull has three outs on record, and he's been ridden all three times. Once at a Touring Pro event last fall, once in Chicago, and once in Oklahoma City. He's not likely to reverse that trend with Byrne aboard. Byrne isn't a dominating rider, but he's close, and he's consistent enough that he rides most of the bulls he's supposed to.
Jess Lockwood on 136 Uncle Tink:
Lockwood has been in the spotlight this week after winning in Billings. He won two rounds in Billings, placed 3rd in round one, and was .02 seconds short of winning first or second in Round 2. He's riding the bulls he's supposed to have a shot at riding, and Uncle Tink is another bull like that. He should spin to the left and be well within Lockwood's comfort zone.
J.B. Mauney on T02 Justified:
Most of the time when I'm looking at these matchups, the key feature that I'm looking for is a rider who has a bull that fits his style in some way. Sometimes it's a good bull that happens to spin into a rider's hand, giving him a better chance at a score. Sometimes it's a bull that has a lot of up and down against a rider who handles that particularly well. With Mauney, this gets flipped in the opposite direction. The main question is whether Mauney has some weakness the bull could exploit. Is he healthy enough? Is his head screwed on straight today? If the answer to those is yes, this bull doesn't stand a chance.
Justified has been pretty effective at the lower levels, and he's 12-0 against left-handed riders, but he's not nearly enough bull to get the best of Mauney. Barring injury or a lack of focus Mauney will easily get a score here.  Right now Mauney is the only rider at this level who can be thought of this way, and if any of these other guys want to beat him this year they will have to get on his level. Hoping he goes into a slump or something isn't a viable plan.
Tyler Harr on 626 Hard Times:
This bull has left the chutes five times this season, and four riders have scores on him. They are 3-for-3 on him at Built Ford Tough Series events. Harr is 3-for-23 this year, but he puts out a lot of effort, and he should be able to improve on that number as the year goes on.
Jorge Valdiviezo on 033 Shoot Out the Lights:
Last week, Valdiviezo had a great draw in round three, and I left him out of the Morning Line because I just hadn't seen enough of him to really know what to expect. He went on to score 88 points and took second in the round, and so I'm not going to overlook the guy this week. Shoot Out the Lights is the best draw in this round, and he has a tendency to go to the right, into Valdiviezo's hand. Jess Lockwood, Shane Proctor and Gage Gay all have round wins on him this season. He did go to the left with Lockwood, but this is a premium draw no matter which way he spins.
© 2016 PBR Inc. All rights reserved.