The Morning Line: Ty Murray Invitational, Day 1
By: Slade Long
March 17, 2017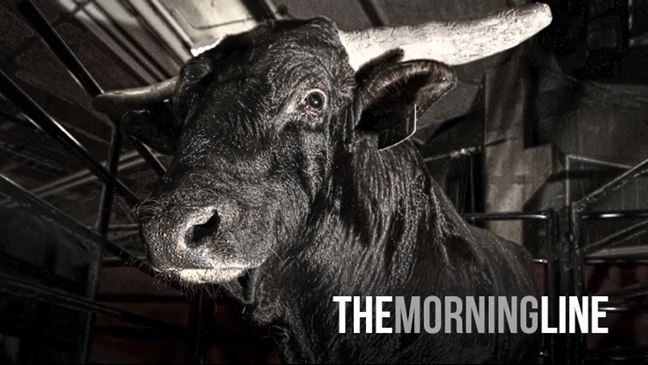 ALBUQUERQUE, N.M. – Albuquerque is Ty Murray's event, and it has consistently been one of the strongest events every year in terms of bull power. Coming off a week where the riders struggled to get anything ridden, the pen of bulls here looks intimidating – largely because it looks eerily familiar. More than a few bulls made the trip from Arkansas to be here.
The Built Ford Tough Championship Round this week is essentially unchanged. Nine of the Top 10 bulls from Little Rock are here, and 10 of the championship round bulls from Little Rock will be in the championship round here. A couple more were bumped to the long rounds to make room for Pearl Harbor and Asteroid, so in the bull pen, Albuquerque will look a lot like an extended version of Little Rock.
Pearl Harbor is back, and the injury that kept him out of the Iron Cowboy turned out to be no more serious than the bovine version of an ingrown toenail. That's great news for Chad Berger's star, who has clearly been the dominant bull in the PBR this year. Pearl Harbor's last score in Kansas City was 46.25 points, which means that each judge marked him around 23 out of 25 points. PBR Director of Livestock Cody Lambert notes that if each judge had marked him 25 they would have been closer to the truth.
There are around 95 bulls on hand for this event, and half of those belong to either Chad Berger or D&H Cattle Company and their respective partners.
Look for all the long rounds to be pretty strong here. The opening round can be lighter at most events when bulls are in short supply, but the first round here looks a lot like the second round last week. A lot of veteran bulls and a good number of championship round caliber bulls are set to go tonight.
Claudio Montanha Jr. on Z26 Acting Crazy:
Montanha came up empty in Arkansas last week, and he had good draws in both rounds. He had VJV Nailed in Round 2, and this bull should be very similar. Acting Crazy is around to the right and he backs up under himself in the spin, which tends to help the rider. If he can get the job done, Montanha has a great chance to pick up 88-89 points here, and that could be enough to win the round.
Gage Gay on T10 One Time Joe:
We often hear commentators say that Chase Outlaw gets the best scores out of any bull, and that's true, but it's not because his hat is sharp looking or his mustache is on point. He gets them because he's a little guy and he has a classic, pretty riding style. Gage Gay is much the same way. His size and style usually make his bulls look their best. One Time Joe should go to the right, and he's a showy bull who spends a little time in the air. Cooper Davis scored 87.25 points on him in Anaheim, California, and Gay could break 88 points on him here. These two should match up well, and this bull should fit Gay.
J.B. Mauney on 33 Living Large:
Derek Kolbaba rode this bull at the Velocity Tour Finals in Las Vegas last fall. He's the only guy to have done it so far, but he's about the best left-handed riders Living Large has faced. Lefties should like this bull a lot. He's pretty fast, but he has very even timing and goes to the left. His style is reminiscent of Babyface and Locomotive Breath, but he's not at their level yet. Mauney is an obvious favorite here, but he was also a clear favorite in Round 1 last week and came down.
Silvano Alves on B36 JJ's Pride:
This is the perfect draw for Alves. There's not a bull in this round that fits him better. We've seen guys score 87-88 points on JJ's Pride, but we may not see numbers that high here. While Chase Outlaw and Gage Gay typically get good to great scores out of every bull, Alves is on the other end of the spectrum. He rarely gets the best score out of any bull. Alves is up front about blaming this on judge's bias at times, but that's not the whole story. A significant number of bulls clearly and objectively underperform with Alves, possibly because he spends so much time in the chute. Alves has spent all of his efforts the last couple of seasons trying to be 80-83 points every time. The net result of this ultra-conservative focus is that he's no longer a real threat to win a World Championship, and just a few years ago it was hard to imagine anyone being able to beat him.
Shane Proctor on X18 More Big Bucks:
Like most bull riders, Proctor is at his best when he's got a good bull to work with, and More Big Bucks is one of the better draws in the business today. He's given up nine rides in 22 Built Ford Tough Series outs, and Proctor is responsible for one of those. They met in Chicago two seasons ago. This may not be enough bull to win the round on, but Proctor should get a score here, and he has a really good draw in Round 2 as well.
Kaique Pacheco on 114 Naughty List:
This is a small red bull with a wild and out of control style. He's relatively unknown, but he has some of the best numbers in this round. He can be a 44-point plus bull, and that means Pacheco has a chance to score 90 points or more here.
J.W. Harris on 412 Chute Boss:
Chute Boss should spin to the right here, and Harris should have an easy time with him. Like Proctor, Harris may not have enough bull to win the round on, but he should get a decent score, and he has a stronger bull drawn tomorrow.
Tanner Byrne on 125 Catfish John:
Byrne had this bull here in Albuquerque last year in Round 3 and bucked off. Every bull at this level is capable of throwing the top riders off, and sometimes guys come down on bulls that should suit them. But, this is a good draw for right-handed riders in general, and a good fit for Byrne. It takes a lot of work to get him ridden, but Byrne should be able to get it done.
Marco Eguchi on Z293 Thunderstruck:
J.W. Harris scored 87.25 points on this bull in Anaheim, and Thunderstruck is very similar to the bull Harris has tonight. Eguchi started the season on fire, but he's cooled off a lot in recent weeks. This could be the kind of bull that will help him get back on track.
Cody Jesus on 769 Lost Soul:
You probably don't know who this kid is, but you probably will after tonight. Jesus is a special invite here. Albuquerque features an invited Native American rider every year, and 18-year-old Jesus is the guy this year. He's a legitimately good rider, and one of the more promising young riders anywhere right now. He's also drawn a very manageable bull that should spin into his hand, and he's probably going to get a pretty good score here.
© 2017 PBR Inc. All rights reserved.