Time Capsule Tuesday: Phil Lyne's Short but Noteworthy ProRodeo Career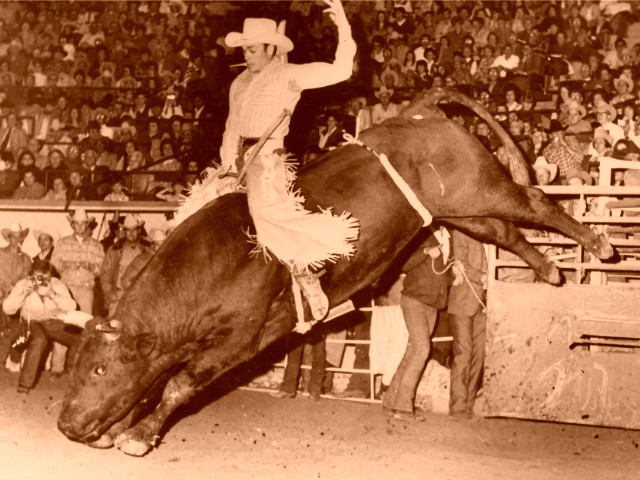 Many of his peers called Phil Lyne the most talented cowboy to ever compete in a rodeo arena. He was the 1969 PRCA Rookie of the Year and four years later, he walked away from competition – after winning four Linderman Awards, which honors the cowboy earning the most money in a combination of riding and timed events.
Lyne was always the busiest cowboy at a rodeo; he competed in tie-down roping, steer wrestling, bareback riding, saddle bronc riding and bull riding. He won the all-around and tie-down roping world championships in 1971 and '72 – and promptly retired.
The soft-spoken Lyne said he wanted to spend more time with family and take care of his cattle business, and that he was often thinking of that while at the arena.
Lyne won the average titles in both calf roping and bull riding at the 1972 National Finals Rodeo – a rare occurrence for one man to win titles in riding and timed events – and was the Reserve Bull Riding World Champion after riding nine bulls in the Finals.
Lyne was inducted into the ProRodeo Hall of Fame in the inaugural class in 1979, the same year he returned to competition on a limited basis. Lyne added to his legend by winning the 1990 steer roping world championship.
The 5-foot-9, 160-pounder is the only cowboy to win average titles in three events: steer roping, calf roping and bull riding.
During the 1972 season, Lyne and fellow Hall of Famer Larry Mahan were battling for the all-around championship and were the focus of a movie called "The Great American Cowboy" that was released in 1973 and won the Academy Award for Best Documentary Feature. Mahan was injured during the '72 season and Lyne captured his second straight all-around title.
Courtesy of PRCA