Wrangler Network Interns Make it Happen at 2015 WNFR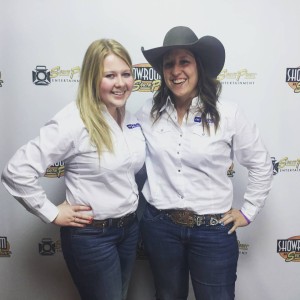 Kinzie Robins and Shelby Rich joined the Wrangler Network team in Las Vegas for two intense weeks of broadcast production on "Countdown with Jennifer and Stran Smith" live each night during the WNFR from the MGM Grand. Kinzie edited and Shelby produced many aspects of the show. Kenzie operated one of the broadcast cameras and later Shelby entered the live scores fans followed online. Later they joined the team streaming the live Buckle Awards each night from the South Point. These talented interns helped bring the biggest and best ever Wrangler Network coverage of the WNFR to hundreds of thousands of viewers around the world.
Kinzie Robins is a graduate of Southern Utah University, with a Bachelor's Degree in Communications/Broadcasting. She is continuing her education at SUU as a grad student in the Communications and Professional Media Arts program.
She has participated in rodeo for as long as she can remember, and continues to do so today. Her love for the sport sparked her interest in sports reporting and videography.
At the 2014 NFR, she started doing a documentary with her professor about the four Wright brothers, who made history in the saddle bronc riding.
She has interned in the media room in 2014 at the College National Finals Rodeo after just barely missing the qualifying cut off to qualify for the finals in the team roping.
Shelby Rich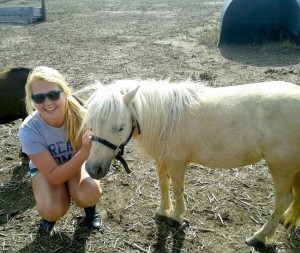 Shelby Rich is a senior at the University of Wyoming majoring in journalism with a minor in marketing communications. She's previously interned with the National Western Stock Show in Denver and the College National Finals Rodeo in Casper. She is pursuing a career in rodeo operations after completing her degree.