Steven Dent – Mullen, Neb.
7-time WNFR qualifier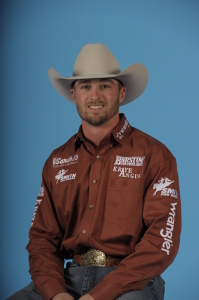 Steven Dent is not afraid of hard work and that has definitely contributed to his success in and out of the rodeo arena.
Dent's athleticism saw him participating in football, wrestling, track and field and rodeo in high school. In fact, he was recruited to play football at Kansas and Colorado State Universities, but followed his heart and went to Ranger (Texas) College and learned what he could from then head-coach Tom Reeves who won the world title in saddle bronc riding in 2001.
He had been competing in all three rough stock events, but a bull riding wreck saw him hang up his rope and concentrate on bareback and saddle bronc riding.
In 2006 he was crowned the Professional Rodeo Cowboys Association Resistol All-Around and Bareback Riding Rookie of the year. He won the college all-around title in 2007, the first year that he qualified for the Wrangler NFR.
The quiet unassuming cowboy has nearly been a fixture there ever since, just missing a qualification in 2009 after he had to sit out the summer with a knee injury. He still managed to finish 10th in the all-around and 20th in the bareback riding world standings.
2009 was also the year that Dent married his wife Kay. They now have a son Cylas who will turn two in January and the couple is expecting their second child just after this year's WNFR. It is a true balancing act for Dent as he goes to rodeos, spends time with his growing family and takes care of cattle and all that goes with raising beef on their Nebraska ranch.
During the February and March, he'll get on bucking horses and rush home to help with calving. Summers are a little easier as cows are out on pasture, then in the fall it's a rush home for gathering, sorting and weaning.
It's not a life for the weak at heart – but that is something no one will ever accuse Steven Dent of being.