Bradley Harter – Weatherford, Texas
10-time WNFR qualifier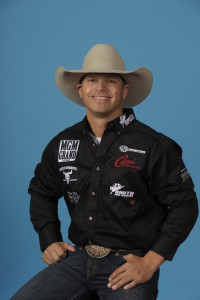 Bradley Harter's distinctive laugh and dimpled smile have won the hearts of rodeo fans and they have enjoyed cheering for him for 10 years at the Wrangler National Finals Rodeo (WNFR).
He joined the PRCA in 2002 and has qualified to the WNFR a total of 10 times so far — almost consecutively. He only missed a 2007 qualification, but he's burst out of the famous yellow bucking chutes at the Thomas & Mack every other year since 2005.
Bradley has over $1.2 million in lifetime earnings, and though he comes into the 2015 WNFR in the 12th spot, he thrives on the excitement and electricity and loves getting on bucking horses in the Thomas and Mack Center.
Every year he's been to Las Vegas, Bradley has placed in multiple rounds through the 10-round marathon. And this year, he's riding high on several huge wins in the rodeo world including the Cheyenne Frontier Days rodeo in Cheyenne, Wyo., the Wild Wild West Rodeo in Silver City, N.M. and the Justin Boots Championships in Omaha, Neb.
Bradley tied for the ninth round win with Chad Ferley in his second qualification back in 2006. That was the only time he has gone to the buckle presentation, in spite of making some of the best rides of his life.
"I'd make a great ride, get a good score and just be waiting to take that victory lap," he said. "They'd be down to the last one or two cowboys and one of those guys would move me out."
Bradley will get on his 91st horse on Dec. 2 in the Thomas and Mack Center and hopes over the next 10 nights he will get to the top and stay on top. Then he will make the trip to the South Point Hotel and Casino for the buckle presentations.
Bradley married his wife, Kirby, in 2007. Kirby is a barrel racer and the couple has two young sons, Houston, born in 2009 and Branson born just a year and a half ago in May of 2014. After winning the "Daddy of 'em All" last July, Bradley gave his Cheyenne Buckle to his father, Ted. He's got plenty more family members to give prestigious buckles to. Now he just needs to take advantage of the opportunity to win some in Vegas.