Clay Elliott – Nanton, Alberta
1-time WNFR qualifier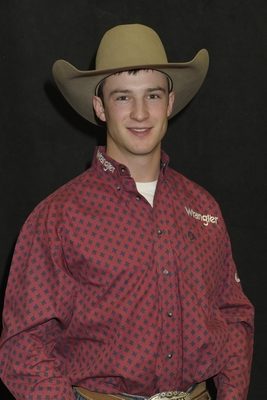 Clay Elliott might be sporting one of the nicest cowboy hats of all the bronc riders at the year's Wrangler National Finals Rodeo (NFR).
The hat is such an iconic symbol of being a cowboy and they can really take a beating in the rodeo arena. Clay's father Vern is a custom hat maker and Clay owns their business Gold Spring Custom Hats in his hometown of Nanton.
The enterprising 22-year-old is hoping to have a lot more money to invest after competing at his first NFR. Clay enters the competition in eighth place with $80.048 in regular season earnings.
He is also just coming off a trip to the Canadian Finals Rodeo where he left with the year-end championship. His talent in the arena comes naturally. His father was a bull rider and team roper. His older brother Ty rides bulls and sister-in-law Haley is a barrel racer.
The family faced a tragedy in September of 2010 with the loss of Vern's wife and the boys' mother Mona. As she was facing cancer, she left them specific instructions on what to do. She directed the family to set up Mona's Cowboy Inspirational Fund which helps ranching and rodeo families who are faced with life-altering illnesses or disabilities.
Mona would certainly be proud of the man that Clay has become and the success that he has had in the arena. He graduated from Panhandle State University in Goodwell, Okla., with a degree in animal science last June. While there, he qualified for the College National Finals Rodeo twice earning the championship in 2015.
He kept getting his education a priority, but was able to compete in the PRCA as well and nearly qualified for the NFR last year. He finished in 17th place. Last spring, he juggled his college and professional rodeo schedules. Through the summer and fall he was able to concentrate on the PRCA and bring one of his goals to fruition. The Canadian fans are very happy he did and will be waving flags for him every night.