Cort Scheer – Elsmere, Neb.
5-time WNFR qualifier
1-time RNCFR qualifier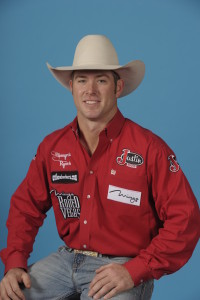 Cort Scheer was born to be a cowboy. He comes from a ranching family and started in rodeo at a young age.
His dad also competed, and Cort regularly credits his family for their support.
He started college at Garden City Community College then transferred to Oklahoma Panhandle State University in Goodwell, Okla., like several of his fellow Wrangler National Finals Rodeo (WNFR) qualifiers.
He is a four-time qualifier for the College National Finals Rodeo. In the midst of his college rodeo career, Cort joined the PRCA. That was in 2007, but it took him a few years to get to the coveted top 15 in the world standings, which he did in 2010.
A knee injury kept him away from the competition for part of the 2011 season where he finished in 25th. He's made an appearance in the Thomas and Mack Center the last three years and is definitely one to watch coming into his fifth qualification in December.
In 2015, Cort has won or was co-champion at nine rodeos including the 101 Wild West Rodeo in Oklahoma and the Mighty Fraser Rodeo north of the border in British Columbia. It wasn't the first time Cort has won in Canada however. He's won plenty of rodeos in Alberta and was the champion saddle bronc rider at the Calgary Stampede in 2013, which he accomplished with a 93.5-point ride on a horse called Spring Planting. With that win of $100,000, you could say the harvest was plentiful for Cort.
He has one of the highest riding percentages of any of the bronc riders and rarely gets bucked off. He has successfully ridden all 10 bucking horses the past two years at the WNFR and finished the 2014 season as the reserve world champion.
With over $88,000 won this year, Cort's seventh place ranking puts him a little over $30,000 behind leader Cody DeMoss, but with payouts at record breaking highs for the 2015 WNFR, there's no better year to come from the back of the pack and end up in the lead like Cort is likely to do come December.