Rusty Wright – Milford, Utah ($123,607)
3-time WNFR qualifier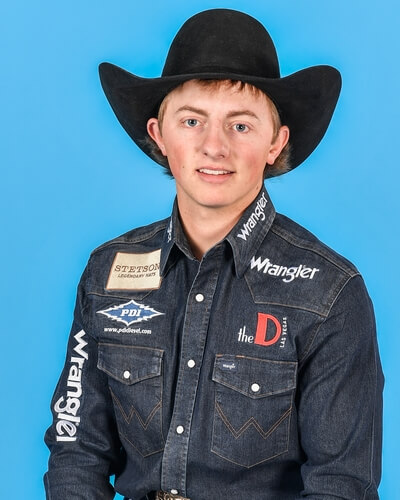 All Rusty Wright needed was to watch his younger brother Ryder win the world championship in saddle bronc riding to get him ready to ride in Las Vegas again.
Rusty is headed to his third Wrangler National Finals Rodeo. He qualified in 2015 and 2016. Then last year he was on the sidelines with an injury watching Ryder's success. He was 20th in the world standings and planning to go hard and ride in the famed-yellow bucking chutes for the third consecutive time. Then during some of the busiest times of the year, the unthinkable happened. He broke his arm at Rock Springs, Wyoming on July 28th.
So Rusty went home to heal up, took a few days and traveled to Colorado to help future bronc riders at the Cervi Championship Rodeo Ace the Ride Bucking Horse School. That helped get his mind off of not being able to ride.
Rusty got back in the saddle as quickly as he could and was looking forward to the 2018 season. He broke into the top 15 early in the year and just kept clicking away. Then a really good Fourth of July including an $8,686 win in Wyoming at the Cody Stampede moved him up to fourth place. That's where he remained and will enter his third NFR with $123,607 in regular-season earnings.
The worst part of rodeo and the best part of rodeo are the same for Rusty, being away from family and being with family. He travels with younger brother Ryder, uncle Spencer and at the beginning of the year his two-time world champion father, Cody was in the truck.
The travel also keeps him away from his wife Morgan and their two children Rookie (two) and Memphis who was born last March. But for a career, there is nothing in the world that he would rather do than ride bucking horses and most of the time the sacrifices are worth it, especially when they all get to spend 10 days together at in Las Vegas at the NFR.
Presented by: