Rusty Wright – Milford, Utah
2-time WNFR qualifier
2-time WNFR qualifier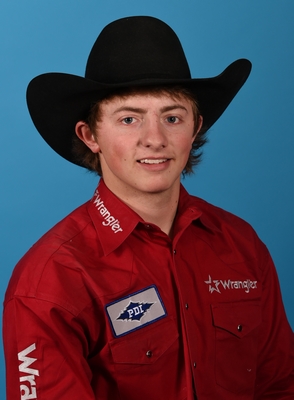 Rusty Wright's bid for a second Wrangler National Finals Rodeo (NFR) qualification was never in jeopardy, but it did come to a startling halt in August.
The second-time NFR qualifier had already won $117,942 when he entered the Bremerton (Wash.) rodeo and was second in the world standings. Then, a horse fell on him, he had a compound fracture to his left leg that required surgery and Rusty was out for the remainder of the regular season.
He still enters the NFR in third place, just one spot behind where he entered last year. He left Las Vegas $128,462 richer and finished the season in third place. Rusty is the eldest son of Cody and Sharee Wright. His dad is a 2-time world champion and will be competing against him this year. Rusty's younger brother Ryder is also on the saddle bronc riding roster.
The two-time National High School Rodeo Association champion was the 2014 PRCA Rookie of the Year where he finished the season in 30th place. His climb up the rungs of the rodeo ladder has been as steady as the family he was raised in.
He won another national title this year when he was crowned champion at the RAM National Circuit Finals Rodeo in Kissimmee, Fla., last April. That was a title to mark off of his bucket list for the 21-year-old who has a long future of bronc riding ahead of him. Sadly, his broken leg kept him from competing at the Wilderness Circuit Finals so he won't be back to defend that title this year.
Rusty's life changed last March when he became a father. Rookie Scott Wright has quickly become the apple of his father's eye. And, the family couldn't be any prouder of the champion that Rusty is, in and out of the arena.